Tehran's terror proxies are ready to boost attacks on Israeli and American forces, foreign minister says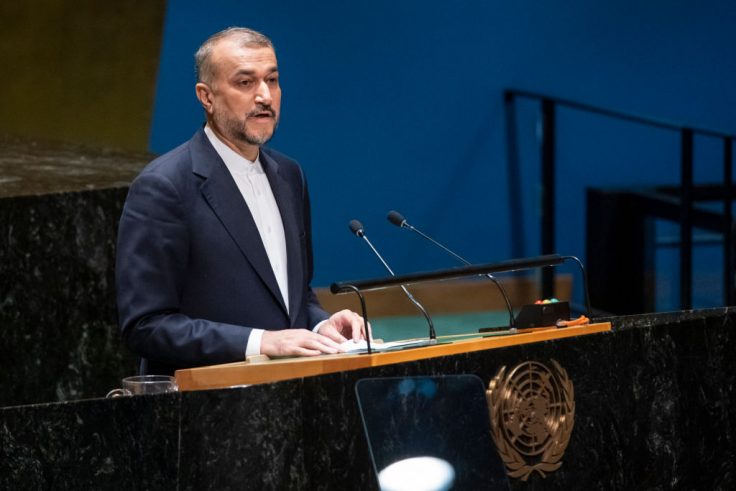 Iran's top diplomat threatened to foment a broader Middle East war on Friday, saying that "further expansion" of the conflict between Israel and Hamas is on the table if the Jewish state does not agree to a ceasefire.
The warning, issued by Iranian foreign minister Hossein Amir-Abdollahian, is the clearest sign to date that Iran intends to unleash its terrorist proxies on Israel and American assets in the region amid a brutal war effort by the Jewish state that shows no signs of slowing down.
"We warned that if the situation continues, any possibility, including further expansion of the scope of the war, is envisaged," Amir-Abdollahian said following a meeting with his French counterpart, according to comments published in Iran's state-controlled press.
Tehran is building an "Axis of Resistance" that includes "Syria and anti-Israeli groups in Lebanon, Iraq, Yemen, and elsewhere," the commander of the country's Islamic Revolutionary Guards Corps (IRGC) said on Thursday in separate comments. The IRGC leader said Iran's terrorist proxy groups "have hit Israeli and U.S. targets in recent weeks in solidarity with Gaza."
While the Biden administration has been trying to avoid becoming entangled in a broader Middle East conflict—with the president warning Iran to back down or face consequences—Tehran has expanded its strikes on American assets in Iraq and Syria.
It is likely Iran's terror proxies will continue hitting American positions in the region until the United States applies pressure on Israel to ink a ceasefire agreement, which will provide Hamas with breathing room to rearm. The Biden administration has moved increasingly closer to this policy as the war stretches into its second month, with top U.S. officials demanding Israel halt its defensive war for humanitarian purposes.
Iran's foreign minister, after speaking with France, said that "Hamas is a Palestinian liberation movement against the occupation."
"We warned about the consequences of the continuation of war crimes in Gaza," Amir-Abdollahian was quoted as saying. "The immediate cessation of genocide in Gaza, the sending of relief aid, and the exchange of civilian prisoners were also emphasized."
In a separate interview with the Financial Times, Amir-Abdollahian again promised to escalate the conflict further if Israel does not implement a ceasefire.
"If the crimes against the people of Gaza and the West Bank are not stopped, any possibility could be considered, and a wider conflict could prove inevitable," he told the paper.
Original News Source – Washington Free Beacon

Running For Office? Conservative Campaign Management – Election Day Strategies!