Tehran-aligned agents in Baghdad strangling pro-U.S. Kurds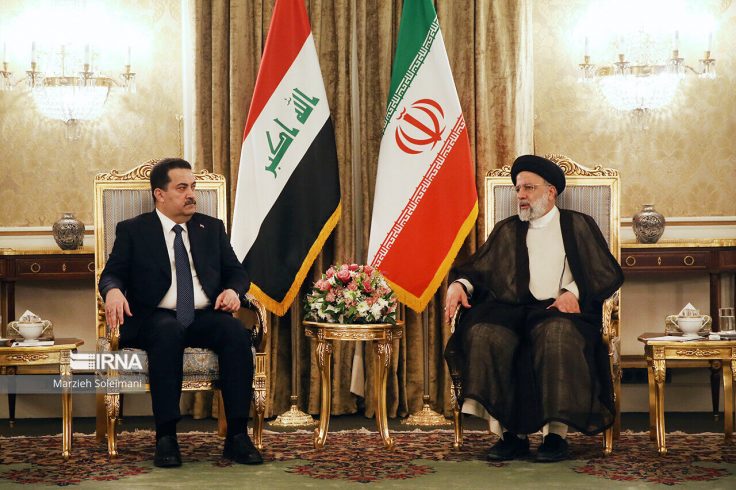 Iraq is "on the verge of being lost to Iran" as Tehran-aligned elements in Baghdad's government strangle the country's pro-U.S. Kurdish population, according to Republican foreign policy leaders.
Iraq's Kurdistan Regional Government (KRG) "has served as one of the United States' most reliable partners in the Middle East, yet is being economically strangled, politically and legally pressured … and militarily threatened by Iran and Iran-backed elements in Baghdad," Republican leaders on the House Foreign Affairs Committee wrote in a letter sent Monday to the White House and obtained by the Washington Free Beacon.
Iran, which has exerted increasing influence with Baghdad's ruling regime, is using its power to systematically dismantle the Kurdish government and eradicate a key source of support for the United States within the country. The KRG runs a semi-autonomous region in Northern Iraq where the majority of American forces are stationed. The Biden administration has been hesitant to confront Iranian meddling in Iraq, leading Tehran to amp up its influence operations and use the country as a means to increase its multibillion-dollar illicit oil trade
"Iraq is on the verge of being lost to Iran," Rep. Michael Waltz (R., Fla.)—who authored the letter along with Reps. Michael McCaul (R., Texas), the foreign affairs committee's chairman, and Joe Wilson (R., S.C.)—told the Free Beacon.
In March, Turkey—a key trading partner with Tehran—shuttered an oil pipeline that was used by the Kurds, restraining the KRG's financial channels and hamstringing the global supply of crude. This has also enabled Iran to boost its own heavily sanctioned oil exports, which the Biden administration has turned a blind eye to as it seeks to cajole Tehran into inking a revamped version of the 2015 nuclear accord, known as the JCPOA.
"Now, other countries will become more reliant on Iranian oil imports that will further fuel their support for terrorism," Waltz told the Free Beacon. "The Biden administration cannot turn even more of a blind eye to Iranian oil smuggling, which has reached historic post-JCPOA highs, while ignoring the blockade of our Kurdish friends."
With the Kurdish government's own oil exports at virtually zero, the U.S. ally is struggling to stay afloat and likely beginning to question the benefits of its ongoing alliance with America.
KRG prime minister Masrour Barzani outlined these concerns in a plea to President Joe Biden sent earlier this month.
"I write to you now at another critical juncture in our history, one that I fear we may have difficulty overcoming," Barzani wrote. "We are bleeding economically and hemorrhaging politically. For the first time in my tenure as prime minister, I hold grave concerns that this dishonorable campaign against us may cause the collapse of … the very model of a Federal Iraq that the United States sponsored in 2003 and purported to stand by since."
The letter has done little to change the Biden administration's approach in Iraq, generating frustration among Republicans on the House Foreign Affairs Committee.
"We urge you to make every effort to end the unacceptable treatment of Iraqi Kurds and the Iraqi Kurdistan Regional Government (KRG) by Iran-aligned elements in Iraq," the lawmakers wrote to Biden.
While Secretary of State Antony Blinken has paid lip service to supporting the Kurds, saying in an Aug. 15 letter that the "KRG remains a cornerstone of our broader relationship with Iraq," his State Department has done little to reopen the Iraq-Turkey oil pipeline and rescue the Kurdish government from financial collapse.
"It is clear that the engagements Secretary Blinken cited have not contributed to a successful resolution to the crisis in Iraq and reopening of the" critical oil pipeline, the lawmakers wrote. "A new Iraq strategy is necessary."
Original News Source – Washington Free Beacon

Running For Office? Conservative Campaign Management – Election Day Strategies!