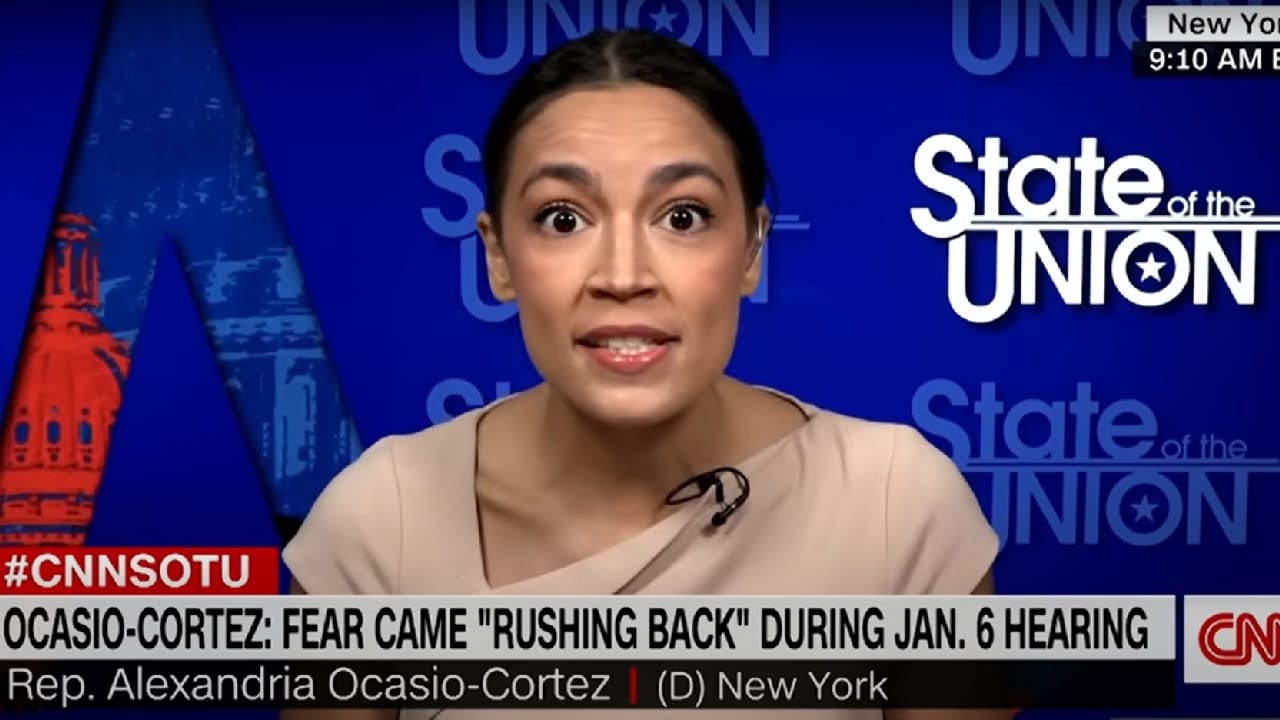 Is AOC Married? House Ethics Committee filings on behalf of Rep. Alexandria Ocasio-Cortez, or AOC, D-N.Y., raise the question of whether or not the 33-year-old congresswoman is married.
They also raise questions about whether she practices what she preaches when it comes to government ethics.
A filing with the House Ethics Committee uncovered by The Washington Free Beacon says the answer to that question is "Yes."
Ocasio-Cortez indicated last year that she and her boyfriend Riley Roberts had gotten engaged but had not set a date.
AOC Checked That She Had Spouse on Ethics Form
The form indicates that Roberts accompanied her on her trip to the Far East last January which had been paid for by the Maureen and Mike Mansfield Foundation. Ocasio-Cortez listed him as her "spouse" on the form.
The couple also traveled to South America to attend an event sponsored by George Soros's Open Society Foundations. Roberts paid his way on both occasions.
Ocasio-Cortez went with Roberts on a weeklong vacation in Venice, Italy, in August 2022. She was sponsored as a guest at an art conference hosted by a Los Angeles-based charity.
She has been at the forefront of ethical accusations against others, particularly Justice Clarence Thomas for his alleged ethical violations.
She wrote Attorney General Merrick Garland last month "failing to report significant gifts he received from Harlan Crow and other billionaires."
Is AOC a Hypocrite?
Her complaints could smack of hypocrisy.
"If Rep. Ocasio-Cortez is going to refer to Mr. Roberts as her spouse in the context of one kind of ethics disclosure, it would be logical and consistent for her to do so in the context of all ethics disclosures, including annual financial disclosures and periodic transaction reports," Dylan Hedtler-Gaudette, a senior government affairs manager at the Project on Government Oversight, told the Free Beacon.
If Roberts and Ocasio-Cortez are married, then she likely created other severe ethical and legal problems for herself.
"If they were married then she would be required to disclose his finances on her 2022 financial disclosure," said Kendra Arnold, executive director of the Foundation for Accountability and Civic Trust told The Washington Free Beacon. "There is no exception to this rule."
Spokeswoman Denies AOC is Legally Married
However, an AOC spokeswoman told the Free Beacon that Ocasio-Cortez and Roberts still are not married. "They are not legally married," spokeswoman Lauren Hitt told the Free Beacon. "House Ethics has commonly recognized the term 'spouse' to extend to long-term partners."
The Free Beacon notes that House ethics rules define a spouse as "someone to whom you are legally married."
If the two are married, then Ocasio-Cortez would be legally required to include Roberts' "reportable stock holdings, assets, liabilities, or income" on her latest financial disclosure filed last month. She did not. AOC also did not disclose Roberts as her spouse before this year.
"It's possible that Hitt was referring to the Office of Congressional Ethics, which considers long-term romantic partners of lawmakers to be "synonymous with a spouse." But the Office of Congressional Ethics is effectively subservient to the House Ethics Committee. As an independent entity, the Office of Congressional Ethics cannot make legally binding enforcement decisions against lawmakers; it simply makes enforcement recommendations to the Ethics Committee," Free Beacon reporter Andrew Kerr writes.
If they are legally married, she no longer can take advantage of the "boyfriend loophole" that lets her avoid disclosing his financial engagements.
She already faces scrutiny over wearing her "Tax the Rich" dress to the 2021 Met Gala.
John Rossomando is a defense and counterterrorism analyst and served as Senior Analyst for Counterterrorism at The Investigative Project on Terrorism for eight years. His work has been featured in numerous publications such as The American Thinker, The National Interest, National Review Online, Daily Wire, Red Alert Politics, CNSNews.com, The Daily Caller, Human Events, Newsmax, The American Spectator, TownHall.com, and Crisis Magazine. He also served as senior managing editor of The Bulletin, a 100,000-circulation daily newspaper in Philadelphia, and received the Pennsylvania Associated Press Managing Editors first-place award for his reporting.
From the Vault
'He Should Quit': Donald Trump Just Got Hit With A Devastating New Poll
The GOP 2024 Presidential Field Just Got Smaller