Ye, formerly known as Kanye West, has been in and out of the headlines in recent months. From his controversial White Lives Matter T-shirt, to antisemitic comments online and the targeting of ex-wife Kim Kardashian on Instagram, it's been a busy year for Ye and now he's taking a serious interest in politics.
The Grammy-award winning rapper has made no secret of his ambitions to run for president of the United States, announcing a campaign for the 2020 election via Twitter on Independence Day.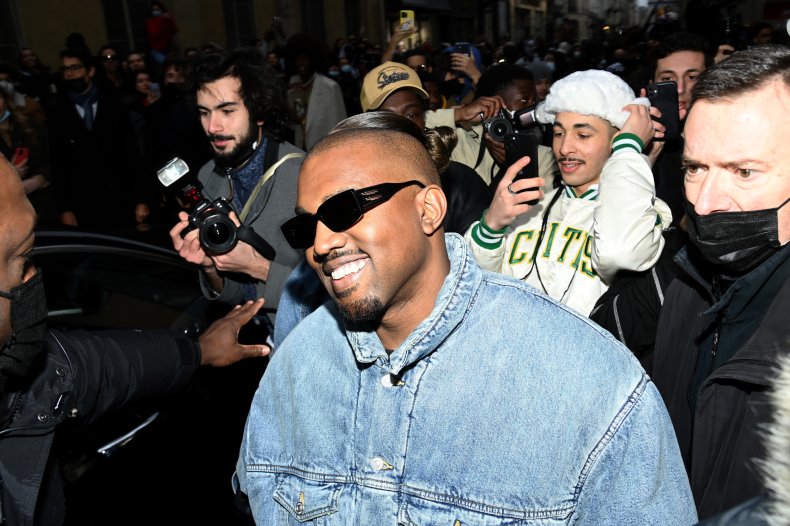 With the 60th presidential election taking place on Tuesday, November 5, 2024, and candidates embarking on their campaigns, Ye has once again entered the political limelight—but will he be running for president in the 2024 election?
Newsweek has everything you need to know.
Is Kanye West Running in 2024?
Yes, Ye is running for President in the 2024 election.
He announced the news on Twitter by posting a video of what may be his campaign logo, a white ball of dots, twisting and spinning with the words "YE 24" printed alongside it.
Ye simply captioned the video, "#YE24."
He has enlisted the help of far-right commentator Milo Yiannopoulos to run his campaign. In a video posted to the X17 YouTube Channel on November 20, he said: "This is Milo right here, working on the campaign."
In the same video, the camera asks Ye if he is running for president, to which Ye responds: "Yes. It's simple 'cause ain't nobody can tell me, you know, 'you should say this, you shouldn't say that,' you know? It's just we're moving towards the future."
What Has Kanye West Said About His Campaign?
Since Elon Musk, the new owner of Twitter, unblocked Ye's account on November 20, Ye has been sharing updates on his 2024 presidential campaign.
On November 23, he shared with the world that he had visited former President Donald Trump at his Florida-based resort Mar-a-Lago and asked him to be his running mate in 2024.
He followed up the post in the early hours of November 25 with a video of him at Yeezy HQ, participating in a Mar-a-Lago debrief.
In the video, Ye touched on numerous things he and Trump talked about during the meeting, revealing they discussed freeing the January 6 protesters and that Trump allegedly "screamed" at him Ye was going to lose the 2024 election.
He also shared an image of a TimCast report that stated he had dined out with Christian conservative Karen Giorno, controversial commentator and white nationalist Nick Fuentes, and Trump at Mar-a-Lago.
On Twitter, Ye has also been posting snippets of several news bulletins about himself, including the announcement that Adidas had severed ties with him, his interview with Tucker Carlson, and the reaction to his White Lives Matter T-shirt. All of the videos ended with the message YE 24 and included the caption "#YE24."
Trump, the first president in U.S. history to be impeached twice, also declared earlier this month that he will run for office for the third time.
What Happened When Kanye West Ran in 2020?
Unfortunately for Ye, he didn't have much success in the 2020 presidential election.
The rapper, producer, and fashion designer only appeared on 12 state ballots out of 50 and received fewer than 60,000 votes, according to The Guardian.
For his campaign, Ye had a 10-point platform, where he called for more support for the environment and arts, more religious teaching in schools, and reforms to the legal system and policing.
He also took an anti-vaccine and anti-abortion stance as a part of his bid.
After conceding defeat in the 2020 election on November 4, 2020, the morning after election day, Ye turned his attention to the 2024 election, tweeting an image of himself in front of an election map with the words "WELP Kanye 2024"
It looks like Ye will be sticking to his word.
Newsweek has contacted Ye for comment.