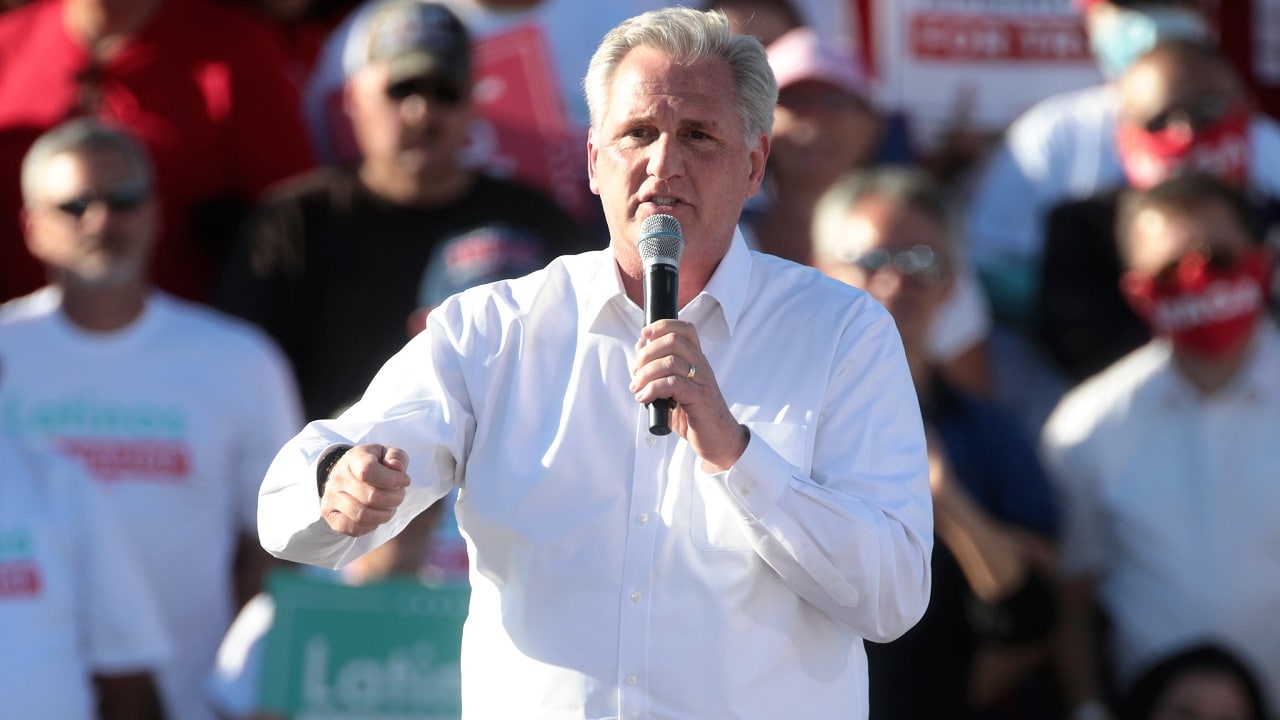 House Speaker Kevin McCarthy on Tuesday officially announced that he will direct House committees to move forward with an impeachment inquiry of President Joe Biden, and that he will not require a vote of the full House in order to do so.
Per the New York Times, the move by the speaker was "a break with the past and a major change in strategy for Mr. McCarthy, who previously indicated that he believed the full House should vote — as it has in past presidential impeachments — on whether to move forward with an impeachment inquiry."
The push toward an inquiry is widely seen as an action taken by McCarthy under pressure from his right flank in the House, including several Republicans who had opposed his speakership and fought it through 15 ballots back in January.
Kevin McCarthy Has a Problem
Among the leaders of that effort was Rep. Matt Gaetz (R-FL). And if you thought Gaetz would be appeased by the launch of the impeachment inquiry, that does not appear to be the case.
Gaetz took to the House floor Tuesday and accused Speaker McCarthy of being "out of compliance" with the agreement he reached with the hardline conservatives in January.
"The path forward for the House of Representatives is either to bring you into immediate total compliance, or remove you," Gaetz said, referring to the provision in the agreement that allowed any member of the House to bring forward a motion to vacate the speaker's chair.
Gaetz stated that the House has not had a vote on term limits or on a balanced budget, as well as the release of more January 6 tapes. He added that there has been "insufficient accountability for the Biden crime family," and also criticized McCarthy for his deal in the spring with President Biden to raise the debt ceiling.
"You ultimately ended up serving as the valet to underwrite Biden's debt and advance his spending agenda," Gaetz said of McCarthy. And while the speaker had said he would use "the power of the purse and the power of the subpoena," the House has not yet "sent the first subpoena to Hunter Biden."
And even though McCarthy went forward with the impeachment inquiry, Gaetz ripped that as "the rushed…and somewhat rattled performance you just saw from the speaker." He noted that at the equivalent time after Democrats took over the House in 2019, they had "already brought in Don Jr. three times."
Earlier in the week, per The New Republic, Gaetz indicated that he wants Democratic votes in order to remove McCarthy as speaker.
"Gaetz tweeted last week that he wanted single-subject appropriations bills instead of one big spending package, a subpoena for first son Hunter Biden to testify before Congress, and impeachment proceedings against Homeland Security Secretary Alejandro Mayorkas,"
However, Rep. Eric Swalwell, on X, accused his colleague of folding "like a cheap card table" to McCarthy in the past.
"Hi, Eric. If I make a motion to remove Kevin, how many democrat votes can I count on? Asking for a friend….," Gaetz replied.
Gaetz also had another Twitter exchange with a House colleague: Rep. Marjorie Taylor Greene (R-GA).
After Gaetz posted on X that McCarthy endorsed the impeachment inquiry after "I pushed him for weeks," Greene — a McCarthy ally who has found herself on the opposite side of Gaetz — undercut Gaetz's claim.
"Correction my friend. I introduced articles of impeachment against Joe Biden for his corrupt business dealings in Ukraine & China while he was Vice President on his very first day in office," Greene posted.
"You wouldn't cosponsor those and I had to drag you kicking and screaming to get you to cosponsor my articles on the border. Who's really been making the push?"
Author Expertise and Experience
Stephen Silver is a Senior Editor for 19FortyFive. He is an award-winning journalist, essayist and film critic, who is also a contributor to the Philadelphia Inquirer, the Jewish Telegraphic Agency, Broad Street Review and Splice Today. The co-founder of the Philadelphia Film Critics Circle, Stephen lives in suburban Philadelphia with his wife and two sons. Stephen has authored thousands of articles over the years that focus on politics, technology, and the economy for over a decade. Follow him on X (formerly Twitter) at @StephenSilver, and subscribe to his Substack newsletter.