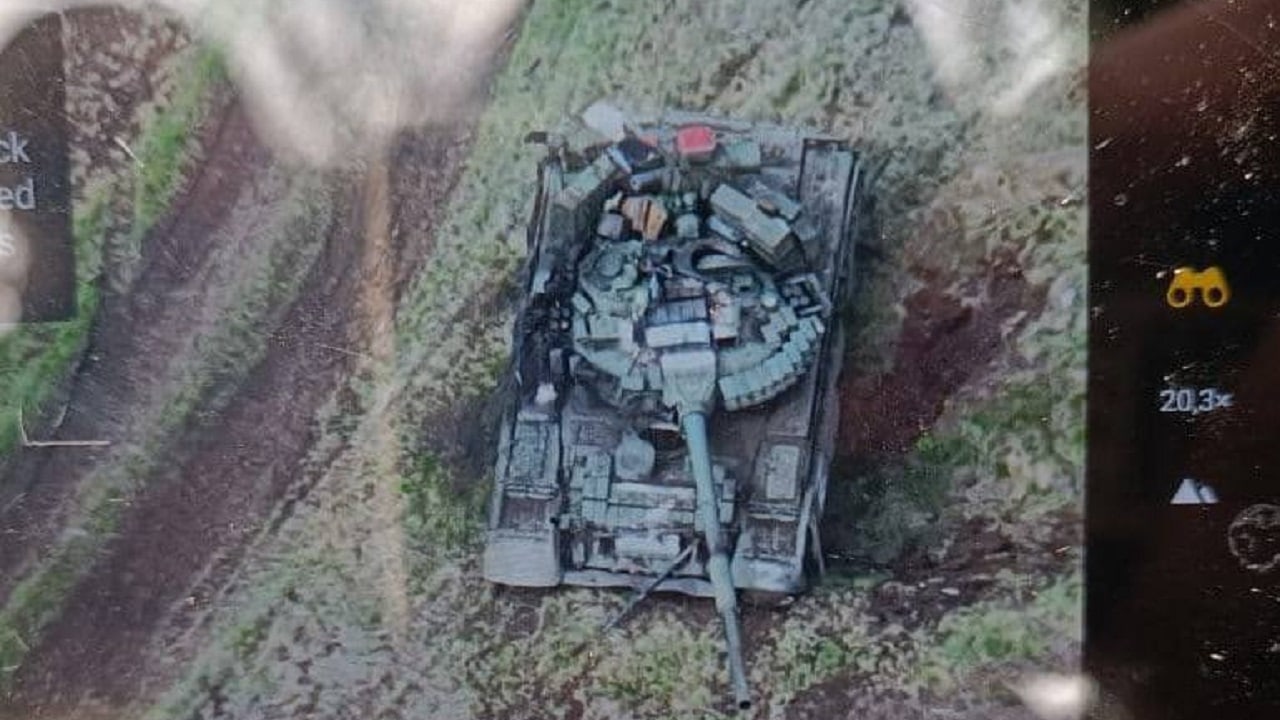 Russian forces suffered a major blow last week when Ukraine launched a barrage at the occupied Crimean Peninsula.
Last Thursday, Ukrainian forces deployed a combination of unmanned aerial vehicles and cruise missiles targeting an advanced Russian missile system near Yevpatoriya.
According to Kyiv, a Russian S-400 system was obliterated in the attack. Russia's Ministry of Defense did announce that many of the drones used in the barrage were taken down.
The Ministry did not confirm any damage sustained by its own military equipment and forces positioned on the peninsula.
Kyiv Says It Hit Hard in Crimea
Since Kyiv began its counteroffensive earlier this summer, attacks inside Russia's lines have increased. In July, Ukrainian President Volodymyr Zelensky justified drone attacks in Moscow and along the Ukraine-Russian border, referring to them as "inevitable" and "absolutely fair." Back in 2014, Russia invaded and annexed the Crimean Peninsula. The occupied region has become a symbol for Ukraine's resistance, and for Russia, maintaining a hold on the Peninsula is critical since it hosts the only Russian-controlled deep-water port on the Black Sea. Ukraine has also attacked the strategic Kerch bridge, which connects Russia to Ukraine and serves as a significant supply route for the Kremlin.
If Ukraine did destroy S-300 and S-400 air-defense systems in Crimea, this would be a big feat for Kyiv. According to the BBC, an intelligence source revealed that, "After disabling the radar stations, the navy units hit the S300 and S400 'Triumph' systems, worth $1.2bn, by two Neptune cruise missiles."
The S-300 was developed by the Soviet Union in the 1970s. This long-range surface-to-air missile (SAM) system and its successor, the S-400, have been used prominently by Russia in its ongoing invasion.
Images Shows Destroyed Russian SAMs
Last week, open-source intelligence group Ukraine Weapons Tracker published two previously undocumented losses of the S-300 system in Luhansk Oblast.
The group released two images showing two destroyed missile systems fitted onto a 9A83M2 transport erector launcher and radar and 9A84-2 launcher/loader vehicle. Every documented destroyed S-300 or S-400 marks a big loss for Russia, which depends heavily on these advanced systems.
Weighing in at nearly 300 pounds, the S-300 can be divided into three primary variants — the S-300P, the S-300V and the S-300F systems. The most advanced version of this family of systems it he S-300V, which has "high tactical and technical characteristics that allow it to be used for air defense of the most important administrative, industrial and military facilities, troop groups, coastal infrastructure and naval forces at stationing site," according to Retuers.
The S-400 Triumf SAM system is an even more advanced version of its predecessor. Representing the fourth generation of long-range Russian SAMs, the Triumf is capable of intercepting airframes, cruise missiles, and UAVs, and it even possesses a terminal ballistic missile defense capability.
#Ukraine: Two previously undocumented losses of vehicles of the potent and modern Russian S-300V4 long-range air defense system in #Luhansk Oblast- a 9A83M2 transport erector launcher & radar and 9A84-2 launcher/loader vehicle.

h/t: @naalsio26 pic.twitter.com/DpaJAvY1XQ

— ???????? Ukraine Weapons Tracker (@UAWeapons) September 16, 2023
Maya Carlin, a Senior Editor for 19FortyFive, is an analyst with the Center for Security Policy and a former Anna Sobol Levy Fellow at IDC Herzliya in Israel. She has by-lines in many publications, including The National Interest, Jerusalem Post, and Times of Israel. You can follow her on Twitter: @MayaCarlin.