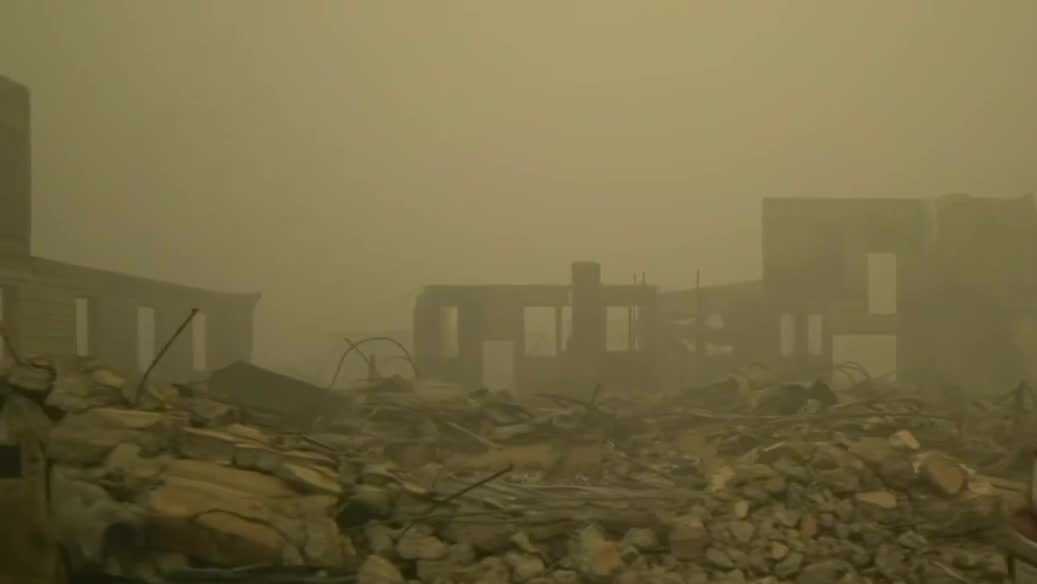 Fires raging across Northern California have kept a seemingly unceasing hold on rural mountain communities.For Plumas County Sheriff Todd Johns, dealing with the lead-up to and aftermath from the Dixie fire isn't just part of his job, it's deeply personal."I've been pretty much a county resident, a resident of Greenville, for 54 years," Johns told KCRA 3. "Fifty-four years of driving through Greenville and it'll never be the same."The town of Greenville was wiped out by wildfire on Wednesday, leaving the sheriff heartsick for people he's known all his life."I can't even imagine the fact that you would lose a business after 30, 40 years, and put your heart and soul into it and then lose everything," he said. "It's devastating. That's the only way you can say it."Even for towns that weren't leveled from the fire, which as of Sunday is now the second-largest wildfire in California history, the impacts are felt there, too."We've almost shut down two-thirds of the county with this fire," Johns said. "Just because a community doesn't burn, doesn't mean they're not affected by this when you've had so many people evacuated."The sheriff said he and other local leaders are trying to help evacuees and those who stayed with their properties, including animals and livestock.After Gov. Gavin Newsom's tour of Greenville on Saturday, Johns said he's hopeful that desperately needed state and federal resources and assistance will pull Greenville and surrounding Plumas County communities out of this wildfire crisis.Johns' reaction to the governor's visit was a hopeful one, believing that Newsom listened to his concerns and has actual intent to help residents in small communities impacted by the Dixie Fire. The sheriff knows, however, any help that does arrive may take some time and that people will be called upon to lean on each other for a little while longer. But that is also what mountain communities do: Step up and take people in to help each other, he said.Johns is now looking forward to healing with his community — however long it takes."It's difficult, but I still have amazing memories of the town as it was," Johns said of Greenville. "I look forward to rebuilding it with the community and seeing what the future holds."
PLUMAS COUNTY, Calif. —
Fires raging across Northern California have kept a seemingly unceasing hold on rural mountain communities.
For Plumas County Sheriff Todd Johns, dealing with the lead-up to and aftermath from the Dixie fire isn't just part of his job, it's deeply personal.
"I've been pretty much a county resident, a resident of Greenville, for 54 years," Johns told KCRA 3. "Fifty-four years of driving through Greenville and it'll never be the same."
The town of Greenville was wiped out by wildfire on Wednesday, leaving the sheriff heartsick for people he's known all his life.
"I can't even imagine the fact that you would lose a business after 30, 40 years, and put your heart and soul into it and then lose everything," he said. "It's devastating. That's the only way you can say it."
Even for towns that weren't leveled from the fire, which as of Sunday is now the second-largest wildfire in California history, the impacts are felt there, too.
"We've almost shut down two-thirds of the county with this fire," Johns said. "Just because a community doesn't burn, doesn't mean they're not affected by this when you've had so many people evacuated."
The sheriff said he and other local leaders are trying to help evacuees and those who stayed with their properties, including animals and livestock.
After Gov. Gavin Newsom's tour of Greenville on Saturday, Johns said he's hopeful that desperately needed state and federal resources and assistance will pull Greenville and surrounding Plumas County communities out of this wildfire crisis.
Johns' reaction to the governor's visit was a hopeful one, believing that Newsom listened to his concerns and has actual intent to help residents in small communities impacted by the Dixie Fire.
The sheriff knows, however, any help that does arrive may take some time and that people will be called upon to lean on each other for a little while longer. But that is also what mountain communities do: Step up and take people in to help each other, he said.
Johns is now looking forward to healing with his community — however long it takes.
"It's difficult, but I still have amazing memories of the town as it was," Johns said of Greenville. "I look forward to rebuilding it with the community and seeing what the future holds."