House Judiciary Committee Chairman Jim Jordan (R-Ohio) has subpoenaed Nina Jankowicz, who briefly served as the Biden administration's "disinformation czar."
In a letter to Jankowicz accompanying her subpoena dated March 6 (pdf), Jordan explained that the committee is conducting oversight of the now-defunct Disinformation Governance Board, including its creation and activities.
Department of Homeland Security (DHS) Secretary Alejandro Mayorkas announced the creation of the board in April last year before disbanding it four months later, amid concerns that the agency would be a tool for government censorship.
Jankowicz resigned in May 2022, just weeks after her appointment as the board's executive director.
"We have repeatedly sought information from you concerning your official actions and duties as a DHS employee and former Executive Director of the Board, including how the Board intended to define disinformation, how it planned to collect information and from what sources, how it anticipated countering disinformation, and how it proposed to protect First Amendment rights," Jordan wrote.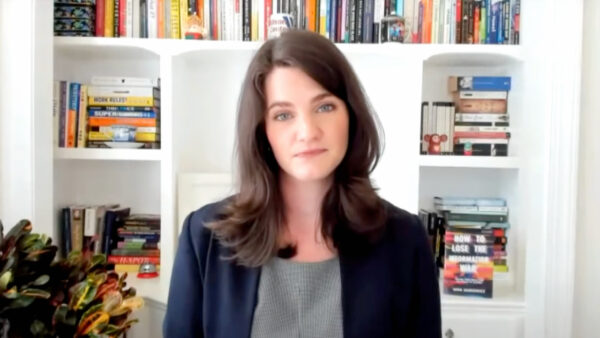 In the letter, Jordan detailed a timeline of how Jankowicz had failed to respond to the panel's requests. In May 2022, before her resignation, the panel requested her "voluntary cooperation." In December 2022, the panel requested that she appear for a voluntary transcribed interview—a request that was then repeated three more times this year.
"To date, however, you have declined to comply voluntarily with our request for a transcribed interview," Jordan wrote. "In light of your disregard of our earlier voluntary requests, please find attached a subpoena compelling you to appear for a deposition."
In response to Jordan's request, Jankowicz wrote in a statement on Twitter that she is "ready to continue to stand up for the truth" and will not be "cowed by conspiracy theories or intimidation."
"I will happily testify to the truth of the Board under oath: That it was a working group meant to address disinformation that endangered Americans' safety, and that—because of the Republican Party's irresponsible lies about it—our democracy is less secure," she added.
Her brief role as the head of the board has put her past comments under scrutiny, particularly her citation of former British spy Christopher Steele as an authority on misinformation and her false claims in late 2022 about the New York Post's story on Hunter Biden's laptop.
In November last year, Jankowicz registered as a foreign agent of a British nonprofit organization.
Subpoenas
Separately on Monday, Jordan also subpoenaed Chip Slaven, the former interim executive director and CEO of the National School Boards Association (NSBA), and Viola Garcia, the former president of the NSBA, for depositions.
The judiciary committee "is conducting oversight of the misuse of criminal and counterterrorism resources by the executive branch against concerned parents at local school board meetings and the effect on parents' protected First Amendment activity," Jordan wrote in separate letters to Slaven (pdf) and Garcia (pdf).
In September 2021, the two then-NSBA officials co-signed a letter to President Joe Biden, asking for federal law enforcement to deal with alleged threats from parents against school board members.
"As these acts of malice, violence, and threats against public school officials have increased, the classification of these heinous actions could be the equivalent to a form of domestic terrorism and hate crimes," their joint letter reads.
The letter subsequently led to an October 2021 memo from Attorney General Merrick Garland, who launched a probe against parents.
"Whistleblowers have disclosed that this memorandum resulted in the Federal Bureau of Investigation's (FBI) establishment of a 'threat tag' and the Justice Department has confirmed that the FBI investigated at least 25 incidents as a result of the NSBA letter you co-signed," Jordan wrote.
The NSBA eventually issued an apology for the letter, saying that there was "no justification for some of the language included in the letter."
Jordan reminded Slaven and Garcia that the committee had written to them in January to request that the two appear for voluntary transcribed interviews. The Ohio lawmaker said the interviews would shed light "about the impetus" for the September 2021 letter and related matters.
Given their decisions not to comply voluntarily, Slaven and Garcia will now have to sit for dispositions as required by the subpoenas.
Original News Source Link

Running For Office? Conservative Campaign Consulting – Monthly Rates!