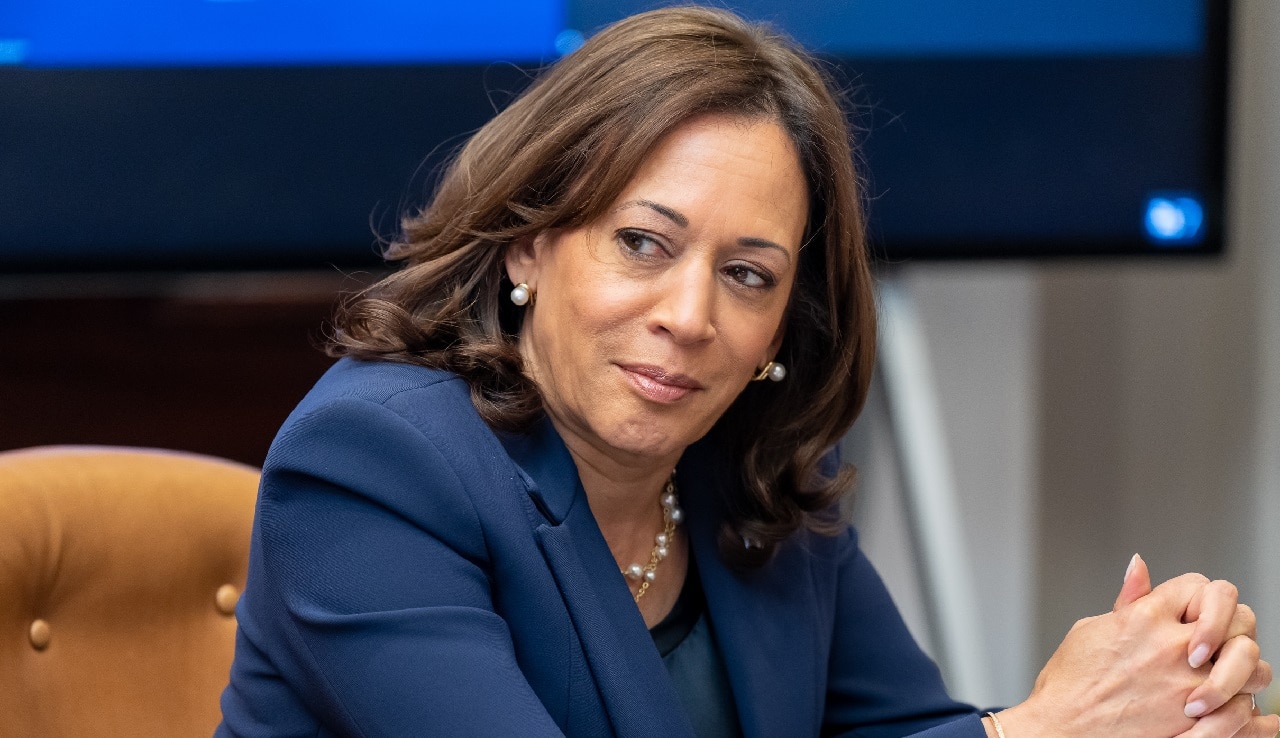 The Joe Biden – Kamala Harris reelection train is coming off the tracks. Everyone in the Democratic Party knows it. This is one reason behind the persistent, growing rumors that alternatives to Biden, like former First Lady Michelle Obama, might be running in 2024 to replace President Joe Biden.
In a recent interview, the hapless Vice-President Kamala Harris who, in 2020, was hailed as one of the smartest, most competent people to have ever run for higher office, uncomfortably laughed her way through what should have been a softball interview.
The question that triggered her cackling attack was whether she was taking the threat of former President Donald J. Trump's reelection "seriously enough." After laughing her way through the question, she finally collected herself and replied, "I don't understand the question." Harris has become notorious for her nonsensical public statements and fits of uncontrollable, creepy laughter.
So, perhaps she truly did not understand the question that CBS' Margaret Brennan was asking her. Then again, more probably, Harris was trying to be funny.
With so much that the vice-president does, though, her bizarre attempt at humor fell flat. Although, as the country lives through a blatantly partisan spate of legal investigations aimed at former President Trump (perfectly timed to coincide with key points in the ongoing 2024 Presidential Election), it is possible that Vice-President Harris knows something that we don't.
For example, on top of his 91 felony indictments, Trump is facing potential disqualification under the so-called "Insurrection Clause" of the Fourteenth Amendment (one of the lawsuits alleging Trump's constitutional ineligibility is set to be heard by the Supreme Court of the United States in just a few weeks).
Breaking Trump
Any other candidate under even half the legal pressure that Trump is under would not only be unable to run, but they might start cracking under the pressure.
Instead, Trump insists that the piling indictments and constitutional challenges to his legitimacy to run for the presidency again only empowers him.
This is likely braggadocio, especially since it has been widely reported that the massive tranche of money his campaign has made has already been mostly bled out to pay for the forty-fifth president's increasing legal woes.
At some point, irrespective of how well Trump is doing in the polls presently—and he leads his next nearest challenger in the GOP Presidential Primary, Florida's Governor Ron DeSantis, by double-digits—the legal problems Trump is facing will take its toll on his political ambitions.
Harris' response to the question was a combination of uncomfortable as well as possibly all-knowing about the final result of the 2024 Presidential Election, should Donald Trump again be made the Republican Party's nominee.
I have long feared that, given how much higher Trump's poll numbers are, and the way that the increasing legal problems that the forty-fifth president is facing today seems to make Republican voters want to support Trump even more, the Democrats are waiting to kneecap Trump with any of these legal issues.
Joe Biden and Kamala Harris would much rather rely on legal trickery rather than legitimate campaign tactics to beat Trump in the 2024 election, if Trump is the GOP nominee.
Just look at the current polling data that the Biden-Harris ticket is facing. Sure, Trump is unpopular. But both Biden and his running-mate, Harris, are highly unpopular.
What's more, Biden scores particularly poorly among most voters for his handling of the US economy, which his campaign keeps touting as being the strongest it has been in decades (it is not, in fact, strong).
Trump Stands a Chance If He's Nominated
Meanwhile, Biden's advanced age has led to uncomfortable questions being raised in the minds of most Americans about the forty-sixth president's mental and physical competency. All this has congealed into an opportunistic admixture that even a deeply unpopular and flawed candidate, like Trump, can exploit to seriously challenge Biden's reelection.
In fact, it is precisely because of the public's negative perceptions of Biden's age and handling of the economy that now, just nine months after polls came out indicating that most Republican voters were open to supporting a candidate other than Trump in 2024.
Trump Might Lose By Default
Since the spate of indictments Trump has suffered and Biden's declining support among the American electorate, suddenly, Trump has become significantly more competitive—for now.
It remains to be seen how the legal crises Trump finds himself in will play out among independent voters in a General Election, should Trump be the GOP nominee.
More to the point, Kamala Harris' arrogance might be somewhat founded. The forty-fifth president has the odds stacked against him with these criminal cases.
She might be right to assume that Trump will ultimately be negated from running—or assuming—the presidency because of those legal woes.
Perhaps she assumes that she and Joe Biden will win reelection by default.
A 19FortyFive Senior Editor, Brandon J. Weichert is a former Congressional staffer and geopolitical analyst who is a contributor at The Washington Times, as well as at the Asia Times. He is the author of Winning Space: How America Remains a Superpower (Republic Book Publishers), Biohacked: China's Race to Control Life (Encounter Books), and The Shadow War: Iran's Quest for Supremacy (July 23). Weichert occasionally serves as a Subject Matter Expert for various organizations, including the Department of Defense. He can be followed via Twitter @WeTheBrandon.