Attorneys for Kari Lake on Thursday filed a response in court after Maricopa County's attorneys told the Arizona Supreme Court that the GOP candidate's election lawsuit should be tossed.
Her attorneys accuse Maricopa County of misleading the court and said that its attorneys have not answered a question about why there were 35,000 ballots that were unaccounted for. Lake alleged that those ballots were illegally mingled with the others.
In the initial petition to the Supreme Court, her attorneys said that records showed a discrepancy of the ballot totals. They alleged that 263,379 ballots were delivered to a third-party contractor and that incoming scan receipts show that 298,942 ballots were returned to Maricopa from the contractor, or a difference of 35,563 ballots.
"Respondents accuse Lake of raising a new argument regarding certain chain-of-custody forms and the 35,563 unaccounted for ballots injected into the election," the filing said, adding that Maricopa attorneys have "disingenuously" misrepresented her arguments. It said county officials erroneously cited "chain-of-custody forms in her Petition that she alleged in the trial court did not even exist … this issue is not new, was properly raised below, and is properly before this Court."
Maricopa County's "disingenuous arguments and tired calls for sanctions while blatantly misstating the record illustrate the apparent arrogance of election officials who, without restraint, unapologetically ignore clear and unambiguous statutory requirements and evidence precisely why this Court should accept the Petition," her lawyers wrote.
Election data shows that Lake lost to Hobbs, a Democrat, by about 17,000 votes during the Nov. 8 midterms. Her petition to the Supreme Court asks judges to re-do the election in Maricopa County or declare her the victor.
Previously, Lake argued that Election Day problems at dozens of Maricopa voting locations suppressed would-be Republican voters, pointing to public statements from top county officials about widespread printer issues. Maricopa officials later said that those printing problems were ultimately resolved and that Election Day voters could place their ballots in secure drop-boxes for later tabulation, and in court, a lawyer for the county blamed the error on a printer toner problem.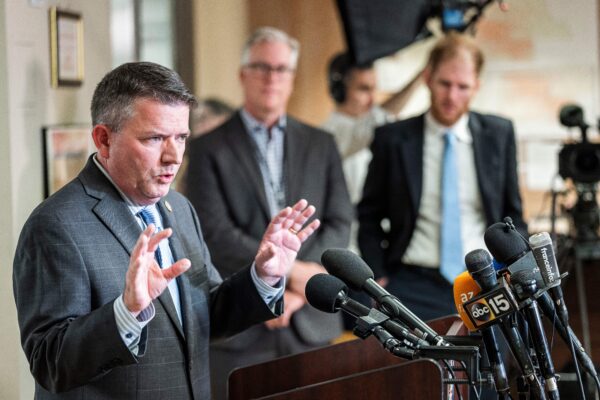 Lake's filing on Thursday came after attorneys for Maricopa County on Monday said that Lake presented "a misleading factual theory about chain-of-custody documents" and said that no argument was made in explaining why the Arizona Supreme Court should review a previous decision that was made by the Arizona Court of Appeals. Several weeks ago, the state's appeals court rejected Lake's lawsuit before her attorneys transferred the petition to the high court.
Meanwhile, lawyers for former Secretary of State and current Gov. Katie Hobbs and now-Secretary of State Adrian Fontes issued a response to Lake's petition to the Supreme Court. Both Fontes and Hobbs asked the court to sanction Lake and her attorneys over the suit, although previous attempts to sanction her and other Republicans failed.
"Those who invoke our Courts must do so in good faith," Craig Morgan, a lawyer for Fontes, wrote to the Supreme Court. "We cannot allow a disgruntled vocal minority to weaponize our Courts, sow unfounded distrust in our election processes, malign our public servants, and undermine our democracy—all for the purpose of trying to overturn the People's will and topple an election."
Responding to the allegations that 35,563 ballots were illegally mingled after the Nov. 8 election, Abha Khanna, an attorney representing Hobbs, said Lake "blatantly misrepresents key facts from the record." Khanna wrote, "Now, Lake argues that not only did those records exist, but that they show that 35,563 more ballots were inserted" and were sent back to the Maricopa County Tabulation and Election Center were tabulation.
"Ms. Lake and her counsel continue to push false claims of election fraud, now on appeal going so far as to misrepresent the record and the law," Morgan also wrote. "This Court is the last opportunity for our judiciary to remind those who seek its recourse that they must do so with integrity. If this Court sits silent in the face of what has occurred, then those who would due (sic) our union harm will continue to malign and erode the foundations upon which our great state stands."
Original News Source Link

Running For Office? Conservative Campaign Consulting – Monthly Rates!