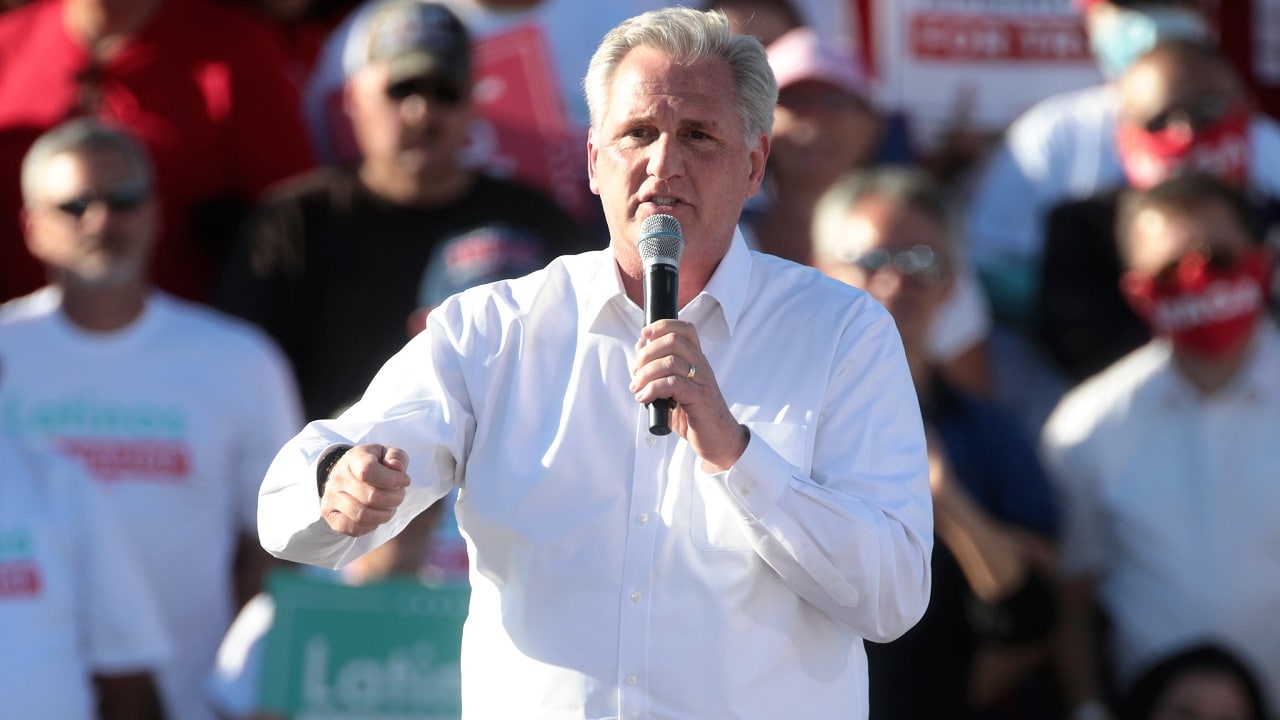 Earlier this week, House Speaker Kevin McCarthy announced that he was allowing an impeachment inquiry into President Joe Biden to go forward. He also said that the inquiry would not require a vote of the full House, which he had earlier said would be necessary.
McCarthy may have thought that taking that step would appease the right flank of his cause, but no such thing happened, and Rep. Matt Gaetz (R-FL) got up immediately afterward and threatened to invoke the caucus' right to make a motion to vacate.
On Thursday, per The Hill, the speaker "vented his frustrations" with members of his caucus.
"If you want to file a motion to vacate, then file the [expletive] motion," McCarthy stated, Rep. Brian Mast (R-FL), who was in the room, told The Hill.
When McCarthy was elected speaker in January, among other concessions, he agreed any member of the conference would have the power to enter a motion to vacate the speakership. However, even if such a motion passed, it's not clear what the next step would be for hardliners, since there isn't another candidate who would have enough votes in McCarthy's stead.
The way CNN put it, McCarthy is " making a strategic bet: his critics don't have the votes to oust him – and if they do, he'll grind it out on the floor again as he did back in January." The network also stated that McCarthy plans to put forward a short-term spending bill to avoid a government shutdown, even though his critics on the right have vowed to remove him should he do such a thing.
"I showed frustration in here because I am frustrated," McCarthy told reporters afterward, per The Hill. "Frustrated with some people in the conference."
"Threats don't matter, and sometimes people do those things because of personal things and that's all fine," McCarthy told reporters. "You know what, if it takes a fight, I'll have a fight."
The speaker was also upset that the minority in the caucus forced the leadership to punt a defense appropriations bill.
"We had the DOD appropriations bill yesterday, couldn't put it on the floor," the speaker said, per The Hill. "I don't have one complaint by any member of what's wrong with this bill."
The Hill got a quote in response from Gaetz, who had threatened earlier in the week to depose McCarthy as speaker.
"Instead of emotionally cursing, maybe the Speaker should just keep his word from January on balanced budgets, term limits and single-subject spending bills," Gaetz said.
Gaetz said more on X Thursday.
"Sounds like [Speaker McCarthy] is having a total normal one – not rattled at all. Truth is Kevin controls his own fate," Gaetz posted. "So instead of emotionally cursing, let's do this: Single-subject spending bills
Term limits vote
Balanced budget vote
Release J6 tapes to all
Subpoena Hunter
We must begin immediately."
Meanwhile, Rep. Marjorie Taylor Greene (R-GA), a McCarthy ally, told the publication that hardliners should raise their issues within the caucus.
"If we're going to be able to do our job, we need every single member in our conference to show up and face everyone else, and then we can work out our differences and fund the government," Greene told The Hill.
As Axios put it, McCarthy has "dared" the hardliners in the caucus to remove him.
Could the Democrats save McCarthy? Axios looked at that question earlier this week.
To remove McCarthy, Republicans would need 200 Democrats to vote against him, and it's not clear that they would play along.
"No love for Kevin. But [there is] concern about more chaos, and who might take his place if he is booted," an anonymous House Democrat told Axios.
"If we vacated the chair, I don't see a better speaker. So I don't foresee that happening." Rep. Steve Cohen (D-TN) told the outlet.
Author Expertise and Experience
Stephen Silver is a Senior Editor for 19FortyFive. He is an award-winning journalist, essayist and film critic, who is also a contributor to the Philadelphia Inquirer, the Jewish Telegraphic Agency, Broad Street Review and Splice Today. The co-founder of the Philadelphia Film Critics Circle, Stephen lives in suburban Philadelphia with his wife and two sons. Stephen has authored thousands of articles over the years that focus on politics, technology, and the economy for over a decade. Follow him on X (formerly Twitter) at @StephenSilver, and subscribe to his Substack newsletter.