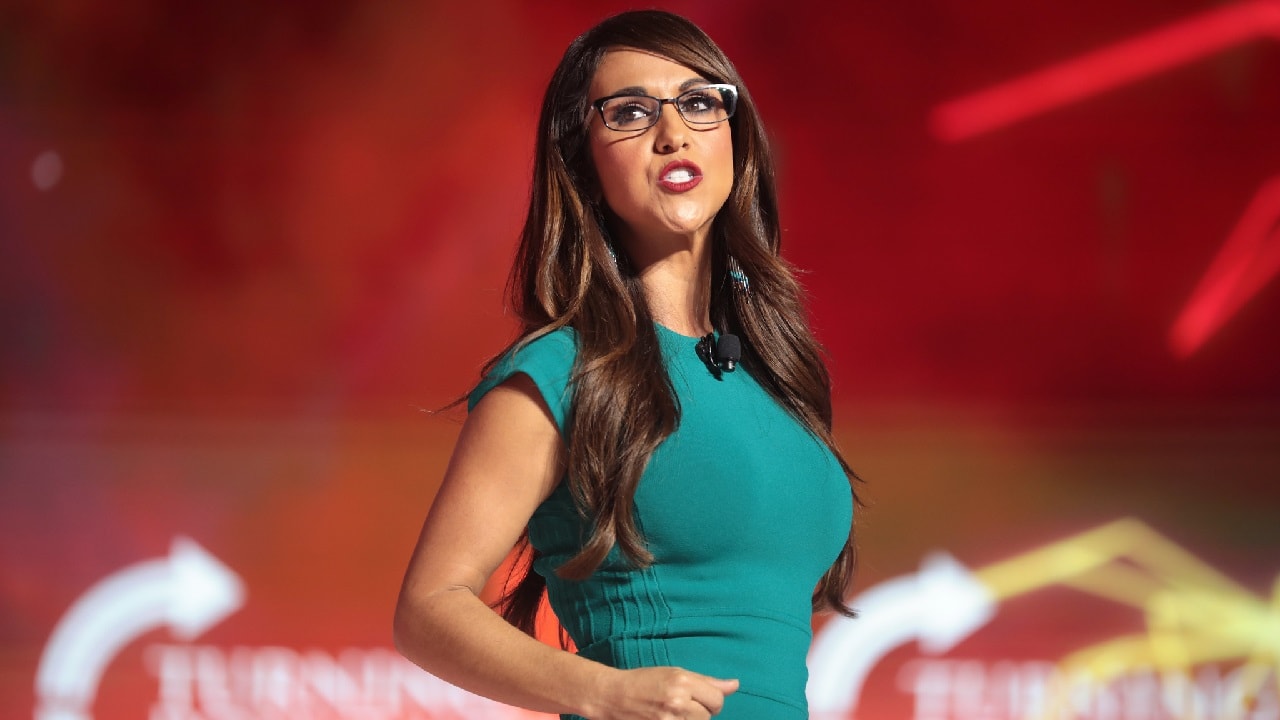 Now, there's a report that a sitting member of Congress has been "escorted" out of a play.
The Denver Post reported Tuesday that Rep. Lauren Boebert (R-CO) was directed out of a performance of "Beetlejuice: The Musical" in downtown Denver on Sunday. Per the report, Boebert was "causing a disturbance" at the show while also vaping, singing, and recording the action.
The touring production of "Beetlejuice," based on the 1988 movie that starred Michael Keaton, is in the middle of a run at Denver's Buell Theater. Representatives of Denver Arts & Venues stated that two patrons had first been warned, and then asked to leave the performance. Boebert's campaign office confirmed that Boebert had been escorted out of the play.
Lauren Boebert and the other unnamed individual, per the incident report cited by the newspaper, had been warned at intermission, but shortly before the second act began, they received "another complaint about the patrons being loud and at the time (they) were recording."
"They told me they would not leave. I told them that they need to leave the theater and if they do not, they will be trespassing," the incident report said, per the newspaper. "The patrons said they would not leave. I told them I would (be) going to get Denver Police. They said go get them."
In a statement, Boebert's campaign manager denied that the congresswoman had vaped in the theater, but added she did take a picture during the performance, not having been aware this was not allowed. Police were called, the Denver Post said, and ensured that she left, although Boebert was not arrested.
"I can confirm the stunning and salacious rumors: in her personal time, Congresswoman Lauren Boebert is indeed a supporter of the performing arts (gasp!) and, to the dismay of a select few, enthusiastically enjoyed a weekend performance of 'Beetlejuice,' " the spokesperson, Drew Sexton, told the newspaper.
In defense of the congresswoman, her spokesman also quoted the newspaper's review of the show, which described it as "zany," "outrageous," and a "lusty riot."
Boebert is currently running for re-election in Colorado's Third Congressional District, where in 2022 she won the most narrow re-election victory in the country over Democrat Adam Frisch.
While many candidates are in the race from both parties, Frisch and Boebert are favored for a rematch in the general election. The district is the largest in Colorado, is mostly rural and has leaned Republican for many years.
A poll released last month showed Frisch ahead, although that poll was commissioned by Frisch's own campaign. But that hasn't stopped Boebert from fundraising off of that poll in a series of messages to her supporters earlier this month.
"Boebert's campaign sent three emails to supporters last week expressing concern over polling that showed the second-term congresswoman trailing her potential 2024 Democratic opponent, former Aspen City Councilman Adam Frisch, by 2 percentage points," the Aspen Daily News reported last week.
It's not rare for candidates to cite negative polls or lackluster fundraising totals in order to create a sense of urgency among their supporters.
"If we don't turn things around quickly, we could lose this seat to the Democrats. I can't believe I'm saying those words, but I need you to understand how dire this situation is," another of Boebert's fundraising appeals stated.
It's not clear whether Frisch or any of the other candidates in the race have any plans to use the Denver theater incident against Lauren Boebert.
Author Expertise and Experience:
Stephen Silver is a Senior Editor for 19FortyFive. He is an award-winning journalist, essayist and film critic, who is also a contributor to the Philadelphia Inquirer, the Jewish Telegraphic Agency, Broad Street Review and Splice Today. The co-founder of the Philadelphia Film Critics Circle, Stephen lives in suburban Philadelphia with his wife and two sons. Stephen has authored thousands of articles over the years that focus on politics, technology, and the economy for over a decade. Follow him on X (formerly Twitter) at @StephenSilver, and subscribe to his Substack newsletter.