'You're clearly no professional,' state rep Tom Hoyt says in nasty email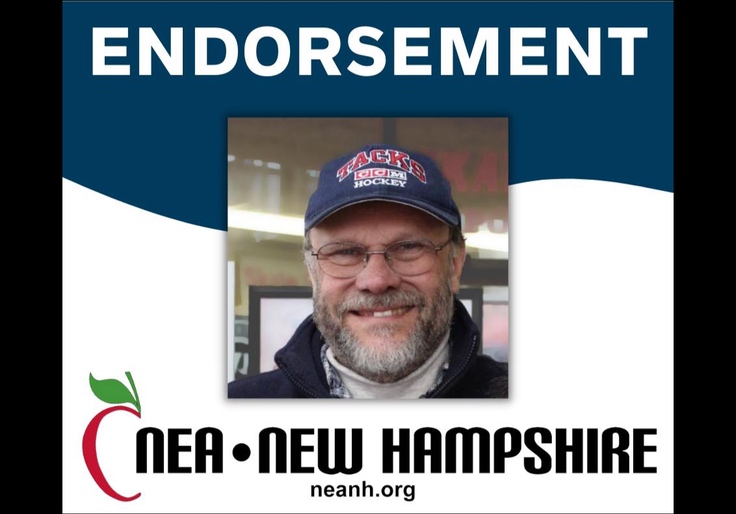 A Democratic lawmaker in New Hampshire lashed out at a voter who urged him to support a parental rights bill, telling the voter in a nasty email to "let the teachers teach, and shut up."
After a local parent of four contacted New Hampshire state representative Tom Hoyt to ask the Democrat to pass a parental bill of rights measure "without any amendments," Hoyt responded aggressively, emails obtained by the NH Journal show. "Do you know why children's results tanked during covid? Their parents were incompetent teachers," Hoyt wrote. "Do your children a favor, let the teachers teach, and shut up. You're clearly no professional."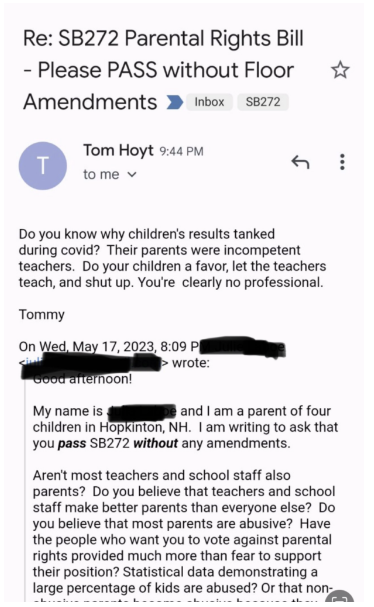 Hoyt's outburst comes as states across the country work to pass laws that prevent public schools from withholding information from students' parents. Florida, Georgia, and Arizona have all passed such legislation, despite fierce opposition from liberal teachers' unions. In New Hampshire, for example, the vice president of the state's American Federation of Teachers chapter promised to pull support for all state Democrats who backed the parental rights bill. The New Hampshire House in a Thursday vote went on to narrowly reject the legislation.
Hoyt, who took office in December 2022, declined to comment on his email but celebrated the parental rights bill's defeat. "Thank you, but I am going to take my own advise [sic] and shut up," the Democrat told the Washington Free Beacon. "We defeated the 'parental rights' bill last night in the House, that should be the focus today."
For Republican State Leadership Committee spokeswoman Stephanie Rivera, Hoyt's response is not enough.
"Representative Hoyt should be ashamed of himself for his disgusting comments and for trying to silence New Hampshire parents by taking away their rights to decide what is best for their children's education," Rivera said in a statement.
The bill Hoyt opposed would have ensured New Hampshire parents have a "fundamental right and responsibility to direct the upbringing, education, and care of their minor children." It also would have barred schools from withholding information about a student's health or behavior. The legislation sparked an uproar among New Hampshire Democrats, with state party chairman Ray Buckley arguing that if the bill passed, "some kids" would be "beaten (to death)."
Hoyt is far from the only Northeast Democrat to aggressively oppose school transparency measures in recent days. After a New Jersey school board this week enacted a policy requiring teachers to tell parents about their child's gender identity, Democratic state attorney general Matt Platkin filed a civil rights complaint against the board.
Original News Source

Running For Office? Conservative Campaign Management – Election Day Strategies!