Senator Lindsey Graham, a South Carolina Republican, praised former President Donald Trump on Friday for making everybody "afraid" while he served in the White House, lamenting that people no longer feel that fear.
The GOP senator made the remarks as he spoke at the Faith & Freedom Coalition's Road to Majority Policy Conference held at the Gaylord Opryland Resort & Convention Center in Nashville, Tennessee. Trump also spoke at the event, as did a slate of prominent Republicans, including Senator Ted Cruz of Texas, Senator Marsha Blackburn of Tennessee, former U.S. ambassador to the United Nations and former South Carolina Governor Nikki Haley, Representative Jim Jordan of Ohio and Georgia senatorial candidate Herschel Walker.
"You know what I liked about Trump? Everybody was afraid of him, including me," Graham told the crowd, who went on to say that the Chinese ambassador came to him and complained that his country was "trying to figure out Trump."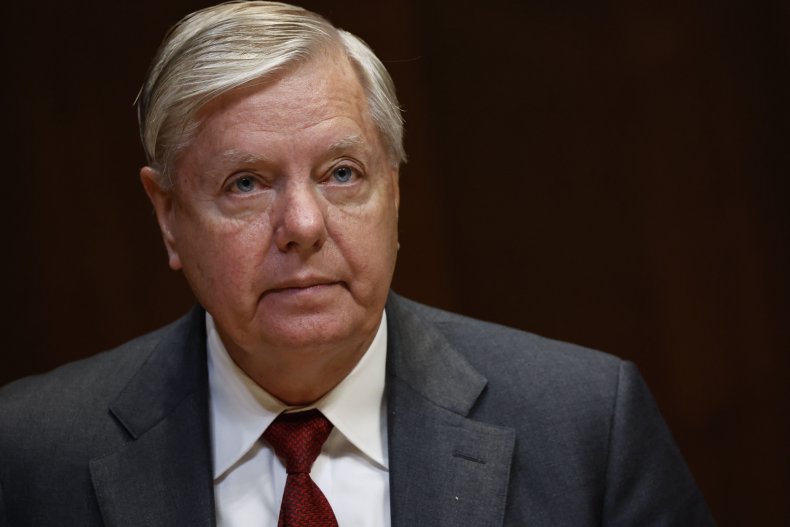 "I said, 'Take a number and get in line,'" the GOP senator quipped. The comment drew laughter from the audience.
"But here's one thing I can tell you about him. Don't cross him. Don't you miss that? Don't you miss an America that people respected and were a little bit afraid of?" Graham asked.
While the South Carolina Republican has long been seen as a key ally of the former president, Trump and some of his supporters have recently criticized the Republican lawmaker. Trump even described Graham as a "RINO," which stands for Republican in name only, in February.
The comment from Trump came during a Newsmax interview after he had floated the idea of pardoning the rioters who attacked the U.S. Capitol on January 6, 2021. Graham rejected the idea shortly after Trump suggested he would do so if he runs for president and is reelected in 2024. The Newsmax journalist asked the former president about the Republican senator's opposition to the idea.
"Well, Lindsey Graham's wrong. I mean, Lindsey's a nice guy, but he's a RINO…," Trump said.
Newsweek reached out to Trump's press office for comment.
The Faith & Freedom Coalition event, which began Thursday and will continue through Saturday, is "designed to empower conservative activists to fight for their values at the polls and in the public arena," according to the organization's website. This year's particular focus involves pushing "conservatives further down the road to majority in the 2022 midterm elections."
Timothy Head, executive director of the Faith & Freedom Coalition, described Trump as "a loyal friend to people of faith," in a statement, and added that the former president "fearlessly fought to protect the right to free speech, especially in places of worship."