BYRON CENTER, Mich.—Standing outside a community center near his home in Byron Center, John Gibbs talked to reporters before casting his vote in Michigan's 3rd Congressional District Republican primary on August 2.
Gibbs is endorsed by former president Donald Trump. His opponent, first-term Rep. Peter Meijer, was one of 10 House Republicans who voted to impeach Trump after the U.S. Capitol breech on Jan. 6, 2021.
"November is not about Democrats versus Republicans," Gibbs said. "It's about crazy versus normal, and I'm normal."
Meijer has raised 10 times more money than Gibbs, and he has spent $2.1 million on the campaign compared to Gibbs' $340,000 as of mid-July.
Meijer was in the news on August 1 when he blamed the Democratic Congressional Campaign Committee for funding a $435,000 ad that appears to attack Gibbs, calling him "too conservative for west Michigan" and reminding viewers of his ties to Trump.
Critics of the ad buy, including Meijer, claim that it provided airtime for a campaign that has not had the money to elevate its name recognition on television in the Grand Rapids market.
Meijer wrote that it would seem like "the Democrats would look at John Gibbs and see the embodiment of what they say they most fear. That as patriots, they would use every tool at their disposal to defeat him and similar candidates that they've said are an existential threat. Instead, they are funding Gibbs."
Gibbs told The Epoch Times that "he (Meijer) is making excuses and finding people to blame for when he loses."
Meijer is "unelectable in November," Gibbs believes, because the freshman legislator voted to impeach Trump and also "voted for the gun control bill."
"Those are just two reasons why many Republicans would not support him in November," Gibbs said.
Endorsed by Trump, Gibbs was a U.S. Department of Housing and Urban Development (HUD) official during the Trump administration.
He was appointed by Trump to lead the Office of Personnel Management but was not confirmed by the U.S. Senate. Trump also appointed Gibbs to the 1776 Commission.
A Lansing, Michigan native, Gibbs holds a bachelor's degree in computer science from Stanford University and a master's degree in public administration from Harvard University. He spent seven years in Japan as a missionary and is fluent in Japanese. He worked in Silicon Valley as a software engineer before his role with the housing department.
"I'm glad to have President Trump's endorsement, but I'm me. I'm John Gibbs, and I think people appreciate my story and my background," Gibbs told The Epoch Times.
"I appeal to conservatives, independents, and even some Democrats, because we are all impacted by gas prices, inflation, and a cost of living that has escalated because of out-of-control spending in Congress," he added.
Greitens Says Trump's 'Eric' Endorsement Is 'Incredibly Clear'
CHESTERFIELD, Mo.—At an Aug 1. rally at Spirit of St. Louis Airport, former Missouri Governor Eric Greitens told reporters that former President Trump's stated support for "Eric" in the Republican Senate primary was "incredibly clear."
"I think that the message was incredibly clear—that President Trump is endorsing Eric Greitens because I'm the MAGA champion in this race," Greitens said.
Greitens' opponents in the Aug. 2 primary include Missouri Attorney General Eric Schmitt, who also accepted Trump's comment as an endorsement.
Greitens told reporters Trump had "blasted" Schmitt's campaign the previous night—a reference to a Truth Social post from Trump that linked to a Breitbart article on polling tied to Schmitt.
The Epoch Times asked Greitens if he's saying Schmitt is lying when Schmitt claims the endorsement too.
"I think it's incredibly clear—if you ask Donald Trump, Jr., for example," he answered, drawing applause from a crowd of supporters.
Greitens' high-profile backers include Trump, Jr. and Trump, Jr.'s fiancée, Kimberly Guilfoyle.
Politico reported that Trump's backing of the two Erics was influenced in part by Republican National Committee Chairwoman Ronna McDaniel, who reportedly met with Trump to argue he should stay neutral in the race.
Attendees of the Aug. 1 event for Greitens were divided on the meaning of Trump's message.
"Is it Donald Trump being a jester?" asked Dustin Hill, a candidate in the Republican primary for Missouri's Third District.
"I think everybody, especially in Missouri, is ready for these primaries to be done, and ready to take a breather," he added.
"I think he's toying with people because he has to do that—and I also think that he's probably going to come out and back Greitens, but I don't know that he's going to 100 percent do it before [the results]," said one woman in the crowd, who said she was fifty-fifty on supporting either Greitens or Schmitt.
"I think there's mass confusion right now," said Lizzie Sparks, who was with the Greitens campaign.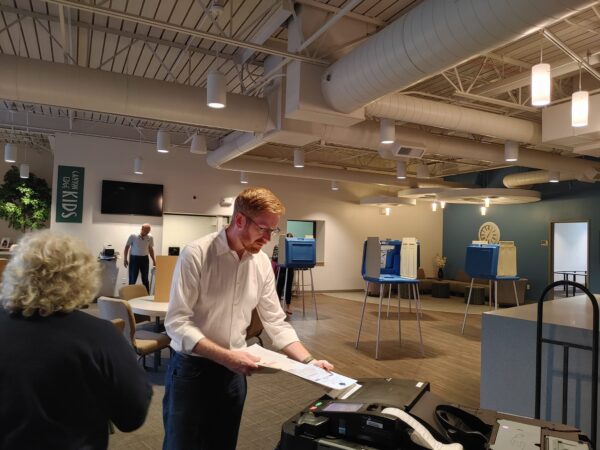 Meijer, a Republican Opposed by Trump, Casts Ballot in Michigan
GRAND RAPIDS, Mich.—Accompanied by his wife and other family members, Rep. Peter Meijer cast his vote in Michigan's 3rd Congressional District Republican primary. Or he attempted to do so, at least.
With a contingent of TV cameras and reporters standing nearby, a poll worker stood with Meijer as he inserted his ballot into the machine. It kept getting returned, and the poll worker said there was a paper jam.
A few minutes later, poll workers resolved the problem. Meijer placed his ballot in the machine once again, and this time it was accepted. He smiled and high-fived an exasperated poll worker.
Moments later, Meijer and his family stood in front of reporters outside the precinct at Forest Hills Baptist Church in Grand Rapids.
Meijer, who is completing his first term, was one of 10 House Republicans who voted to impeach President Donald Trump over the U.S. Capitol breech on Jan. 6, 2021. His challenger, John Gibbs, is endorsed by Trump.
"This is my first re-election and it's in a new district," Meijer said. "We feel confident that we will win today
"It's been a long road, and this is just the first step," he added. "After today, we will have to win in the general election in a new district that leans Democrat."
Meijer talked about the homes he has visited across the district while meeting voters face-to-face and admitted that some residents questioned his vote to impeach Trump.
"Some folks have said they didn't like that vote, but they don't want the seat go to a Democrat," Meijer said. "And they said they have liked many of my other decisions."
Meijer said he has watched some of the January 6 Committee hearings but that "it is difficult to watch it in-depth traveling back and forth from D.C. and being in a campaign."
"It is important to hear the discussions and have questions answered," Meijer said.
Meijer and his supporters will gather at 8 p.m. for a watch party at Social House Kitchen & Bar in Grand Rapids.
Polls are open in Michigan until 8 p.m.
This story expires at 6:27pm on Wednesday November 2nd, 2022 and will be deleted.