Sen. Joe Manchin (D-W.V.), the centrist Democrat who has been highly critical of Biden administration energy policy, released a statement on March 10 in which he called "beyond irresponsible" clean energy czar John Podesta's remarks that day that Chinese companies will be "big players" in U.S. domestic production of EV batteries.
Podesta made the comments at an event that a renewable energy advocacy organization held.
Manchin, whose serves as chairman of the Energy and Natural Resources Committee, voiced particular concern over Podesta referencing the Inflation Reduction Act (IRA), which the senator authored, and the CHIPS Act bills passed by Congress and signed into law by President Joe Biden last August as funding sources.
IRA and CHIPs are acts that include, among other initiatives, hundreds of billions of dollars in investments in domestic manufacturing, research and development, bolstering the supply chain, and clean energy.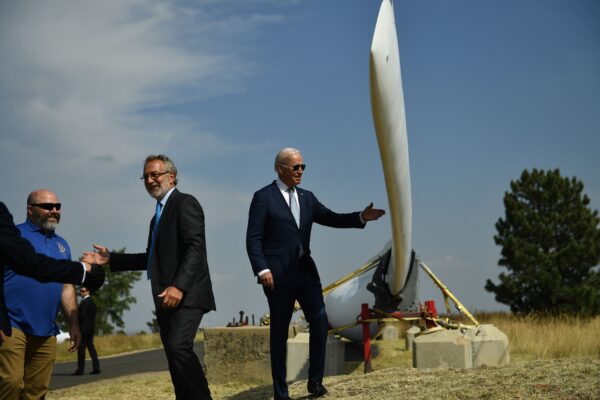 In the wake of the IRA and CHIPs becoming law, applications soared from companies looking to receive financing provided through the acts.
"It is beyond irresponsible for someone speaking on behalf of the White House to not only condone but also advocate for sending American tax dollars to Chinese companies. That is not consistent with either the IRA or the CHIPS + Science Act, which had widespread bipartisan support due to concerns about Chinese supply chains," Manchin said.
In his statement, Manchin also mentioned "rumors" that the administration is "considering" offering electric vehicle manufacturing tax credits to countries that do not hold free trade agreements with the U.S., which would deprive American electric car producers of revenue. He also cited "Trojan horse" agreements that allow China to benefit from U.S. tax dollars, partly through financing domestic electric vehicle manufacturing that uses technology licensed from China.
"We have a dire dependence problem and comments like this make it clear that this Administration doesn't care about the energy security of this nation," Manchin said. "I will do everything in my power to prevent this Administration from welcoming China to take federal dollars with open arms."

Biden appointed Podesta to the position of senior advisor to the President for Clean Energy Innovation and Implementation this past September. In this role, Podesta oversees and stewards billions of dollars dedicated to green energy projects and initiatives.
Joe Manchin has been working with Republicans to craft an energy bill.
A critical area of energy policy in which the senator and the White House butt heads is coal production, which has long been a major part of the economy of West Virginia. The administration is an opponent of coal and other forms of fossil fuels.
In November 2022, in an address he delivered at a semiconductor company in California, Biden, touting clean and renewable energy, said, "We're going to be shutting these [coal] plants down across America and having wind and solar."
Original News Source Link

Running For Office? Conservative Campaign Consulting – Monthly Rates!