A Maryland state official tasked with addressing hate crimes compared Israel to Nazi Germany.
"That moment when you become what you hated most," wrote Zainab Chaudry in an Oct. 17 Facebook post accompanied by two photos of Germany's Brandenburg Gate, one with the landmark lit up with the Israeli flag after Hamas's Oct. 7 attacks and another with it draped in Nazi flags in 1936, Fox News Digital reported Tuesday. Chaudry, the director of the Council on American-Islamic Relations's Maryland office, serves on the Maryland Commission on Hate Crime Response and Prevention, to which Maryland attorney general Anthony Brown (D.) appointed her in August.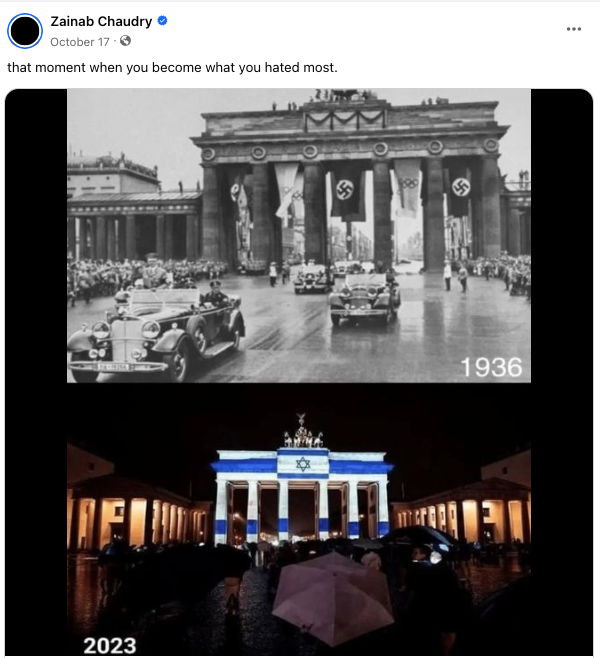 Brown said at the time that Chaudry and the other 19 appointees to the commission would help by "stepping up for all Marylanders, creating structure for our governing authorities to stem the tide of underreported crimes and bias incidents, and providing relief to people affected by these divisive acts." He added that the commission would "give a voice to those who may have been too afraid to speak up."
In another post, dated Oct. 26, Chaudry lamented that "the world summoned up rage for 40 fake Israeli babies while completely turning a blind eye to 3,000 real Palestinian babies." Another post she shared suggested it was an "inconvenient fact" that the beginnings of the conflict between Israel and Hamas could be traced back to 1948, the year of the Jewish state's founding, rather than Oct. 7, when Hamas launched its surprise attack on Israel.
Chaudry told Fox News Digital that the "Nazi post" was shared by a "close Jewish friend" and accused the Israeli government of genocide.
"I strongly and unapologetically condemn Benjamin Netanyahu's far-right, racist government for repeatedly making such genocidal threats towards the Palestinian people and killing over 13,000 Palestinians in Gaza," Chaudry said, "most of them women and children murdered in their homes. Unlike many of the Israeli government's most extreme supporters, I recognize that killing any civilians is wrong, which is why my office has repeatedly condemned the killing of both Israeli and Palestinian civilians."
She also said that there was "no conflict between condemning the Israeli government's genocidal war crimes overseas and standing up against all forms of hate here at home, including anti-Semitism, Islamophobia and anti-Palestinian racism. False smears from anti-Palestinian and anti-Muslim extremists will not stop me from standing up for justice here and abroad."
The views of one member of the commission "do not reflect those of either the Maryland Commission on Hate Crime Response and Prevention or the Attorney General," Brown's spokeswoman, Jennifer Donelan, told Fox News Digital.
"We understand that there are many viewpoints regarding current events in the Middle East," Donelan said. "The Commission will do its best to explore the impact of those events on our community, and to determine how best to address escalations in hate and bias incidents across the state." She added that the body would develop "policies and protocols" on how their members tackle such issues.
Hate crime officials have had to deal with a slew of anti-Semitic incidents since Hamas's Oct. 7 attacks, which killed about 1,200 Israelis, according to latest estimates. Such incidents have increased nearly 400 percent since the attacks, the Anti-Defamation League said last month.
Original News Source – Washington Free Beacon

Running For Office? Conservative Campaign Management – Election Day Strategies!