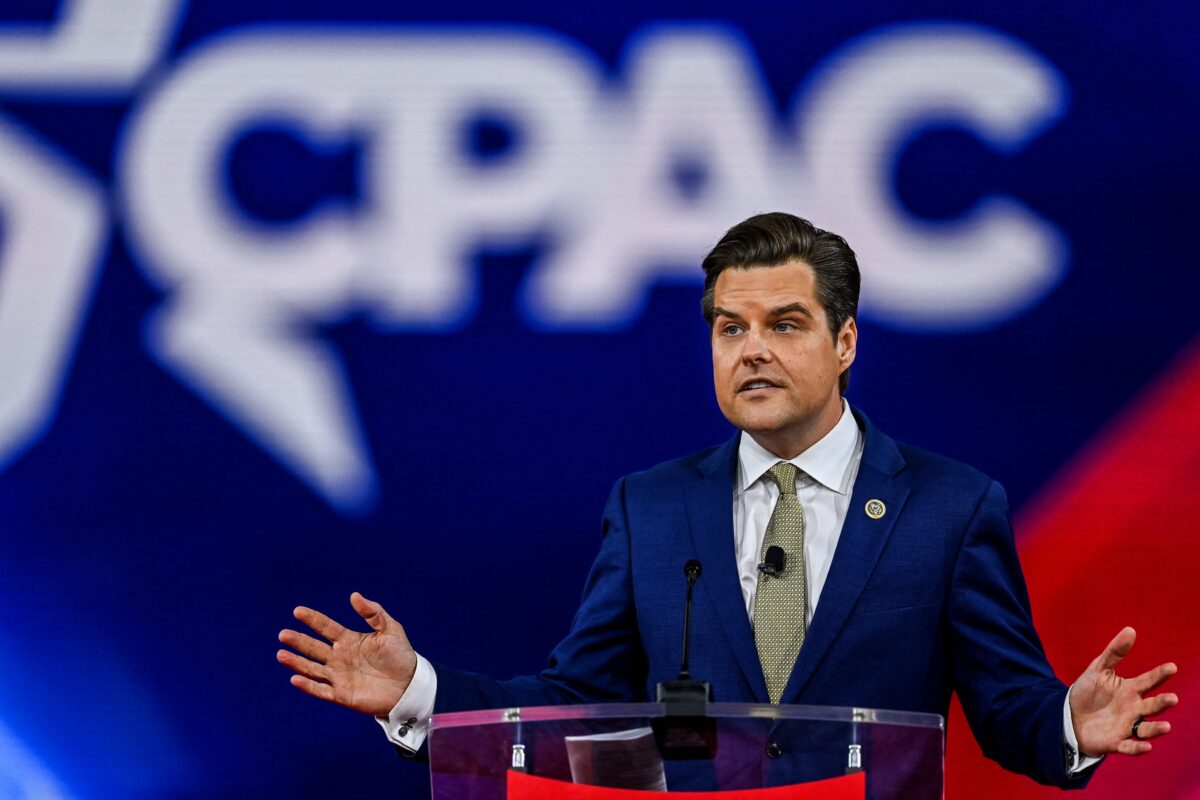 Rep. Matt Gaetz (R-Fla.) on March 3 called for defunding numerous U.S. government agencies such as the Centers for Disease Control and Prevention, Bureau of Alcohol, Tobacco, Firearms and Explosives, and the Department of Justice.
This was on top of a previous call to defund the FBI.
Addressing the Conservative Political Action Conference (CPAC), Gaetz railed against U.S. government corruption and called for accountability. He touted being part of a group of 20 or so Republicans who got concessions from Rep. Kevin McCarthy (R-Calif.) in his battle to be speaker of the House, one of them being the formation of the Select Subcommittee on the Weaponization of the Federal Government.
"Seems like every time I turn around, they're engaged in surveillance or list-building or monitoring. And I don't care if it takes every second of our time and every ounce of our energy. We either get this government back on our side or we defund and get rid of… abolish the FBI, CDC, ATF, DOJ, every last one of them, if they do not come to heel," Gaetz said to a standing ovation.
"And I don't think it's too much to ask. I really don't."
The call to defund the CDC exemplified the criticism the health agency has come under due to its guidance during the COVID-19 pandemic, when the CDC may have colluded with the American Federation of Teachers, the second-biggest teacher's union in the United States, as it pertains to school reopenings.
In June 2021, Gaetz called for the FBI to be defunded.
"If Democrats want to defund the police, they should start with the FBI," wrote Gaetz in a Twitter post that he immediately deleted.
Gaetz reiterated his call to defund the FBI after the agency raided former President Donald Trump's Mar-a-Lago estate in Florida on Aug. 8, 2022. He said that "the antidote" to the FBI going after Trump was "not one more damn penny for this administrative state that has been weaponized against our people in a very fascist way."
At the time of his 2021 and 2022 remarks, Gaetz was under investigation by the DOJ, to which the FBI is responsible, over his alleged involvement in sex trafficking. Last month, Gaetz's lawyers said they were informed by the DOJ that the congressman would not be charged.
CPAC began March 2 and ends on March 4.
In addition to Gaetz, Rep. Marjorie Taylor Greene (R-Ga.) and other GOP and conservative figures addressed the crowd.
GOP presidential candidates Nikki Haley, former U.S. ambassador to the United Nations and Governor of South Carolina, and Vivek Ramaswamy, a multimillionaire entrepreneur, were scheduled to address CPAC on March 3.
Trump is scheduled to speak on March 4.
CPAC is back in the Washington area for the first time since 2020, just before the COVID-19 pandemic.
Original News Source Link

Running For Office? Conservative Campaign Consulting – Monthly Rates!