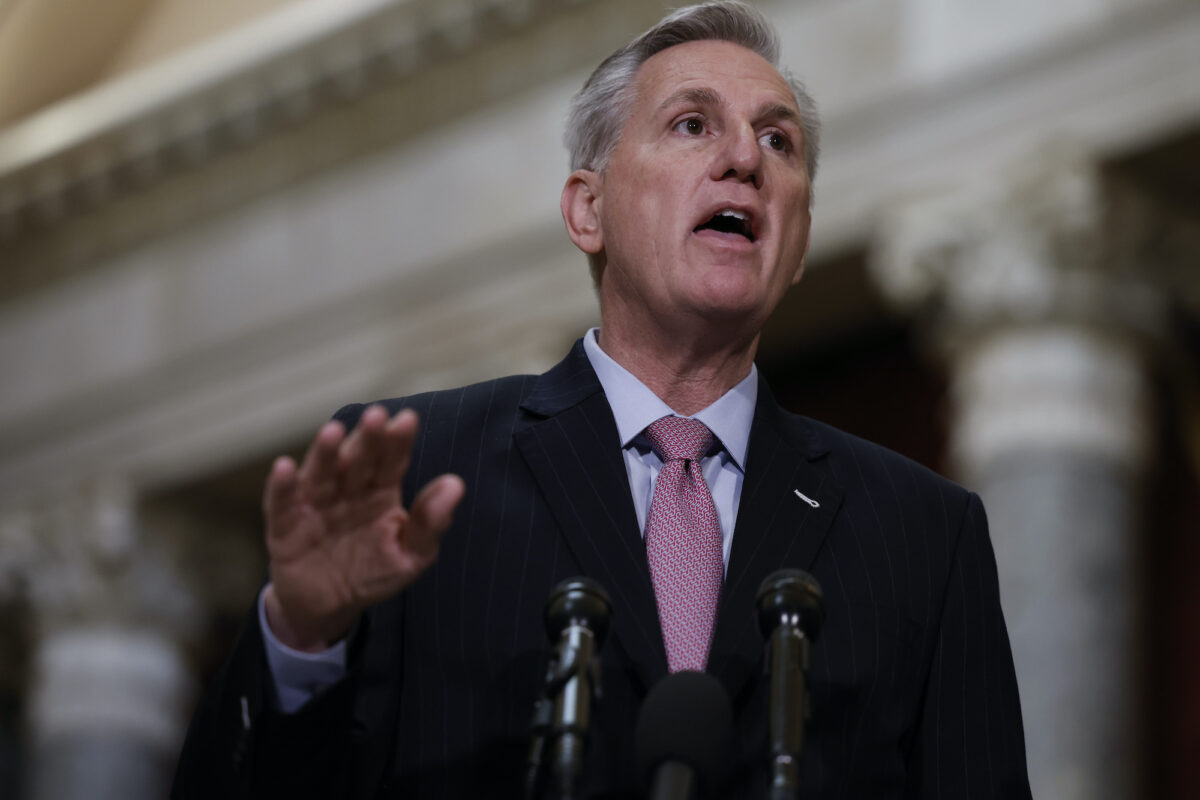 House Speaker Kevin McCarthy (R-Calif.) has selected two of the 20 Republican holdouts who delayed his election as speaker to serve on the House Rules Committee.
Reps. Chip Roy (R-Texas) and Ralph Norman (R-S.C.), both members of the staunchly conservative House Freedom Caucus, will serve on the influential panel.
McCarthy announced the committee memberships in a Jan. 23 Twitter post.
"Under Dem control, House committees were used to target political opponents and reward allies at the expense of addressing the country's concerns. That ends now," he wrote. "These Republican members will work to shift power back to the American people through their respective committees."
After initially opposing McCarthy through the first 12 rounds of voting in the speakership election, both Roy and Norman eventually switched their votes in his favor after the California Republican agreed to several key concessions, including the appointment of more hardline conservatives to the Rules Committee.
Other Republicans selected for the panel include Committee Chairman Tom Cole (R-Okla.) and Reps. Michael Burgess (R-Texas), Guy Reschenthaler (R-Penn.), Michelle Fischbach (R-Minn.), Erin Houchin (R-Ind.), Nick Langworthy (R-N.Y.), and Thomas Massie (R-Ky.).
Massie, who supported McCarthy for speaker, is not a Freedom Caucus member but is a conservative libertarian who often votes contrary to his Republican colleagues.
Divisions of Power
The House Rules Committee is one of the chamber's oldest standing committees. Often referred to as "The Speaker's Committee," the 13-member panel is typically dominated by the speaker's allies and effectively decides which pieces of legislation will be considered on the House floor and when.
But with Roy, Norman, and Massie on the committee, those dynamics could shift.
For instance, if the three Republicans were to butt heads with leadership on any given issue, they could vote with the Democrats to create a 7–6 majority and block that legislation from being considered.
Thus, in conceding that power to his detractors, McCarthy has limited his own.
Other McCarthy detractors, largely from the Freedom Caucus, have secured key committee assignments as well.
For example, Reps. Byron Donalds (R-Fla.), Paul Gosar (R-Ariz.), Scott Perry (R-Penn.), Anna Paulina Luna (R-Fla.), and Lauren Boebert (R-Colo.) all received seats on the House Oversight Committee. Meanwhile, Rep. Andy Harris (R-Md.) will serve as chairman of the Appropriations Committee, and Rep. Mark Green (R-Tenn.) was selected over moderate Rep. Dan Crenshaw (R-Texas) to chair the Homeland Security Committee, on which freshman Rep. Eli Crane (R-Ariz.) will also serve.
Rep. Marjorie Taylor Greene (R-Ga.), a Freedom Caucus member who supported McCarthy but was stripped of her committee assignments in the last Congress, has also received key appointments to the Oversight and Homeland Security committees.
However, one noteworthy exclusion for the Freedom Caucus was on the House Intelligence Committee, a powerful panel that conducts oversight of the U.S. intelligence community and, as such, is privy to the most sensitive information of any House committee.
McCarthy released the names of those privileged members Monday as well, and the list largely comprised his more moderate allies, like Crenshaw and Rep. Dan Newhouse (R-Wa.), one of the 10 Republicans who voted to impeach former President Donald Trump after the Jan. 6 Capitol breach.
Reactions
In a statement provided to Axios, Roy revealed that he had not requested to be placed on the Rules committee.
"Didn't ask for it," he said. "But you can't push for change [and] not saddle up if asked."
Cole issued a statement on Monday welcoming the "diverse slate" of Republican members.
"Between our returning members and those joining the panel for the first time, each has an important role to play and brings valuable perspective," Cole said. "I look forward to working together to restore regular order, ensure thorough debate and ultimately advance real American priorities to the House floor."
Ranking Member Jim McGovern (D-Mass.), however, had a different perspective on the matter, using just one word to express his thoughts on Twitter: "Yikes."
Meanwhile, Libertarian Justin Amash—the former congressman from Michigan who left the Republican Party after voting to impeach Trump—appeared optimistic over the shakeup.
"Can't wait to see @RepThomasMassie and @chiproytx on the Rules Committee," he wrote in a tweet. "We might actually get a properly functioning legislative body if the other Republicans don't screw things up at the behest of GOP leaders."
"*Screwing things up is highly likely," he added in a subsequent tweet.