House Speaker Kevin McCarthy (R-Calif.) expects to bring a deal on raising the federal debt ceiling before the House next week, he told reporters on May 18.
The positive tone marks a change for the Speaker, who as recently the day before had refused to say he was optimistic about reaching an agreement with President Joe Biden on raising the debt ceiling, along with spending caps and other provisions demanded by Republicans.
McCarthy said negotiators are in a "much better place," adding, "I can see now where a deal can come together."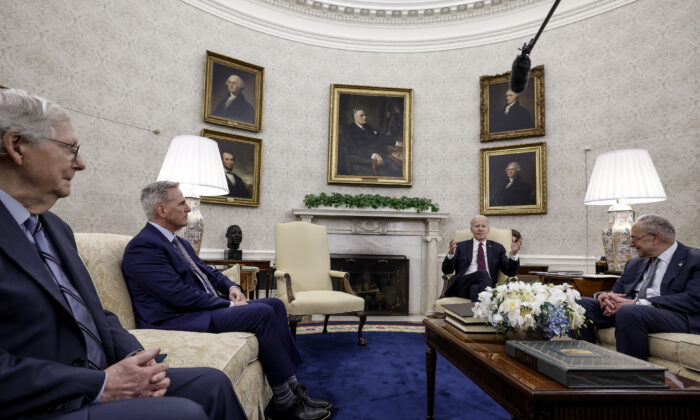 The negotiators—including Steve Ricchetti, counselor to the president, and Shalanda Young, director of the Office of Management and Budget, Rep. Garret Graves (R-La.), and unnamed members of McCarthy's staff—are still in talks over the spending caps, and the amount and duration of an increase or suspension to the debt limit, according to McCarthy.
The working group has met daily since May 16.
Prior to his departure on May 17 for the G7 Summit in Japan, the president also voiced optimism that a deal was in the offing.
"We're going to continue these discussions with congressional leaders in the coming days until we reach an agreement," Biden said, referring to talks on the debt ceiling and spending proposals that began on May 9.
The president and the Speaker had been in a months-long standoff over raising the nation's $31.4 trillion borrowing limit. Biden had refused to negotiate over raising the limit, saying that it would jeopardize the full faith and credit of the United States.
The Speaker insisted that Congress would not agree to raise the limit without some concession on future spending.
In April, the House passed the Limit, Save, Grow Act, which would raise the debt ceiling by $1.5 trillion, enough to last for about one year, while limiting federal spending, strengthening work requirements for some recipients of federal benefits, clawing back unspent COVID-19 relief funds, and loosening restrictions on drilling for oil and gas.
While continuing to say he would not negotiate concerning the debt ceiling, Biden has been willing to negotiate on other provisions of the GOP bill. He has signaled a willingness to consider some changes to work requirements.
If the debt ceiling is not raised, the U.S. Treasury will lack the cash to pay all of the nation's bills on or after June 1, according to Secretary Janet Yellen.
Before leaving for the G-7 summit in Japan, the president said he would hold a press conference on the subject upon his return on May 21.
Original News Source Link

Running For Office? Conservative Campaign Consulting – Monthly Rates!