A super PAC with close ties to Senate Minority Leader Mitch McConnell (R-Ky.) announced on Nov. 15 that it is spending $14.2 million to boost Republican candidate Herschel Walker in the Georgia Senate runoff election against Sen. Raphael Warnock (D-Ga.).
The Senate Leadership Fund (SLF) announced the money will be spent on television, radio, and digital ad campaigns, and the ads will fill the airwaves in Georgia later this week. The announcement follows a $2 million turnout operation for the runoff announced last week.
The super PAC had already spent about $40 million to help Walker in the Nov. 8 election.
Warnock and Walker will meet in the runoff election on Dec. 6 after neither secured more than 50 percent of the vote. According to state election officials, Walker had 48.5 percent of the vote as compared to Warnock's 49.4 percent, while Libertarian candidate Chase Oliver obtained 2.1 percent. Some 35,000 votes separated the two leading candidates.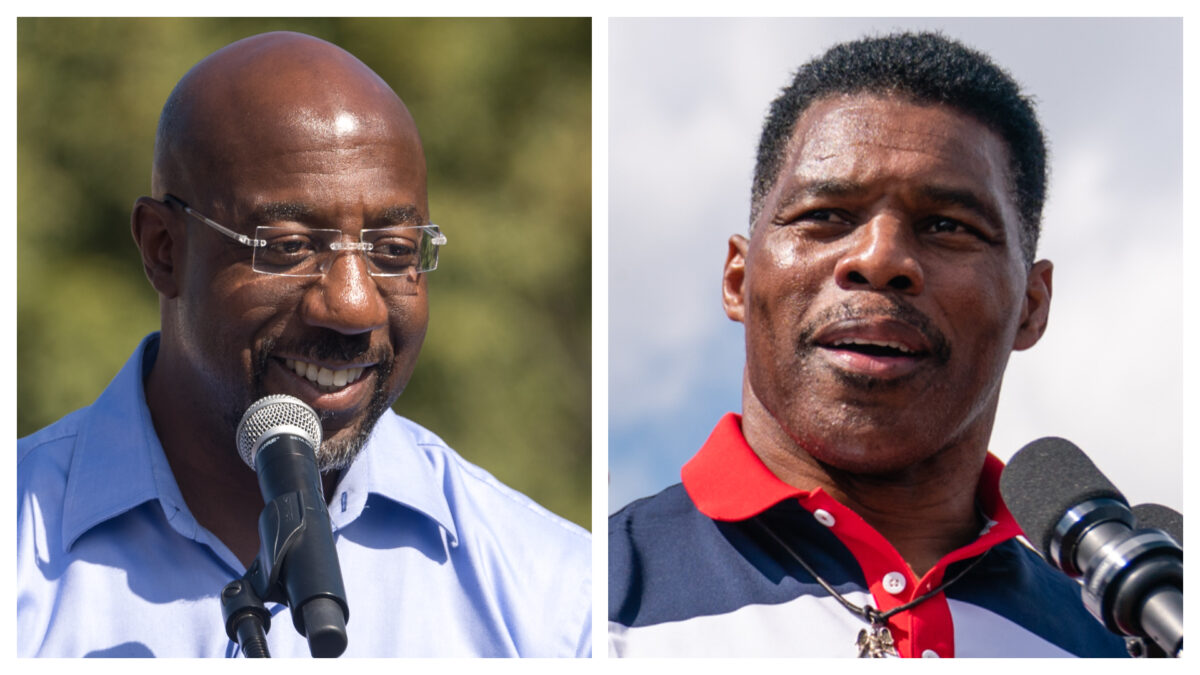 The runoff election will decide if Democrats can increase their Senate majority to 51 seats, or if the two parties stay at a deadlock with 50 seats each, with Vice President Kamala Harris casting the tie-breaking vote if needed.
"SLF is all-in on electing Herschel Walker to the Senate. This air assault—along with our previously-announced ground game—shows we are pulling out the stops to win in Georgia and beat the Democrats," said SFL President Steven Law in a statement.
SLF's effort to help get Walker elected comes as a handful of Republicans are publicly blaming McConnell for the Republicans' failure to retake the Senate after losses in Arizona, Nevada, and Pennsylvania. Among them was former President Donald Trump, who said on Nov. 13 that McConnell "blew the midterms."
A day later, speaking on his podcast, Sen. Ted Cruz (R-Texas) said it was "indefensible" that McConnell had resorted to "abandoning" Republican Senate candidate Blake Masters in the Arizona Senate race.
The National Republican Senatorial Committee (NRSC), the GOP's campaign arm for Senate races, is already on the Peach State's airwaves. On Nov. 10, the NRSC announced it had released a new ad, telling voters reasons not to vote for Warnock.
"We have been able to make an early impact on the Georgia runoff thanks to our donors, supporters, and Republican Senators," NRSC Communications Director Chris Hartline said in a statement on Nov. 12. "The NRSC and Team Herschel are working overtime to win in Georgia and secure a Republican Senate majority. We hit the ground running and won't stop until the job is done."
Earlier on Nov. 15, Hartline called out SLF for not committing to the runoff race.
"The NRSC is coordinating closely with Herschel's campaign on digital fundraising. We're raising money directly into his campaign and into the building to spend in GA (we've been on the air since last week)," Hartline wrote on Twitter.
Hardline added, "SLF still isn't up on the air. We look forward to you guys joining us."

NRSC Chairman Sen. Rick Scott (R-Fla.) also took to Twitter on Nov. 15 to show his support for Walker.
"I am all in to get @HerschelWalker to the finish line, and make sure Democrats are held accountable," Scott wrote.
Scott is challenging McConnell for the position of Senate minority leader. In an announcement on Tuesday declaring his bid as the Senate GOP leader, Scott said it was time for Republicans to "advance a bold conservative agenda."
McConnell dismissed Scott's leadership challenge on Tuesday, telling reporters at the Capitol that "I have the votes."
Meanwhile, the Democratic Senatorial Campaign Committee (DSCC), which is chaired by Sen. Gary Peters (D-Mich.), announced on Nov. 10 a $7 million field organizing investment for the Georgia runoff election.
"The DSCC is proud to partner with the Warnock campaign to build off their strong field programs and launch an unprecedented organizing effort in the runoff that will ensure we reach every voter we need to win on December 6th," Peters said in a statement.
Even though the control of the Senate has been decided, some Republican lawmakers are appealing to Georgians to vote on Dec. 6, saying the runoff election result matters.
"There's a huge difference between 49 and 50 Senate seats," wrote Sen. Tom Cotton (R- Ark.) on Twitter on Nov. 14. "We need every conservative to unite behind @HerschelWalker."