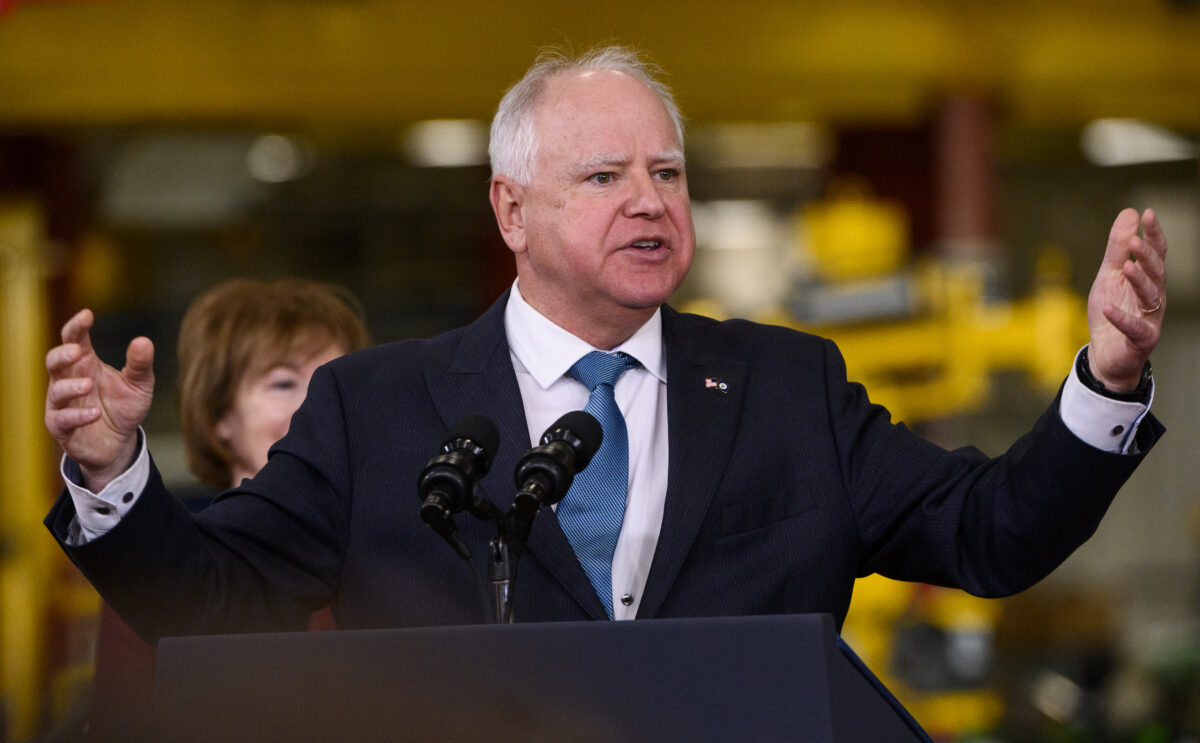 Minnesota Gov. Tim Walz on Thursday vetoed a measure that would have required a minimum wage for rideshare drivers.
The bill, House File 2369, would have required that drivers for rideshare companies such as Lyft and Uber be paid a minimum of $5 per ride, or at least $1.45 per mile and at least 34 cents per minute in the metro area. The rates would have also been adjusted each year for inflation.
Drivers would also be entitled to 80 percent of cancellation fees if they already started their trip to pick up a customer.
The veto came after Uber threatened to leave the Minneapolis-St. Paul metropolitan area, and only provide its "premium services" in the Twin Cities metro area, starting Aug. 1, if the bill was signed.
An Uber spokeswoman said that the decision came after "several months of unanswered requests to work with legislators" on the matter, and that the bill in its current form would "make it impossible to continue serving most areas of the state."
It marked the first veto of the Democrat governor's tenure. The bill had narrowly passed the Democrat-controlled state legislature over the weekend, on party-line votes.
"Rideshare drivers deserve fair wages and safe working conditions," Walz said in a statement announcing the veto.
"I am committed to finding solutions that balance the interests of all parties, including drivers and riders. This is not the right bill to achieve these goals.
"I have spent my career fighting for workers, and I will continue to work with drivers, riders, and rideshare companies to address the concerns that this bill sought to address."
Walz's office said the governor has issued an executive order to commission a study on the topic, to help form better legislation in the future. A committee would be set up to make recommendations by Jan. 1.
Both Uber and Lyft welcomed the veto. The companies said the legislation would have made rides unaffordable for most of their customers, which would have resulted in fewer people using the services.
"Lawmakers should pass fair pay and other protections, but it must be done in a way that doesn't jeopardize the affordability and safety of those who rely on the service," a Lyft spokesman said in a statement.
"We look forward to continuing our engagement and finding a similar pathway forward here in Minnesota."
The bill was led by Minnesota Sen. Omar Fateh, a Democrat.
He wrote on Twitter on Thursday: "Today, we saw the power corporations hold on our government," despite Democrats holding the "trifecta" of both chambers of the legislature and the governor's office, for the first time in eight years.
Fateh said the bill sought to "improve working conditions for Uber/Lyft drivers." He vowed to continue his efforts to pass the measure in the future. "This will be my top priority going in to next session," he said.
Original News Source Link

Running For Office? Conservative Campaign Consulting – Monthly Rates!