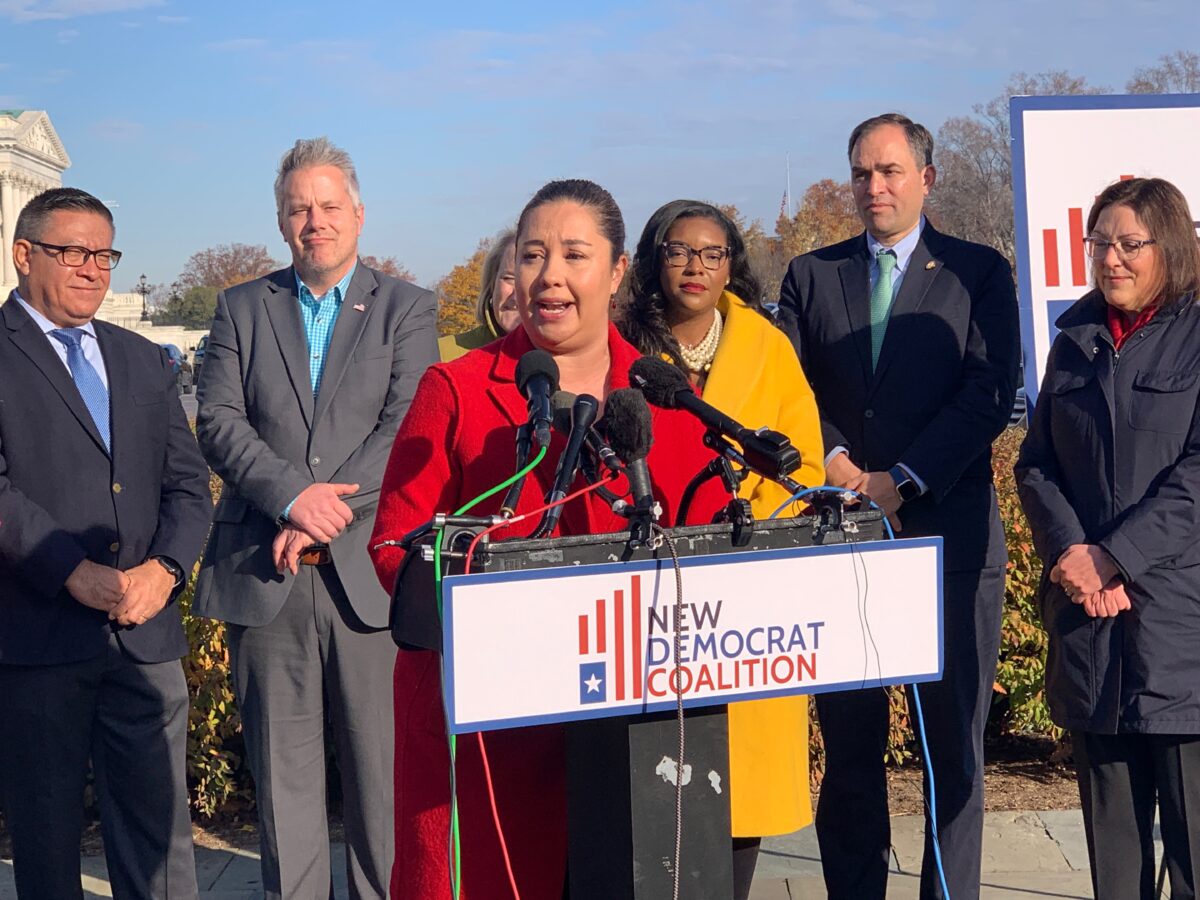 The House's moderate New Democrat Coalition (NDC) announced nine new policy task forces on March 9 that the group said would work toward finding bipartisan solutions to the nation's critical issues.
"New Dems know that a closely divided House provides an opportunity to work with reasonable Republicans to deliver bipartisan solutions to our nation's most pressing challenges," NDC Chair Annie Kuster (D-N.H.) said at a press conference in Washington.
The new task forces will focus on Climate Change and Clean Energy; Workforce Development; Affordable Housing; Immigration and Border Security; Health Care, Substance Use, and Mental Health; Economic Growth and Fiscal Responsibility; Trade; National Security; and the Farm Bill.
"These policy task forces reflect our members' top priorities and they represent areas where our members believe we can find bipartisan agreement," Kuster noted. "In addition, these task forces will assemble a governing agenda that we will pursue on day one when we are back in the majority in 2024."
The new push for bipartisanship comes amid gridlock on Capitol Hill as lawmakers negotiate over the national debt limit and President Joe Biden's budget proposal, which NDC members heralded on March 9.
"New Dems applaud President Biden on his comprehensive budget proposal, which will strengthen our economy, reduce the deficit, and move our country forward," said Kuster and NDC Vice Chair for Communications Brad Schneider (D-Ill.) in a statement.
"In stark contrast, this Congress, Republicans in Washington have been focused on waging culture wars and playing partisan politics," they added.
"Now, GOP leadership has the choice between caving to the extremes of their party and making dangerous, ill-conceived, politically driven spending cuts or focusing on real solutions to the problems facing the American people—which is exactly what New Dems are focused on."
However, the nonprofit Committee for a Responsible Federal Budget (CRFB) warned on March 9 that the president's proposed budget would grow the national debt to a record high by 2027, and House Republican leadership has deemed the plan "reckless."
"President Joe Biden's budget is a reckless proposal doubling down on the same far-left spending policies that have led to record inflation and our current debt crisis," said House Speaker Kevin McCarthy (R-Calif.) and Reps. Steve Scalise (R-La.), Tom Emmer (R-Minn.), and Elise Stefanik (R-N.Y.) in a joint statement.
"We must cut wasteful government spending," they added. "Our debt is one of the greatest threats to America and the time to address this crisis is now.
"Yet, President Biden is proposing out-of-control spending and delaying debt negotiations, following his pattern of shrugging and ignoring when faced with a crisis."
On the matter of the national debt, the New Democrats have called for a "clean bill" to raise the debt limit—currently $31.4 trillion—to prevent default, though Republicans have demanded that spending reforms be part of the deal.
"We don't think we should negotiate over the health and wellbeing of American families and the security of our entire economy," Kuster said on March 10.
"We had an economist into our lunch yesterday, and all the economists that we're discussing this with have been very, very clear that this would cause a complete and total meltdown of the economy."
Noting that the debt ceiling was raised three times during the Trump administration, the congresswoman added that the New Democrats were willing to discuss budget changes to come to an agreement.
"Let's see their budget. Let's look at the cuts that the Freedom Caucus and others want to make, but my own personal view is that the path forward is working together."
Original News Source Link

Running For Office? Conservative Campaign Consulting – Monthly Rates!