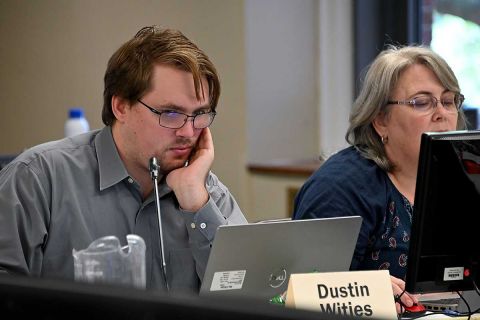 The vote did not come without dissent, as the panel approved the Senate draft 5-4 despite the absence of four commissioners on the 13-member panel.
Some commissioners worried about approving the map at a meeting when so many members were absent.
"With only nine commissioners here, we're just opening ourselves up to some of the commissioners who aren't here voicing their concern that we're doing something nefarious behind their backs," said Commissioner Steve Lett, an independent.
Absences have been an issue for months for the commission whose members are paid $55,755 a year.
The panel's chair Rebecca Szetela, a Democrat, called Friday's vote "premature" since the commission had earlier agreed to vote on Senate maps on Monday. Another draft map for the Senate could be up for a vote next week, as well as state House and congressional districts.
According to the commission's partisan fairness analysis, the new Senate districts have an "efficiency gap" of 3.2 percent favoring Republicans.
The efficiency gap is one of four metrics used by the commission to measure partisan fairness. It attempts to measure whether voters are "packed" by political parties into districts to "waste" votes. The lower the gap, the more evenly split districts are among Republicans and Democrats.
A previous version of the map gave Republicans and Democrats 19 seats each.
The commission also adjusted the Senate map to ensure it complies with the federal Voting Rights Act, which helps preserve the voting rights of minorities by creating districts where they are the majority.
Commissioner Dustin Witjes, a Democrat, said the map "complies" with the Voting Rights Act, partisan fairness, and the other criterias the commission has to follow when drawing the lines.
Public meetings to weigh in on the proposed districts are set to follow in Grand Rapids (Oct. 18), Detroit (Oct. 20), Lansing (Oct. 21), Gaylord (Oct. 25), and Flint (Oct. 26).
After public hearings, the commission plans to make further adjustments before a final vote on Nov. 5.