California gov falsely claims Tennessee town bans 'being gay in public'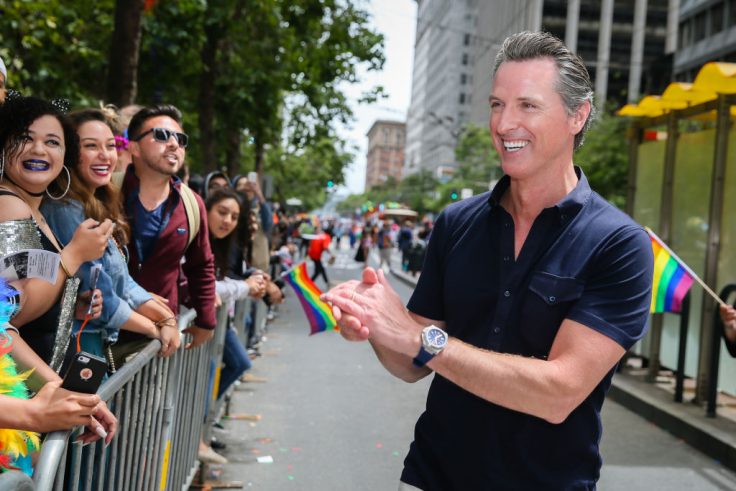 California governor Gavin Newsom (D.), who just last month signed a law requiring media literacy courses for public schools to counter "online misinformation," on Thursday took to X, formerly Twitter, to advance a false narrative accusing a small Tennessee city of imposing a ban on "being gay in public."
"A city in Tennessee has banned being gay in public. This is just the beginning," Newsom wrote Thursday on X, linking to a New Republic story that claims the city council of Murfreesboro, Tenn., "passed [an] ordinance essentially prohibiting homosexuality in public to try to ban library books."
Murfreesboro's ordinance sets decency standards for the city's public spaces, barring indecent exposure, lewd behavior, nudity, and sexual conduct, as well as "indecent materials and events." While the city is using the law to cull explicit kids' books from the public library, the ordinance does not mention homosexuality but cross-references a statute about sexual conduct that did up until October. Local lawmakers in November updated that statute to strike the term "homosexuality" after a local LGBT group and the ACLU sued the city and secured a court ban on its enforcement.
Newsom's tweet came just a month after he signed a law requiring K-12 students in California to take internet media literacy courses on the grounds that "online misinformation has posed risks to international peace, interfered with democratic decisionmaking, and threatened public health."
A spokesman for Newsom said that "it literally took a court order" for the city to change its old city code. By Friday morning, Newsom's tweet had a community note appended, noting that the ordinance does not ban homosexuality. The spokesman did not immediately respond to a follow-up question about whether the governor stands by his tweet.
The New Republic's story—which does not include a comment from Murfreesboro officials and whose primary authority is a transgender activist's blog post—centers on a city ordinance from June aimed at curbing kids' exposure to sexually explicit and inappropriate behavior and materials. These rules set "community decency standards" that forbid people from publicly engaging in "indecent behavior"—described as "indecent exposure, public indecency, lewd behavior, nudity or sexual conduct."
The claim that the ordinance also bans "being gay" relies on the law's cross reference of a 1949 city code provision that defines sexual conduct as "acts of masturbation, homosexuality, sexual intercourse, or physical contact with a person's clothed or unclothed genitals."
Murfreesboro lawmakers in October changed that provision to remove mention of homosexuality, nearly a month before the New Republic ran its story and before the activist's blog post was published. The lawmakers in early November formally approved the amendment.
A Murfreesboro spokesman told the Washington Free Beacon that until this change, the old provision defining sexual conduct had not been amended since the 1970s. The spokesman also noted that the city has "no record or recollection of it having ever been enforced for purposes of homosexuality." Many states and localities keep obsolete or anachronistic laws on the books because repealing or changing them is a low priority, Vox has reported.
Neither the New Republic nor the reporter who authored the story responded to requests for comment.
This isn't the first time Newsom has made false or misleading claims against conservatives, particularly around the culture wars. The governor tweeted in April that the New College in Florida is banning books, stifling free speech, bullying students, and frightening professors—but his office did not respond to press requests to name a single book the college had "banned."
Original News Source – Washington Free Beacon

Running For Office? Conservative Campaign Management – Election Day Strategies!