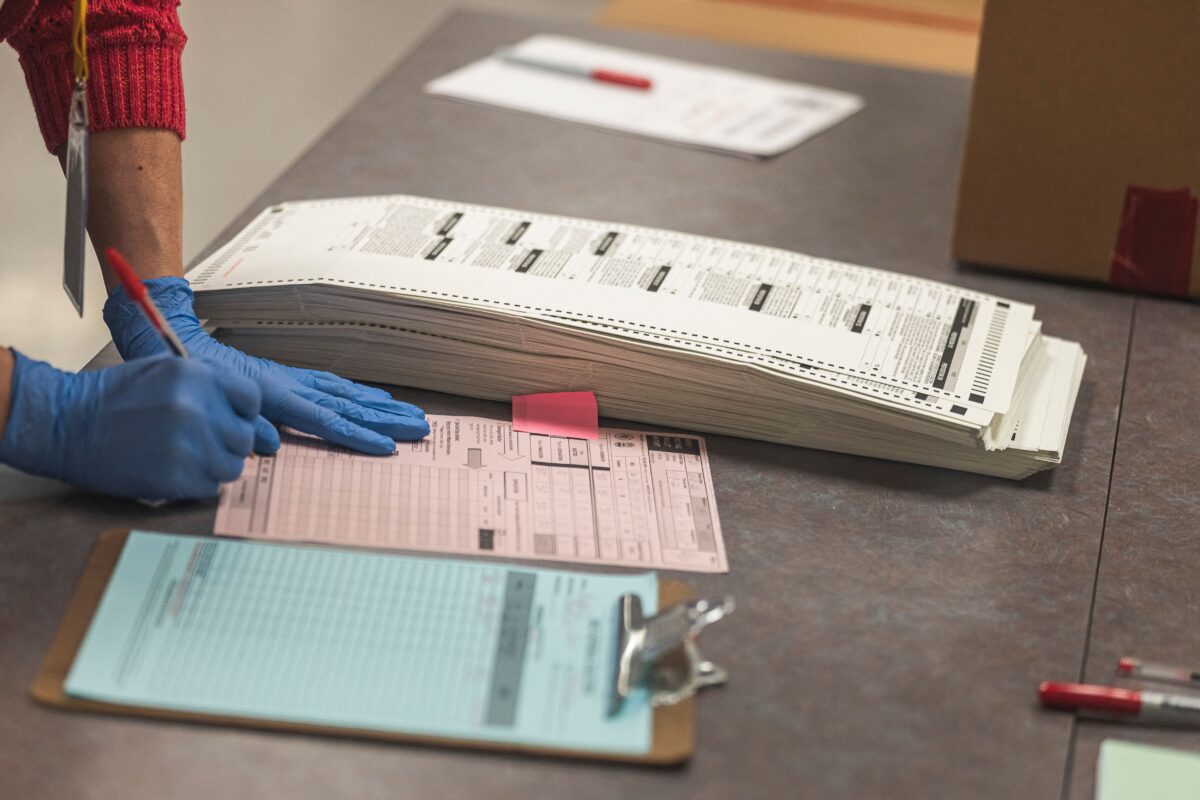 The bipartisan group "No Labels" has qualified as a political party for the ballot in Arizona in 2024, according to Arizona Secretary of State Adrian Fontes.
Fontes said in a statement on Tuesday that following an "extensive review" by his office and by county elections officials across the state, the No Labels Party had surpassed the minimum requirement for signatures needed to be placed on a ballot and has therefore qualified as a new party for federal, statewide, and legislative races in the 2024 primaries and general elections in the state.
"As Secretary of State, I am committed to supporting county election officials to ensure that they are prepared for this new addition to the state's list of parties and any other changes to the 2024 ballot," Fontes said.
The No Labels party bills itself as an alternative to the status quo and is made up of Democrats, Republicans, and independents, describing itself as "different" from other parties, claiming to be "intellectually open" about solutions and "spry and indefatigable."
"We want to hear peoples' ideas, particularly from those who feel iced out from the loudest and angriest voices in the Democratic and Republican parties," the group writes on its official website.
"We believe that the most effective answers to the nation's big challenges—national security, economic growth, energy security, crime, education, and more—will be born from bipartisanship," it continues. "We may not have the institutional grounding that keeps the parties plodding along—but we're deeply connected to the growing swath of Americans who don't fit comfortably under either narrow tent."
Criticism Over 'Unity Ticket'
The organization making it onto the ballot comes after it was criticized on Monday by the Democrat think tank Third Way, which took aim at the No Labels plan for a "unity ticket" in the 2024 presidential election. Third Way says this will cost Democrats the presidency and see Donald Trump back in the White House.
No Labels says on its website that the unity ticket would be an "insurance plan" if both Democrats and Republicans choose "unreasonably divisive presidential nominees."
Third Way said that No Labels is courting lawmakers in both parties as part of the plan. However, it warned in a memo that "rather than producing a third-party ticket that would defy the overwhelming odds and win, No Labels is on track to field a spoiler who would re-elect Trump or a Trump-like Republican."
The memo notes that most of the states No Labels includes in its "path to victory projections" for the 2024 presidential election voted for Biden in 2020.
"So, by their own admission, their prime targets are voters who would otherwise back the Democrat," the group said, adding that No Labels is "on the ground seeking spots on the ballot in multiple states, including battlegrounds like Arizona, Florida, North Carolina, and Nevada, and claim they will compete in at least 23."
In January, No Labels made it to the ballot in Colorado.
Halperin Steps Down
In a statement to Politico, No Labels argued that its polling "resolutely demonstrates that this ticket would draw voters from both sides equally."
The group added that it would not put forward its own candidate but would ensure a "launching pad" is ready for a third-party candidate should Republicans and Democrats choose candidates that are not "appealing."
No Labels was founded by political activist Nancy Jacobson and is co-chaired by Maryland's Republican Gov. Larry Hogan and former Sen. Joe Lieberman, who served as a Democrat and later an independent from Connecticut.
The organization confirmed to Politico on Tuesday that Mark Halperin, senior communications adviser, is leaving No Labels.
Halperin is a former political commentator for major TV networks. In 2017, multiple women came forward accused him of sexual misconduct and harassment when he worked at ABC News.
In a statement he posted to Twitter in 2017, Halperin denied some allegations while acknowledging others. He apologized and said that his "behavior was inappropriate and caused others pain."
According to Politico, Halperin had been No Labels' highest-paid employee after joining the group in 2021. It is unclear why he stepped down from the role.
"Mark has been a valued member of the No Labels team these last two years. As we enter a new phase, Mark will be leaving us to focus on his other projects," the group said in a statement to the publication. "We will miss Mark, wish him well in whatever comes next, and appreciate the many contributions he has made to our movement."
The Epoch Times has contacted No Labels for comment.
Original News Source Link

Running For Office? Conservative Campaign Consulting – Monthly Rates!