Another Norfolk Southern train derailed as its CEO, Alan Shaw, testified to Congress on Thursday about the toxic train crash in Ohio last month.
The company said in a statement that some 30 cars on a Norfolk Southern train derailed in Alabama as it was heading from Atlanta, Georgia, to Mississippi. The cars that derailed were empty, and no injuries were reported, it said.
"Norfolk Southern is responding to a derailment in Piedmont, Alabama," the train operator said in a statement to news outlets on Thursday. "There are no reports of injuries and no reports of a hazardous materials release. We are working in close coordination with local officials."
A local official, Calhoun County Sheriff Matthew Wade, also confirmed there no injuries or property damage associated with the derailment. No hazardous material was on board this train, he told local outlets, unlike the train that derailed on Feb. 3 in East Palestine, Ohio.
Another incident on Feb. 16 involved the derailment of a Norfolk Southern train in the Van Buren township outside of Detroit.
A third Norfolk Southern train derailed in Springfield, Ohio, on Saturday, and authorities have launched an investigation.
The latest derailment took place at about 6:45 a.m. ET on Thursday, about 70 miles to the northeast of Birmingham in Calhoun County, county officials said. Norfolk Southern will remain at the derailment site until cleanup is completed, officials said.
It came as Shaw made an appearance before a Senate panel to discuss the East Palestine incident, which prompted authorities to initiate a controlled burn of highly toxic vinyl chloride that sent an ominous black cloud of smoke into the air. Local residents have reported a range of adverse health issues, including bronchitis, nausea, respiratory issues, and rashes.
No one was injured but half of the roughly 5,000 local residents were evacuated. The incident turned national attention to railroad safety and the ways dangerous materials are transported.
In the congressional appearance, Shaw apologized on behalf of Norfolk Southern, which has faced numerous lawsuits in connection to the crash. However, senators from both parties became visibly frustrated at times with Shaw, accusing him of not supporting their proposed policy commitments and delivering noncommittal answers.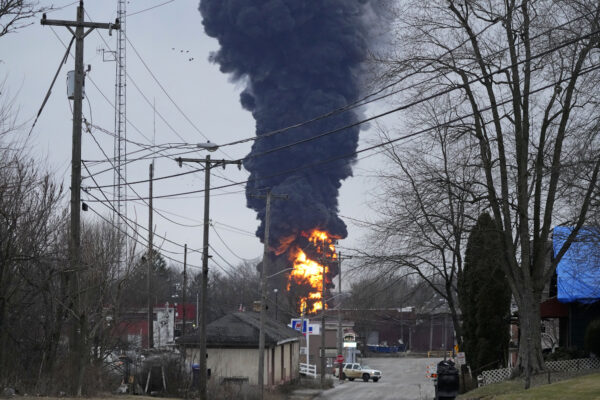 "I am determined to make this right," he told senators. "Norfolk Southern will clean the site safely, thoroughly and with urgency. You have my personal commitment."
The company is also "committed to the legislative intent to make rail safer," and "Norfolk Southern runs a safe railroad," Shaw said. "We can always get better and that is my intent: to continue to invest and continue to improve," he added.
The company has announced several voluntary safety upgrades. Senators, however, are looking to act themselves as they investigate the derailment, the Biden administration's response and the company's safety practices after the toppling of 38 railcars, including 11 carrying hazardous materials.
Shaw pointed to over $1 billion the company spent on safety last year, but he acknowledged that Norfolk Southern also spent more than $3 billion buying back its own stock and recorded a $3.3 billion profit in 2022. Norfolk Southern workers have been on the site in East Palestine to remove "affected soil" and "potentially affected water," he also remarked.
Norfolk Southern is also under pressure from federal regulators. The National Transportation Safety Board and Federal Railroad Administration both announced investigations this week of the East Palestine derailment and other accidents, including the death of a train conductor Tuesday.
Train derailments have been getting less common, but there were still more than 1,000 last year, according to data the Federal Railroad Administration. And as East Palestine shows, even a single train derailment involving hazardous materials can be disastrous.
Hazardous materials shipments account for 7 percent to 8 percent of the roughly 30 million shipments railroads deliver across the U.S. each year. But railroads often mix shipments and might have one or two cars of hazardous materials on almost any train. The Association of American Railroads trade group says 99.9 percent of hazardous materials shipments reach their destinations safely.
The Associated Press contributed to this report.
Original News Source Link

Running For Office? Conservative Campaign Consulting – Monthly Rates!