Biden Energy Sec used gas-powered car to 'reserve' public charging station, prompting police call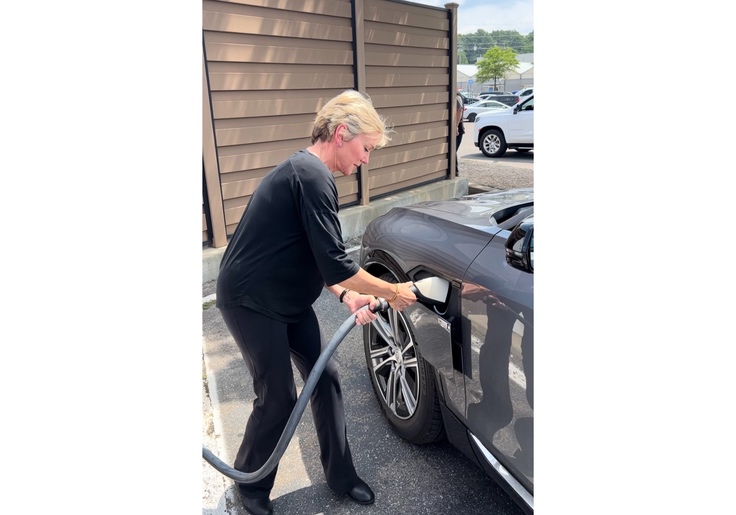 One month after Jennifer Granholm encouraged Americans to purchase electric vehicles for their summer road trips, the energy secretary embarked on an EV trip of her own to promote the wonders of green driving. It did not go well.
During one leg of the June trip, NPR reported Sunday, Granholm planned to stop at a public charging station outside of Augusta, Georgia, before continuing northwest to Athens. Before Granholm arrived, however, her staff realized the station would not be able to accommodate Granholm's caravan—one charger was broken and others were in use. Granholm's team responded by using a gas-powered car to block the public from accessing the station's only available charger, prompting one family—which had a baby in the car on a hot Georgia day—to call the police.
The revelation reflects the electric vehicle issues that are plaguing the Biden administration's prized green energy transition. President Joe Biden has worked to spur EV adoption by spending hundreds of billions of dollars on charging infrastructure and other green subsidies, but the effort is yet to deliver a reliable public charging experience for everyday Americans. Public charging stations are often broken and crowded, and when they do work, it can still take hours to fully charge a vehicle.
Still, those issues did not stop Granholm in May from advising road-tripping Americans to purchase an electric vehicle. Beyond the charging woes associated with the vehicles, that purchase is an expensive one—Granholm's June caravan of EVs included a Ford F-150 Lightning and a Cadillac Lyriq, according to NPR, both of which can cost upwards of $60,000. As a result, less than one-fifth of Americans say they're very likely to make their next vehicle an electric one, according to an Associated Press poll published in April.
The Energy Department did not return a request for comment.
Granholm's Georgia charging fiasco was not the only headache the Biden administration official experienced during her June trip, which saw her visit Georgia, Tennessee, and the Carolinas. Granholm's pricey Cadillac Lyriq developed a "hardware issue" that made it difficult to charge, NPR reported. Granholm also encountered faulty chargers in Tennessee.
"It's just par for the course," one electric vehicle driver told NPR after waiting for Granholm to charge her fleet of vehicles in Georgia.
Granholm's botched electric vehicle promotion tour did not stop the former Michigan governor from praising the Biden administration's green transition. Just week's after the tour's conclusion, Granholm said Biden's green energy spending "is delivering clean energy savings, battery investments, EV charging infrastructure, and more."
Eventually, Biden's green energy push will bring mandates, not just subsidies. The Democrat's Environmental Protection Agency and National Highway Traffic Safety Administration have both proposed rules that would effectively force automakers to ensure that two-thirds of the vehicles they sell are electric by 2032. Republicans have pledged to prohibit those rules.
"The Biden administration cannot continue to create regulations that limit consumer choice, hamper mobility, make vehicles more expensive for families, and cede America's auto leadership and jobs to China," Michigan Republican congressman Tim Walberg said in July after introducing a bill to prevent the EPA's proposal.
Original News Source – Washington Free Beacon

Running For Office? Conservative Campaign Management – Election Day Strategies!