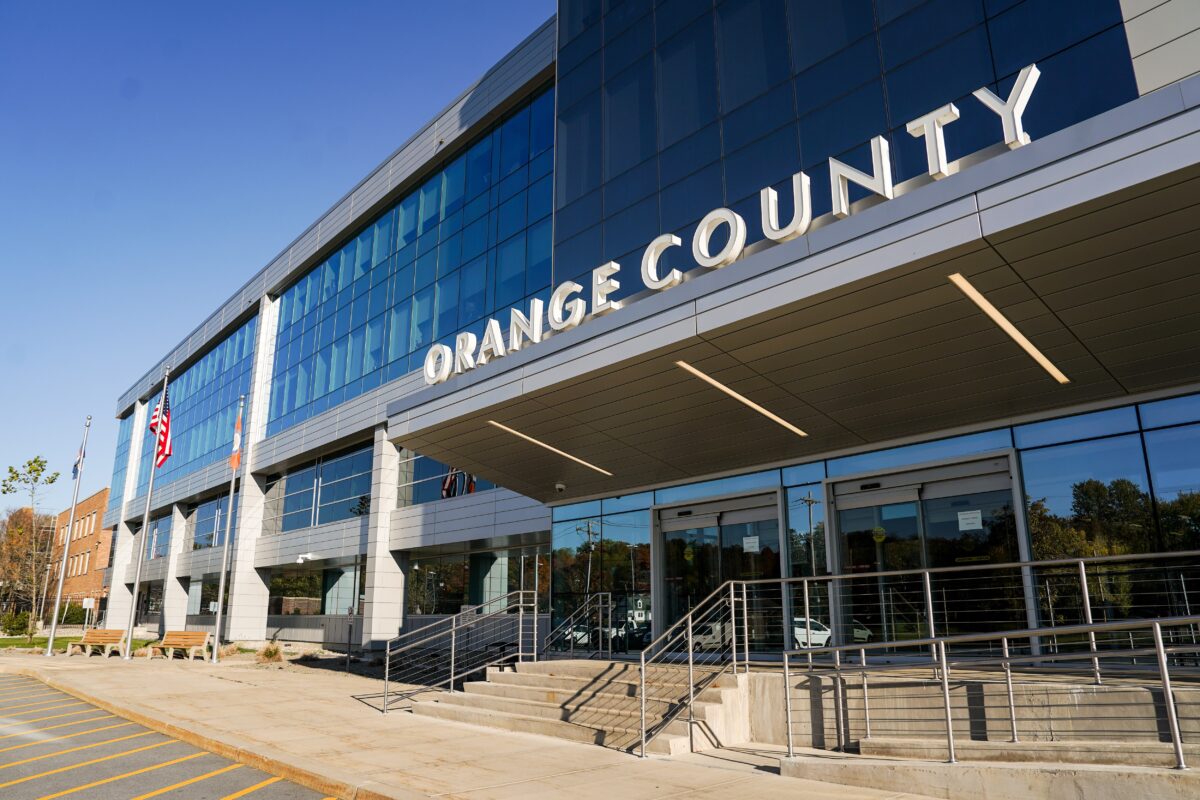 Orange County took New York City to court a day after the city's Mayor Eric Adams bused dozens of illegal immigrants to a Newburgh hotel.
The lawsuit filed on May 12 argues that Adams has no legal authority to run a temporary shelter in the county; it demands the court immediately reverse the transfers and stop such arrangements in the future.
"New York City is a self-proclaimed sanctuary city and needs to fix this problem Orange County now faces," Orange County Executive Steve Neuhaus said in a press release. "This issue was created by Mayor Adams and the federal government's failed immigration policies."
On May 11, over 60 adult male illegal immigrants arrived by buses at the Crossroads Hotel in the Town of Newburgh from New York City without advanced notice to the county officials, according to the lawsuit.
They were the first group of illegal immigrants bused to upstate counties under a new program by the Adams administration.
New York City will cover up to four months of the hotel stays, including three meals a day, laundry services, and remote medical consultants, according to a program flyer.
Orange County officials argue that the program essentially establishes a homeless shelter system outside the city boundary, which is beyond Adams' authority and illegal.
So far, the city has arranged beds for 620 illegal immigrants, if not more, at two hotels in the Town of Newburgh, Crossroads and Ramada by Wyndham, according to the lawsuit.
Both hotels have stopped regular businesses and been turned into dedicated shelter centers for illegal immigrants coming in from the city, the lawsuit alleges.
If these individuals remain in the area after New York City weans them off assistance, they will more than double the county's homeless population and strain local resources.
As of April, the county serves a homeless population of 437, according to the lawsuit.
The county filed a separate lawsuit on the same day against the two hotels, arguing that they violated the State of Emergency order issued by County Executive Neuhaus.
On May 8, Neuhaus declared a state of emergency to prohibit hotels, motels, and other short-term rentals in the county from housing illegal immigrants arranged by the New York City government.
The Town of Newburgh also sued the two hotels on May 12, alleging that they violated the town code by converting themselves into long-term residential facilities without due process.
New York City had planned to send illegal immigrants to a hotel in Rockland County, but county officials filed a lawsuit on May 9 and obtained a court order against the transfer just in time to stop it.
Background
On May 5, New York City Mayor Eric Adams announced a new plan to send single, adult men who have crossed the border illegally and come under the city's care to hotels in upstate counties.
Two pilot sites were chosen to start the program: the Crossroads Hotel in Newburgh, Orange County, and the Armoni Inn and Suites in Orangeburg, Rockland County.
To boost participation in the voluntary program, New York City workers had circulated a three-page flyer advertising the benefits of moving upstate among illegal immigrant shelters, according to Neuhaus.
"Located near the Hudson Valley, just outside New York City, these shelter options will include a warm environment, nutritious meals, and case workers to help adults over the age of 18 access what you need to care for yourself and transition to a new home," the flyer reads.
The move is part of New York City's new strategy to bus out illegal immigrants as it runs out of money and space to care for them, according to a city blueprint report published in March.
The end goal is to secure them long-term housing and job opportunities in other parts of New York State as they work on their legal proceedings, according to the report.
Since last spring, more than 60,000 illegal immigrants came through the city—many with the aid of Texas Gov. Greg Abbott—and about 37,500 are under the city's care, according to the city.
As of March, the city has spent $650 million on temporary assistance to illegal immigrants.
The city expects an even larger influx due to the expiration of Title 42—a border policy established during COVID-19 that allows for expelling illegal immigrants to protect public health.
Original News Source Link

Running For Office? Conservative Campaign Consulting – Monthly Rates!