The former vice president says populism and progressivism are twin evils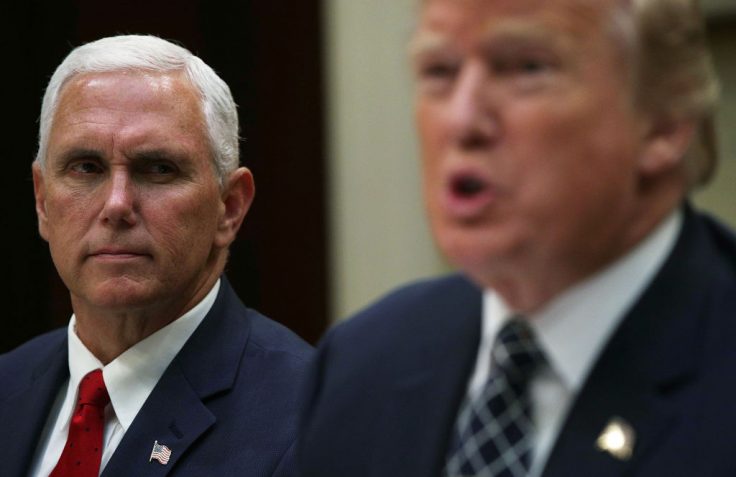 Chris Christie, watch out: Mike Pence may be giving the former New Jersey governor a run for his money as the most anti-Trump candidate in the Republican primary.
Donald Trump's former vice president on Wednesday launched a broadside against Trump—not for the personal foibles that have been on public display since he strode down the golden escalator in 2015, but for embracing a populist ideology that, according to Pence, is as nefarious an influence as progressivism.
"Donald Trump, along with his populist followers and imitators—some of whom are also seeking the Republican presidential nomination—often sound like an echo of the progressive they would replace in the White House," Pence told a crowd at St. Anselm College on Wednesday. Progressivism and populism, he said, "are fellow travelers on the same road to ruin."
Pence drew a through line between populism and progressivism, name-checking the boy entrepreneur Vivek Ramaswamy's historic support for an inheritance tax, Trump's refusal to cut entitlement spending, and Florida governor Ron DeSantis's decision to take on Disney—or, as Pence put it, to use "the power of the state to punish corporations for taking a political stand he disagreed with."
That message makes Pence the first GOP candidate to take Trump on in explicitly ideological terms. While others—some enthusiastically, others grudgingly—indicated that Trump may not be morally fit for office, Pence is the only one so far to take a two-by-four to the populism that Trump brought to the White House.
There are just two problems.
First, Pence's poll numbers are weak, to put it gently. But his team believes taking a righteous stand—as he did on Jan. 6, 2021—is, well, righteous, even if it isn't popular with Republican primary voters. They also say Iowa—where Pence stands at 3.8 percent in the RealClearPolitics average—is more fluid that meets the eye.
The other is that Pence is running on the Trump-Pence record, and critics point to the fact that Pence stood loyally alongside Trump as the former president helped transform the Republican Party from a vessel of conservatism into a tribune of the people. Indeed, Pence said Wednesday is proud of "the accomplishments of the Trump-Pence presidency."
Can he have it both ways? Team Pence says it was Pence's influence in the White House that helped Trump stay the course, through constant discourse, private conversations, and weekly lunches. That may be, but it is nonetheless a difficult case to make.
Less than a year ago, Pence delivered remarks at the Heritage Foundation and warned against the "siren song of unprincipled populism that is unmoored from our oldest traditions and most cherished values."
But then, he said that the traditional conservatism of the Reagan era, of which he is an embodiment, could find accommodation with the GOP's rising populist tide, telling the crowd, "I truly do believe that we don't have to choose one at the expense of another."
No longer. Now, Pence says, "The fundamental divide between these two factions is unbridgeable. … The future of this movement, of this great party, belongs to one or the other—not both."
Pence took the title for his speech from Ronald Reagan's nationally televised 1964 address on behalf of Barry Goldwater's presidential campaign: "A Time for Choosing." Goldwater lost in a landslide, but Reagan's speech was a resounding success. It would take another 16 years for Reagan and his conservatives to win the battle of ideas.
Pence and his allies certainly know that.
Original News Source – Washington Free Beacon

Running For Office? Conservative Campaign Management – Election Day Strategies!