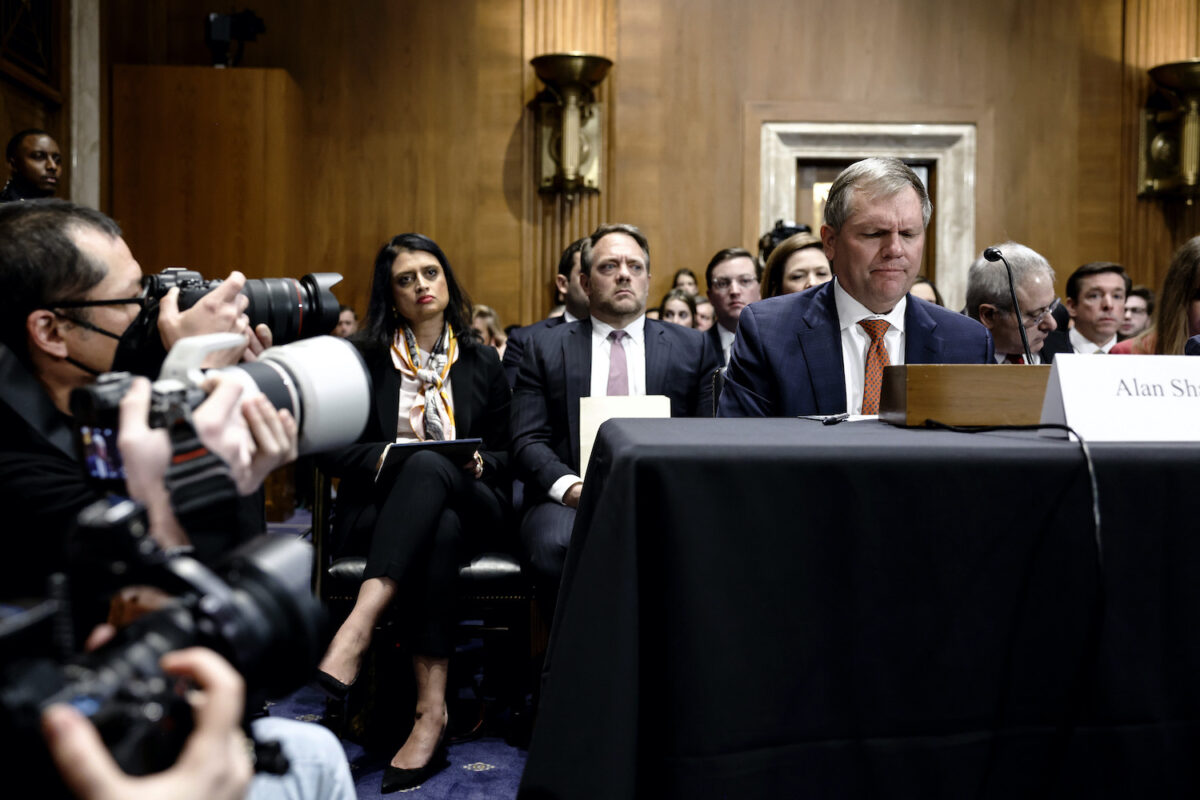 Norfolk Southern CEO Alan Shaw made an ambiguous promise Thursday to do "what's right" for East Palestine, Ohio, residents after one of his rail company's trains derailed there last month, releasing toxic chemicals into the environment.
"We're committed to doing what's right for the folks of East Palestine and the community," Shaw assured Sen. Tom Carper (D-Del.) at a hearing of the Environment and Public Works Committee that was devoted to the incident.
"I told my team, 'We are going to do more than less with the environmental cleanup, and we're going to do more than less with the citizens of East Palestine,'" Shaw added.
When asked by Carper, the committee chairman, whether he would commit to paying for long-term health testing for affected East Palestine residents, Shaw did not directly answer the question but reiterated that he was "committed to doing what's right."
"We're going to be there today, tomorrow, a year from now, five years from now, 10 years from now," he added.
But Sen. Bernie Sanders (I-Vt.) found those responses unsatisfactory. Raising the issue again later, he pressed: "What's right is to cover [East Palestine residents'] health care needs. Will you do that?"
Shaw, however, once again repeated that Norfolk Southern would do right by the citizens of East Palestine, adding, "Everything is on the table."
Adverse Health Reactions
After the chemical spill, members of the East Palestine community reported experiencing a variety of adverse health reactions—including nausea, headaches, rashes, burning sensations, and difficulty breathing—despite reassurances from state and federal authorities that the air and public water were safe.
"They gave me a breathing machine," one resident, Melissa Blake, told NBC News last month after receiving treatment for bronchitis.
"They put me on oxygen. They gave me three types of steroids."
With concerns about potential long-term health effects mounting, Sens. J.D. Vance (R-Ohio) and Sherrod Brown (D-Ohio) have begun pushing for a health monitoring program to track any negative health outcomes that might stem from the chemical exposure.
Brown, speaking at the Thursday hearing, noted that his constituents wanted Norfolk Southern to atone for the incident by paying for "every cent" of the cleanup, including "every water test, every hotel room, every bottle of water, every hospital bill if an Ohioan comes down sick because of these contaminants next week, next year, for the next 10 years."
"We know this company can afford it," he added.
Although Shaw did not specifically commit to paying for residents' medical costs, in his prepared remarks, he noted that Norfolk Southern had already committed to providing some financial assistance to aid the East Palestine community in its recovery.
"To date, we have committed to reimbursements and investments of more than $20 million in total, including by helping more than 4,200 families through our Family Assistance Center located in East Palestine," he said. "Supporting first responders has been a particular area of focus, and our contributions include more than $3 million to assist the East Palestine Fire Department."
Adding that those commitments were only a "down payment," he continued: "I've met with community leaders, business owners, school officials, clergy, and others to begin to identify ways we can invest in the future prosperity of East Palestine and support the long-term needs of its people. We will continue to invest in East Palestine for as long as it takes to help the community recover and thrive."
Original News Source Link

Running For Office? Conservative Campaign Consulting – Monthly Rates!