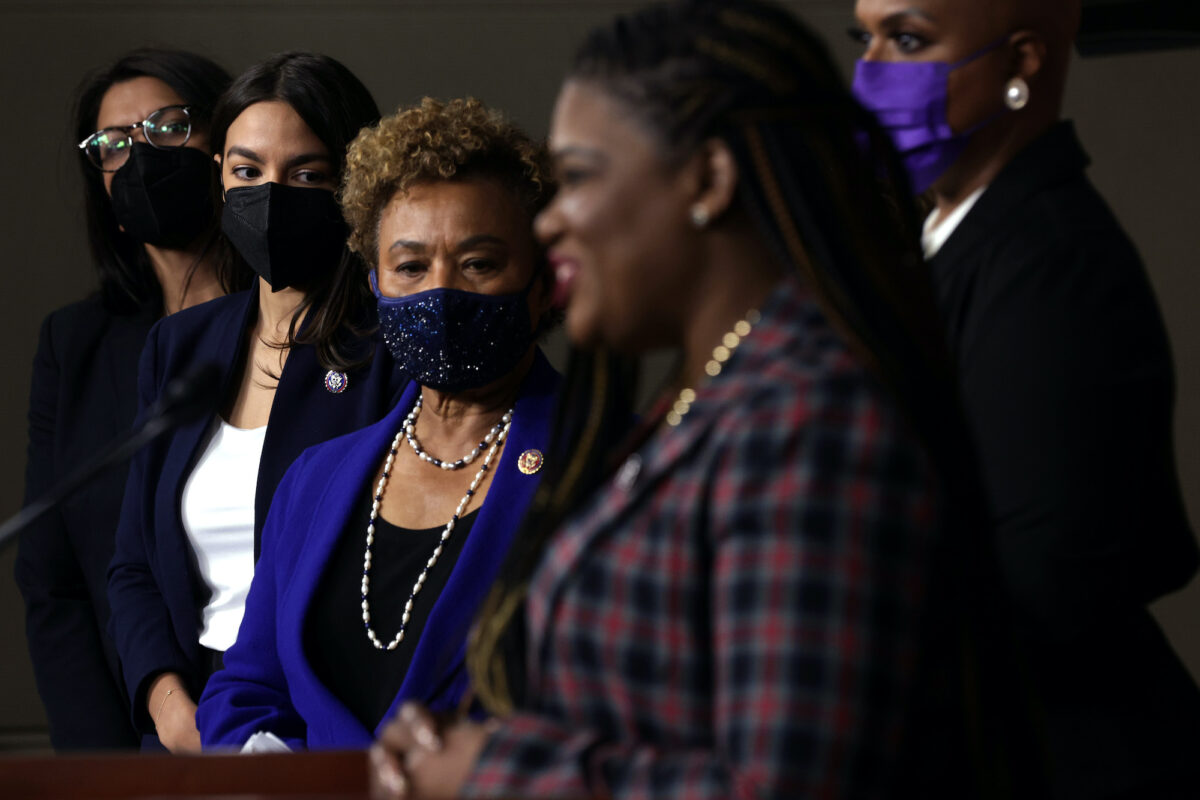 Rep. Cori Bush (D-Mo.) introduced a resolution on May 17 calling for $14 trillion in reparations over the U.S. history of slavery.
The resolution is meant to seek awareness on a measure, H.R. 40, which has been introduced in every Congress for decades, that would establish a federal commission to study the issue of slavery reparations. The resolution states that "the United States has a moral and legal obligation to provide reparations for the enslavement of Africans and its lasting harm on the lives of millions of Black people in the United States."
Co-sponsors of the resolution include Reps. Barbara Lee (D-Calif.), Rashida Tlaib (D-Mich.), Ayanna Pressley (D-Mass.), Jamaal Bowman (D-N.Y.), Delia Ramirez (D-Ill.), Summer Lee (D-Pa.), Ilhan Omar (D-Minn.), Jonathan Jackson (D-Ill.), and Al Green (D-Texas).
"Black people in our country cannot wait any longer for our government to begin addressing each and every one of the extraordinary bits of harm, all of the harm it has caused since the founding that it continues to perpetuate each and every day all across our communities, all across this country," said Bush at a May 17 news conference.
"When the black-white wealth gap is $14 trillion, it's unjust and it wouldn't happen in a just and fair and equitable society," she added.
"Those are not the natural consequences of human society, none of that," Bush continued. "They are directly caused by our federal government's role in the enslavement and exploitation of Africans or black people throughout our history."
Bush added that reparations is "not just a matter of our country's history, but it is a matter for which America must provide reparations if we desire a prosperous future."
"Reparations is necessary toward really true equity," said Tlaib at the news conference.
"We hear the Biden administration and so many others talk about that word 'equity,'" she continued. "They need to make sure that reparations is part of the movement toward equitable distribution of resources."
Given that the GOP controls the House, it is highly unlikely that Bush's resolution or H.R. 40 will get a vote, let alone pass the chamber.
The reparations issue has been a hot topic over the past several years amid racial tensions nationwide. California and one of its cities, San Francisco, each has a task force to deal with the issue. California, which was founded in 1850, was not a slave state. Neither the state nor the city has decided whether to issue reparations.
In 2021, Evanston, a city in Illinois, which was not a slave state during the Civil War, approved $10 million in reparations for the city's residents through a marijuana tax.
Original News Source Link

Running For Office? Conservative Campaign Consulting – Monthly Rates!