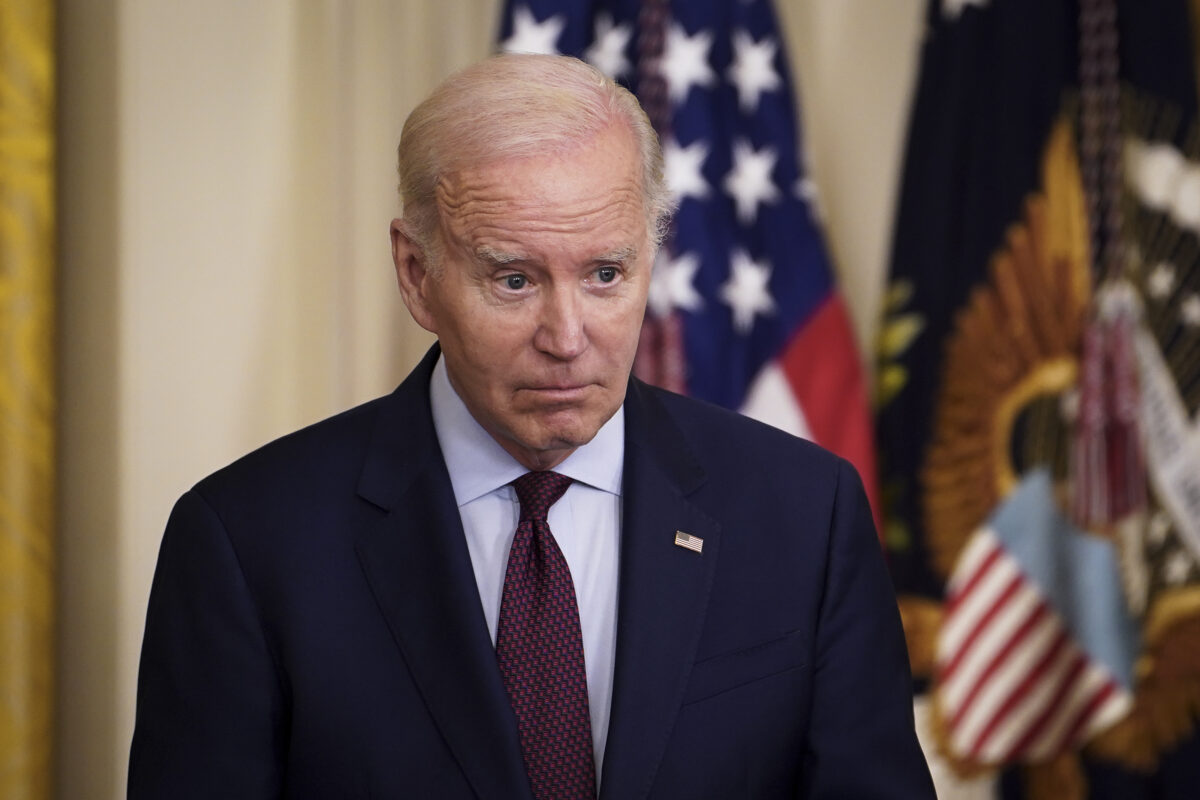 Rep. Marjorie Taylor Greene (R-Ga.) has introduced a measure to impeach President Joe Biden.
The measure, which Greene has introduced to Congress on various occasions before, was announced during a May 18 press conference.
"It is with the highest amount of solemnity that I introduce articles of impeachment today on the head of this America Last executive branch that has been working since Jan. 20, 2021 to systematically destroy this country: the president of the United States, Joseph Robinette Biden," Greene said.
In the articles (pdf), Greene wrote: "In his conduct as President of the United States, in violation of his constitutional oath faithfully to execute the office of the President of the United States, and, to the best of his ability, preserve, protect, and defend, the Constitution of the United States, and in violation of his constitutional duty to take care that the laws be faithfully executed, Joseph Robinette Biden abused the power of the Office of the President by endangering the security of the United States and thwarting the will of Congress as set forth in duly enacted law."
During the press conference, Greene explained, "Joe Biden has deliberately compromised our national security by refusing to enforce immigration laws and secure our border." She cited figures that more than 6 million illegal aliens have entered the United States under Biden's watch.
"His administration has willfully refused to maintain operational control as required by the law."
She cited various policies of Biden's administration toward immigration, saying that Biden had refused to carry out the law and to protect American national security.
Greene introduced similar measures during the 117th Congress, but it did not gain traction.
In total, Republicans have introduced nine articles of impeachment against Biden over the course of his presidency. Five of those originated with Greene.
The articles of impeachment are the latest in a series of similar measures by Greene.
This week, the Georgia Republican has also introduced articles of impeachment against Department of Homeland Secretary Alejandro Mayorkas, FBI Director Christopher Wray, Attorney General Merrick Garland, and Matthew Graves, U.S. Attorney for the District of Columbia.
The articles of impeachment against Biden, like those levied against other officials, have an uncertain future.
Before advancing, they'd need the backing of Speaker of the House Kevin McCarthy (R-Calif.), who's said in the past that "we're not gonna be political" with impeachment.
Reps. Andy Biggs (R-Ariz.) and Anna Paulina Luna (R-Fla.) told the Epoch Times that McCarthy was coming around on some of these pushes, particularly the push to remove Mayorkas, but others are less widely supported.
Any impeachment resolution advanced through the House would initiate a trial for the accused in the Senate. Sixty senators would need to agree to convict before the accused could be removed from office, a challenging prospect for any impeachment resolution.
Original News Source Link

Running For Office? Conservative Campaign Consulting – Monthly Rates!