Officials at the southern border arrested 169 people whose names matched those on the watch list from October 2022 to September 2023.
Rep. August Pfluger (R-Texas) questioned Department of Homeland Security (DHS) Secretary Alejandro Mayorkas and Federal Bureau of Investigation (FBI) Director Christopher Wray on Nov. 15 over the current whereabouts of individuals who were on the federal government's terror watch list.
Mr. Pfluger questioned the two during a Homeland Security Committee
hearing
where officials discussed and examined global threats to the U.S. homeland and America's interests abroad.
The hearing came after President Joe Biden told CBS News' "60 Minutes" in October that the threat the United States could face from terrorists in the country had escalated in recent months.
Mr. Pfluger asked the senior officials whether or not their respective agencies were currently searching for or detaining people who were on the federal government's terror watch list, given the growing threat.
Both responded that there are currently known or suspected terrorists (KST) who have not been detained by U.S. Customs and Border Protection (CBP), with Mr. Wray admitting that the FBI is still attempting to locate individuals on the terrorist watch list who have entered the United States.
"We started this hearing by listening to Secretary Mayorkas talk about climate change as a threat to our country and obscure policies that need reauthorization, but not yet one mention of the Southwest border and the 169-plus known or suspected terrorists that have entered this country. So I think it just shows you where the mindset is, and the American people know that," Mr. Pfluger said.
The lawmaker went on to cite previous comments made by Mr. Wray before the Senate Committee in late October, during which the FBI head
said
that "the terrorism threat has been elevated throughout 2023" but that the ongoing war in the Middle East has "raised the threat of an attack against Americans in the United States to a whole other level."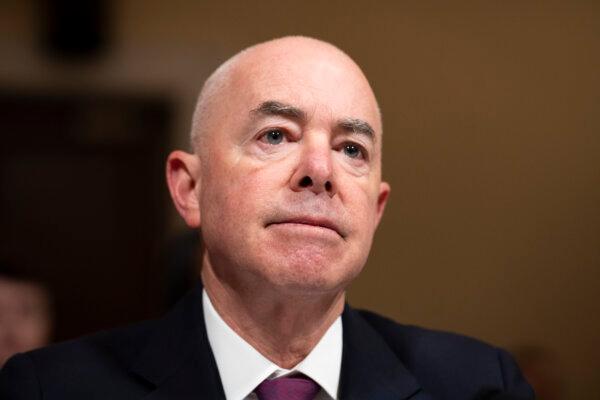 CBP Data Sparks Concern
Mr. Wray, during his speech before the Senate Committee, also noted that officials in Washington have been working "around the clock" to protect Americans "here at home" in the wake of Hamas' attacks on Israel on Oct. 7.
During Wednesday's hearing, Mr. Pfluger asked Mr. Wray if he still stands by his previous comments, to which he responded he "absolutely" does.
"If somebody is listed as a special interest alien or a KST … is that a concerning person, somebody who could harm the United States?" the lawmaker further asked, to which Mr. Wray responded that individuals on the watchlist as a KST need to have met a certain "standard" to be of concern.
The FBI head noted the agency is actively searching for such individuals.
According to CBP
data,
officials at the southern border arrested 169 people whose names matched those on the watch list from October 2022 to September 2023; up from 98 during the previous fiscal year and 15 in 2021′ and marking the highest annual number since Border Patrol was founded in 1924.
With illegal immigrants on the FBI terror watchlist apprehended between ports at the northern border included, the total for fiscal year 2023 was 172.
Those numbers have sparked widespread concern among Republican lawmakers.
Border Crisis Remains Security Threat
"Are there people that are listed in these numbers, I think the number was 169 [last fiscal year], are there people that you are still searching for that we don't know where they are in the U.S.?" the Republican lawmaker continued during Thursday's hearing, to which the FBI head responded that there are "individuals who are the subject of terrorism investigations that the agency is actively searching for."
Mr. Pfluger then turned to Mr. Mayorkas to question whether or not DHS has a policy in place requiring CBP or any other agency involved with the vetting of individuals who match the terror watchlist that requires them to detain such individuals.
"Individuals who pose a threat to public safety or national security are a priority for enforcement, and if in fact, they pose such a threat, they are to be detained," the DHS Secretary replied.
Mr. Pfluger then questioned why, if that is the case, individuals who matched the terror watchlist were released into the United States. In response, Mr. Mayorkas denied such individuals had been released, stressing that officials detain any individual if they believe it is necessary to safeguard the safety of the American people.
Asked whether such individuals are detained "immediately," Mr. Mayorkas did not respond directly, stating, "We make a determination in the execution of our law enforcement responsibilities to detain an individual if that detention is necessary."
Mr. Pfluger concluded that, based on the testimony of Secretary Mayorkas and Mr. Wray, the ongoing border crisis remains a major homeland security threat amid a surge in illegal crossings.
"I believe based on your testimony and based on Director Wray's that there are people that you are still searching for that you should've detained," the lawmaker concluded.
Original News Source Link – Epoch Times

Running For Office? Conservative Campaign Consulting – Election Day Strategies!