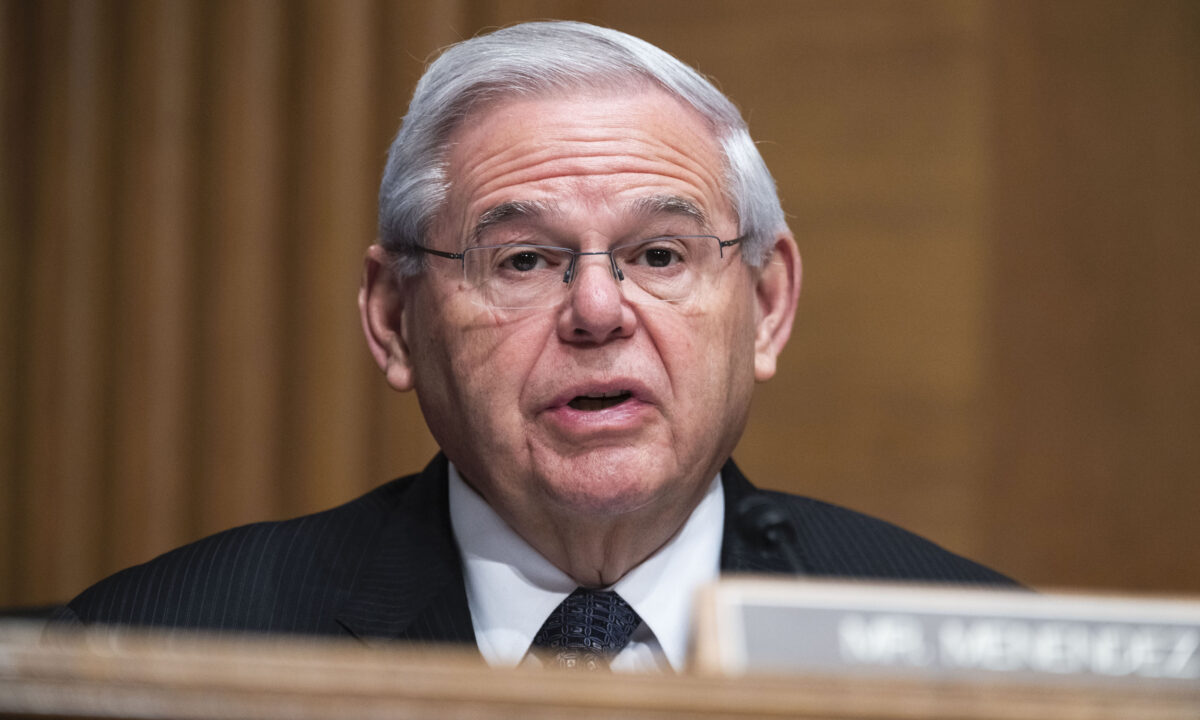 Sen. Bob Menendez (D-N.J.) assured the public on March 15 that repealing the Authorizations for the Use of Military Force (AUMFs) against Iraq would have no impact on the United States confronting the Iranian threat.
"Some will ask whether repeal of the authorization impacts our ability to protect the nation against Iran. Take it from me, as someone who has worked for a couple of decades to confront the challenge of Iran: This will have no impact on defending against any Iranian threat," Menendez said during a press conference following the Senate Democrats' weekly policy luncheon.
"[The] president already has authority under the 2001 AUMF and the Constitution for military operations against ISIS or Iranian-backed groups that threaten U.S. personnel," he continued. "The AUMFs that we're repealing add nothing to those efforts."
The 2001 AUMF allows the U.S. military to go after those responsible for 9/11.
Menendez's comments came as the Senate is set to vote on March 16 to advance a bill, introduced by Sens. Tim Kaine (D-Va.) and Todd Young (R-Ind.), that would repeal the 1991 and 2002 AUMFs. The first allowed the U.S. to enter the Gulf War, where Hussein's forces were driven out of Kuwait. And the second allowed the U.S. military to go into Iraq following reports that Saddam Hussein had weapons of mass destruction. The United States captured him in 2003 and he was executed by Iraq in 2006.
During the press conference, Sen. Chuck Schumer (D-N.Y.) touted the bill, saying "Americans are tired of endless wars."
"This is the week the Senate will begin the process to end the legal authority that started the Iraq War two decades ago. March 19 will mark the 20th anniversary of that invasion," he said. "The Iraq War has been over for more than 10 years. The reality on the ground has long since changed, so laws on the book must change too. This was a bipartisan effort."
The Senate Foreign Relations Committee on March 8 voted, 13–8, to advance the bill to the full Senate. Schumer filed cloture on the bill on March 14, when he noted that President Joe Biden supports the measure.
Sixty votes are required for the bill to proceed to a vote.
However, although the bipartisan measure is likely to end up passing the Democrat-controlled Senate, its fate in the GOP-controlled House is less certain. Last week, the lower congressional chamber voted down a resolution introduced by Rep. Matt Gaetz (R-Fla.) that would have required the president to withdraw U.S. forces from Syria within 15 days of its enactment.
Original News Source Link

Running For Office? Conservative Campaign Consulting – Monthly Rates!