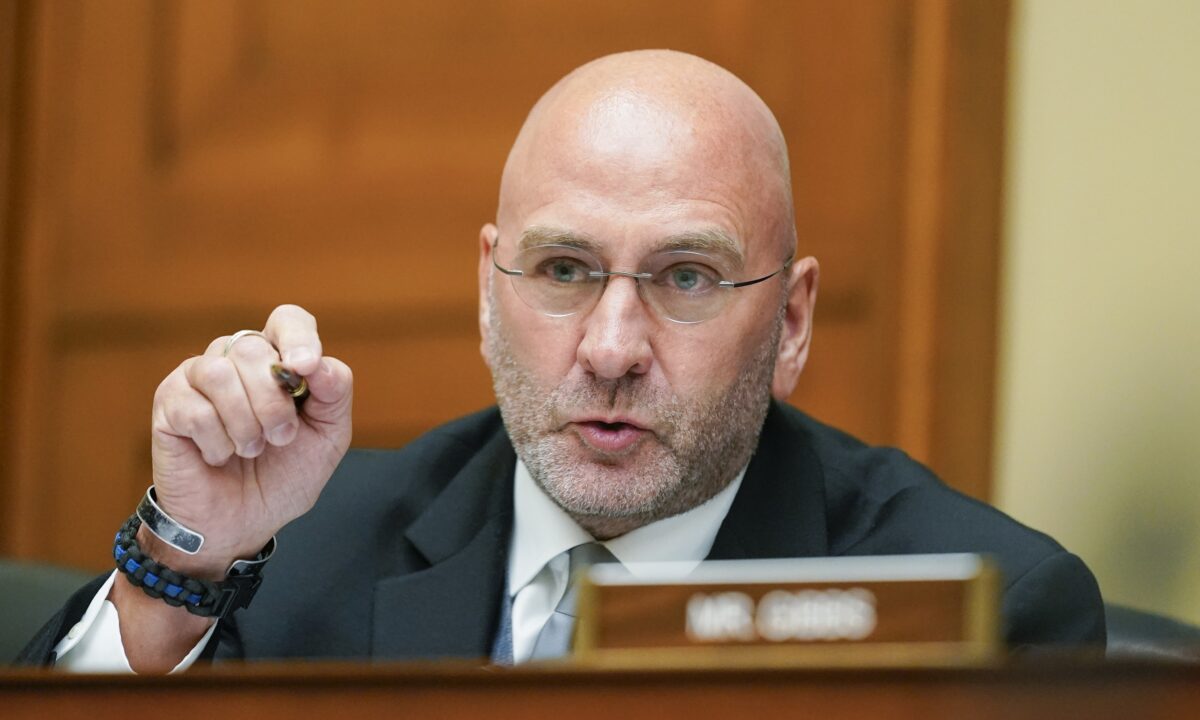 Congressman Clay Higgins (R-La.), a member of the House Homeland Security Committee, criticized the Democrats on the committee for boycotting a field hearing on the border in Pharr, Texas, on Wednesday.
The highest-ranking Democrat on the Homeland Security Committee, Rep. Bennie Thompson (D-Miss.), announced on Tuesday that the Democratic side of the committee would not be attending what he described as a Republican effort to "score political points." Democratic members of the House Judiciary Committee also skipped a field hearing at the border in Yuma, Arizona, last month.
Higgins told NTD News that Homeland Security Committee members are already required to visit the border. "So putting a hearing together with a border trip just works very well for scheduling and for the purposes of allowing our members, the Republican members and Democrat members of the Homeland Security Committee, to have firsthand interaction on the border."
"Unfortunately, the Democrats did not attend yesterday," Higgins continued. "That means they missed the entire border congressional delegation trip, and they missed the entire hearing that we had down there."
Committee Chairman Mark Green (R-Tenn.) also criticized the Democrats on the committee during his opening remarks at the hearing on Wednesday.
"The Democrats also talk about bipartisanship, how this committee is supposed to be a bipartisan committee. I guess for them, bipartisanship is only when you agree exactly with them," Green said. "To me, bipartisanship is where you sit down together and debate the issues and talk to try to find common ground. You can't have bipartisanship if the other side fails to show up for their duty."
During the hearing, Republican lawmakers asked witnesses to explain what it means to have "operational control" of the border. Under U.S. law (pdf), "operational control" of the border means "the prevention of all unlawful entries into the United States, including entries by terrorists, other unlawful aliens, instruments of terrorism, narcotics, and other contraband." The Secure the Fence Act of 2006 requires the U.S. Department of Homeland Security (DHS) to achieve and maintain this "operational control."
DHS Secretary Alejandro Mayorkas testified in April 2022 that "we do" have "operational control" of the border when asked under oath by Rep. Chip Roy (R-Texas).
During the Wednesday hearing, Border Patrol Chief Raul Ortiz testified that the border authorities do not have "operational control" of the border, as defined by U.S. law.
Republicans on the Homeland Security Committee have assessed that there have been more than 1.2 million "known gotaways" under President Joe Biden's administration. "Known gotaways" are individuals who made an unlawful border crossing that border authorities could not stop or apprehend. Committee Republicans have also noted apprehensions of dozens of individuals at the border who are on terrorist watchlists.
Democrats Say Republicans Trying to Score 'Political Points'
House Republicans have brought articles of impeachment against Mayorkas over his handling of the U.S. border. Impeachment articles brought by Rep. Pat Fallon (R-Texas) in January allege Mayorkas "willfully provided perjurious, false, and misleading testimony to Congress" with his comments about "operational control" at the border.
Ranking Member Thompson said committee Democrats elected to skip Wednesday's border hearing because they believed Republicans scheduled it for primarily partisan reasons.
"Unfortunately, it has become clear that Republicans planned to politicize this event from the start, breaking with the committee's proud history of bipartisanship," Thompson wrote in a statement shared with the Washington Examiner. "Instead of a fact-finding mission to develop better border security and immigration policies, Republicans are traveling to the border to attack the administration and try to score political points with their extreme rhetoric—despite having voted against the resources border personnel need."
In his first days in office, Biden supported a bill called the "U.S. Citizenship Act of 2021." The bill includes an eight-year pathway to citizenship for the estimated 11 million people illegally living in the United States.
White House spokesman Ian Sams tweeted at House Republicans on Thursday with a link to a report showing illegal border crossings have dropped sharply in recent months to their lowest level since February 2021.
Sams also alleged that Republicans are pursuing funding cuts that could decrease resources available for border security efforts.
"Perhaps House Republicans could take the time at this hearing to look the Chief of the Border Patrol in the eye and honestly explain to him why they want to slash the funding needed to combat fentanyl trafficking, stop unlawful border crossings, and conduct other important law enforcement efforts at the border," Sams said in a statement shared with ABC News.
Green argued that policies, rather than a loss in funding, cause increased illegal border crossings and drug smuggling efforts under the Biden administration.
"When Secretary Mayorkas took over, we didn't suddenly cut the ranks of the Border Patrol. They have roughly the same number as the last administration. So clearly, the size of the Border Patrol is not the reason for this massive surge in people, crime, and drugs," Green said. "Not that we don't need more Border Patrol agents, and not that we can't put money in certain places."
From NTD News
Original News Source Link

Running For Office? Conservative Campaign Consulting – Monthly Rates!