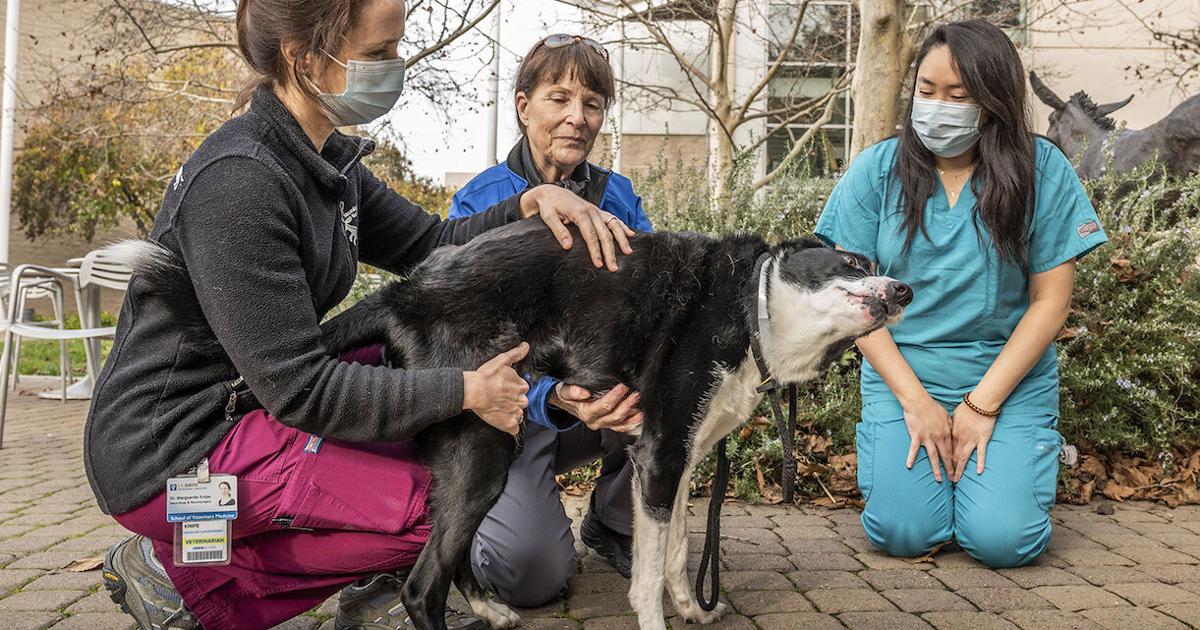 SACRAMENTO — A border collie who suffered spinal injuries and was paralyzed in his hind legs after collapsing unexpectedly in October can stand and is beginning to walk again, following neurosurgery six weeks ago by UC Davis veterinarians.
River came in to UC Davis after suddenly being unable to stand and walk on his own, said UC Davis veterinary neurology resident Amanda Xue. What a difference six weeks make.
River strutted his stuff Monday as UC Davis touted his quick recovery from surgery. Xue and the UC Davis team did an MRI and found he had "essentially a slipped disc," Xue said.
UC Davis veterinarians drilled a hole in River's back and extracted the material that was compressing his spine.
"He's exceeded my expectations," Xue said. "He looked really, really good on his check-in exam today. He's walking on his own and wagging his tail.
"I'm really optimistic he'll continue to make improvements. He's done a lot of hard work to get where he is today."
River's owner, Linda Drafton, took the dog in for a recheck exam Monday afternoon at UC Davis Veterinary Medical Teaching Hospital's small animal clinic. The past two months has been a whirlwind. She drove three and a half hours from the Redding area to UC Davis to get River help on Halloween; now her dog is mostly back to normal.
"He is so close to being himself again compared to when I brought him down," Drafton said. "I keep telling folks here this is a miracle. It's a miracle this dog recovered like this. Just a miracle."
Neurologists say River will need months of rehabilitation, but his prognosis for recovery is good.
___
©2021 The Sacramento Bee. Visit at sacbee.com. Distributed by Tribune Content Agency, LLC.