A Russian state television pundit criticized former President Donald Trump's decision to run again for the U.S. presidency Wednesday and instead framed Florida's Republican Governor Ron DeSantis as the "more successful" figure in the Republican party.
After repeatedly teasing another presidential run for months, Trump formally announced at his Mar-a-Lago estate in Florida on Tuesday that he would be seeking the 2024 presidential nomination from the Republican party. Several Republican lawmakers have already thrown their support behind his third presidential bid, but Alan Dershowitz, a former lawyer for the ex-president, has already cast doubt on Trump's chances of succeeding.
The announcement came one week after the highly anticipated midterm elections in the U.S. that produced disappointing results for Republicans expecting to see a "red wave." Democrats maintained control of the Senate, and while Republicans have won more seats in the House, the GOP gains were not as big as anticipated.
Several House races still have yet to be called, but Republicans had secured 217 seats as of Wednesday afternoon, compared to 209 won by Democrats. This is one seat short of the 218 Republicans need for a House majority.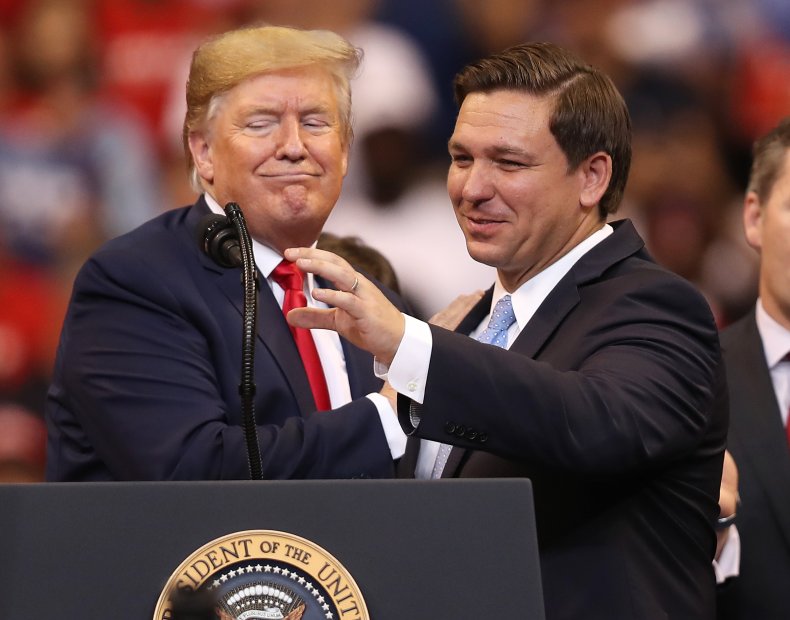 In a clip translated and shared on Twitter Wednesday by Julia Davis, a columnist for The Daily Beast, Russian state television host Vladimir Solovyov repeatedly questioned why Trump was launching another bid for the White House.
"What the heck for? Why is he doing this? The red wave did not materialize," Solovyov said. "They did not take the Senate, not as big of a majority in Congress as they needed. Within the party, DeSantis looks more successful."
"Is this an attempt to interrupt DeSantis? Or is this a gift for Biden?" he continued.
Solovyov's comments were a departure from the praise he and other Russian media pundits have offered Trump in the past. In July, he called Trump a "beaut" and expressed his desire for him to return as the U.S. president.
Both Trump's and DeSantis' names have emerged as top contenders for the 2024 Republican presidential nomination, potentially setting up the pair for a rivalry. DeSantis has not officially declared whether he intends to run, but he did not commit in a debate last month to serving his full second term as governor.
Trump endorsed a large set of candidates in the midterm elections, and experts believed that he viewed the success of those races as a test of his continued power in the GOP. Trump-endorsed candidates ended up seeing mixed results in the election and some particularly notable losses, such as in Dr. Mehmet Oz's U.S. Senate campaign in Pennsylvania.
Newsweek reached out to spokespeople for Trump and DeSantis for comment.