A Kremlin propagandist has said that Russia has not decided who it will back for the 2024 U.S. presidential election as he referred to Donald Trump as "our previous candidate."
The anchor on the daily Russia-1 program 60 Minutes, Evgeny Popov, made the comment in a segment in which he discussed the former U.S. president's suggestion that Ukraine should have done a deal with President Vladimir Putin to prevent war.
Trump had told The Clay Travis & Buck Sexton Show podcast that Ukraine could have "given up" Crimea, which Moscow annexed in 2014, and promised not to join NATO to stop Putin invading.
Popov, who is also a member of the Russian parliament, said: "We are yet to pick the new candidate for the 2024 presidential election in the U.S. but here's what our previous candidate, Trump, who was the president of the U.S. said about (Ukrainian President Volodymyr) Zelensky's actions and Ukraine."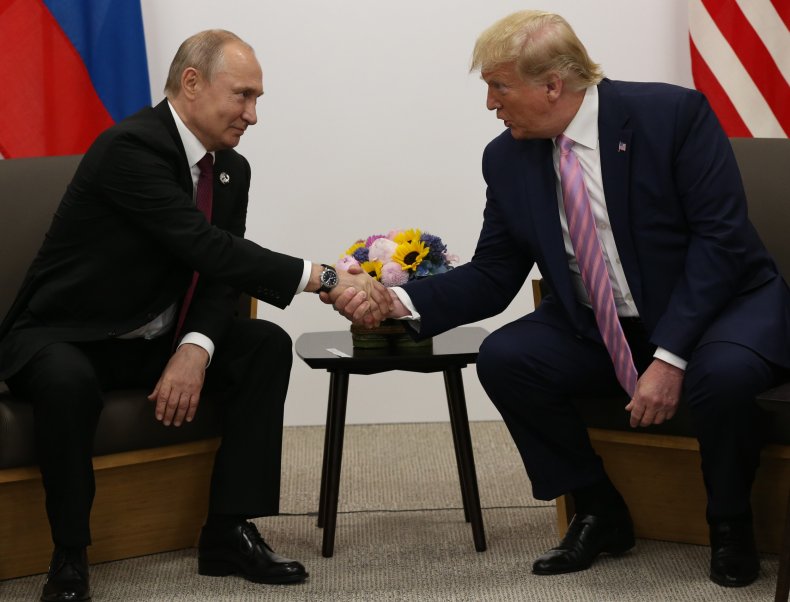 He then played a soundbite of Trump during the podcast in which the former president said that a deal with Putin "could have been settled."
Trump added that the Russian leader had "moved 200,000 troops to the border to negotiate," referring to the build-up of Moscow's forces near Ukraine's border before the invasion.
The video of the clip on the program, which reflects Kremlin thinking, was tweeted on Tuesday by journalist and Russia watcher Julia Davis, who wrote: "Trump's ridiculous podcast comments are being replayed on various Russian state TV programs, but Kremlin propagandists want him to try even harder."
"Describing Trump as 'our previous candidate,' state TV host Evgeny Popov said that Russia is yet to decide whom to support in 2024," she added.
During his presidency, Trump's relationship with Russia was closely scrutinized, especially after U.S. intelligence agencies concluded that Moscow interfered in the 2016 and 2020 elections to help his chances.
Although the Kremlin has always denied it interfered in the U.S. election, its messengers on 60 Minutes have been openly talking about how Trump was the person Moscow wanted in the White House.
Popov's wife and fellow program anchor, Olga Skabaeeva, said in May that Moscow was looking to "reinstall" Trump as president. In referring to his criticism of U.S. politics, Skabaeeva said on the same program in July that "Trump is trying to convince us to support him again."
As Trump weighs up whether to declare his candidacy for the 2024 election, another anchor on Russia-1, Vladimir Solovyov, who has closed ties to Putin, last month described the former U.S. president as a "beaut" and said he hoped for his return to the White House. Newsweek has contacted the Trump team for comment.