San Francisco Mayor London Breed was forced to cut short an outdoor public hearing held at the United Nations Plaza in the city's downtown on May 23 after being heckled by protesters, one of whom allegedly threw a brick that hit another attendee.
Breed, a Democrat, was joined by Board of Supervisors President Aaron Peskin at the open-air hearing to discuss the ongoing problems facing the city, including homelessness and a drug crisis, including a surge in fentanyl overdose deaths.
"It is really great to be here to highlight a significant problem within our city," Breed began her speech, before stating that drug dealing, drug use, poverty, crime, and violence have been issues that have long plagued the city.
"The people who live here, the folks who work here, and the people who experience these challenges every single day, they deserve better," she continued.
"We can't keep speaking out of both sides of our mouth," Breed said. "On the one hand we want change and we want to hold people accountable, and on the other hand, we're willing to let people get away with murder."
"The fact is, we got [sic] challenges in this city. And we have to make the kinds of decisions that are going to allow for people to get the help and support they need, but to not allow things to continue in the way that they have for far too long," she continued. "It's time for a change."
The mayor noted that efforts so far to improve the situation are simply "not working" despite an increase in local resources to address the problems.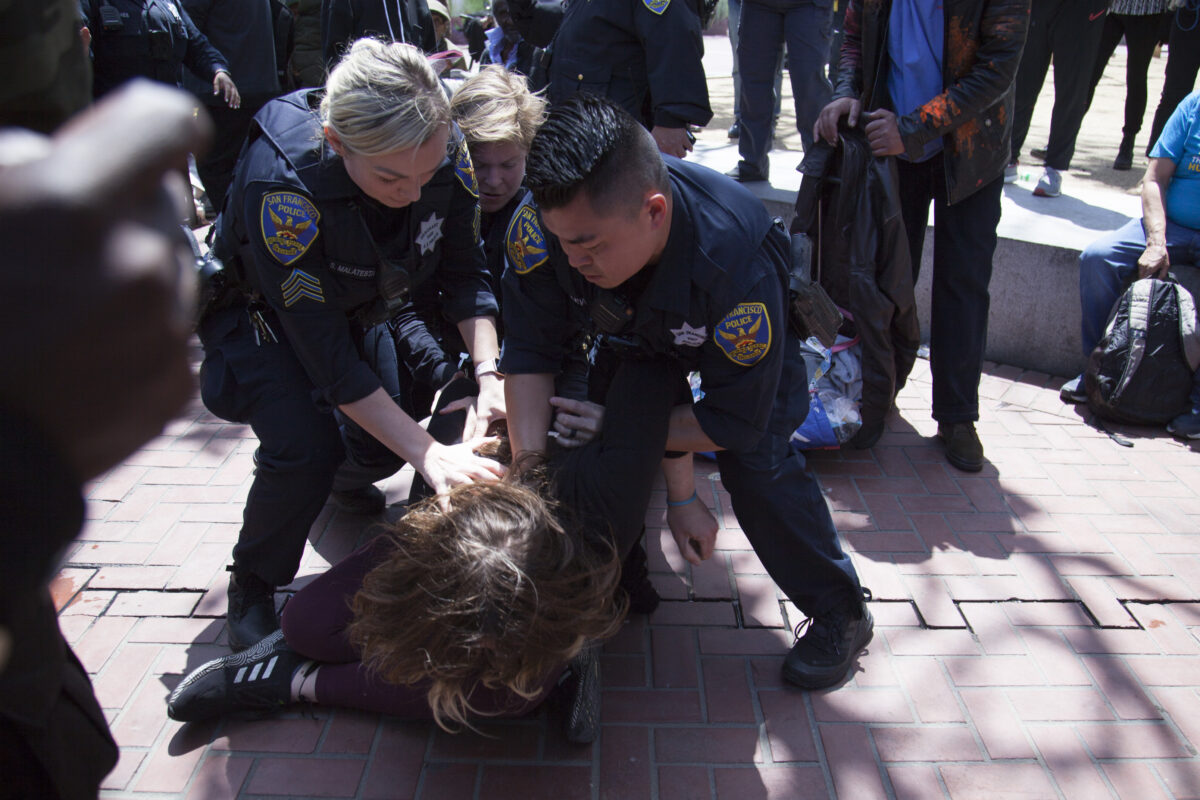 Hearing Moved Indoors
Protesters continuously heckled Breed during her lengthy speech, and she ultimately decided that the outdoor hearing would not be "the right forum" to continue with the address, which was subsequently moved indoors, away from the crowd.
One protester was later arrested for allegedly throwing a brick into the crowd, according to police, who identified the suspect as Elysia Katet, 26, of San Francisco.
The brick hit the foot of a high school student, the San Francisco Chronicle reported, before the suspect was arrested and removed from the area.
Katet was booked in San Francisco County Jail on suspicion of child endangerment and assault with a deadly weapon, the San Francisco Police Department confirmed to the publication.
The student suffered non-life-threatening injuries, the Los Angeles Times reported.
The Epoch Times has contacted the San Francisco Police Department for further comment.
Breed's outdoor hearing comes as the city is planning to implement a pilot program aimed at addressing situations in which individuals are "so far under the influence of drugs that they may pose a danger to themselves or others," according to the San Francisco Department of Emergency Management.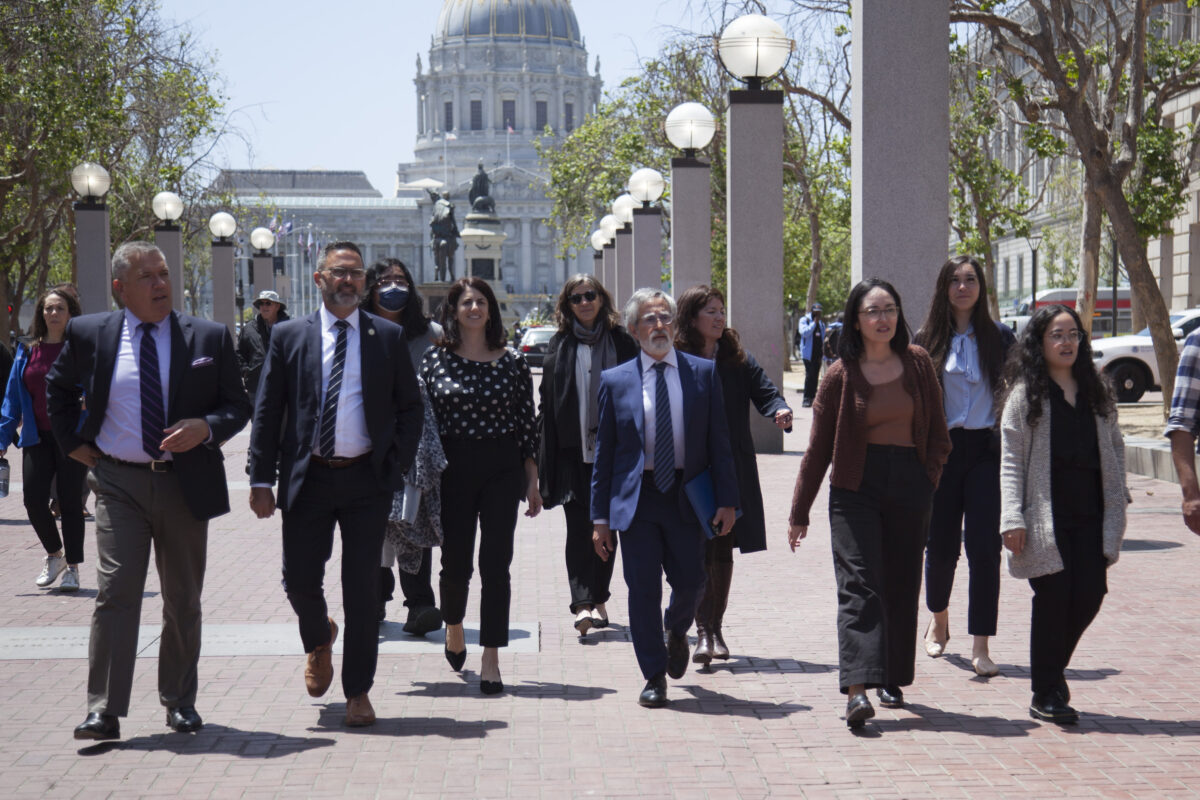 Rising Crime, Drug Overdoses Plaguing City
On Twitter, SF District 5 Supervisor Dean Preston took aim at the program, writing that "arresting people for drug addiction is not 'moderate' nor 'commonsense.' It's reactionary, cruel, and counterproductive."
After Tuesday's meeting was reconvened, Breed said, "I get that people have an issue with the fact that we are looking at being more aggressive with people struggling with drug addiction."
"I want to make sure that person doesn't die. How do we do that? Force is going to have to be a part of it, whether people like it or not … Compassion is killing people," she added.
Peskin, meanwhile, criticized the mayor's handling of the drug problem impacting the city's streets and called on Breed to open a sustained Emergency Operations Center in coordination with local, state, and federal agencies to "shut down all public drug dealing in open-air sites such as in and around this Plaza in the next 90 days," the San Francisco Chronicle reported.
The hearing comes as a string of major brands including Whole Foods and Nordstrom have shut down operations in San Francisco amid rising crime levels. Residents, meanwhile, are fleeing in record numbers amid fears for their safety.
According to San Francisco's chief medical examiner, 200 people died of an accidental drug overdose in the first three months of the year, up from 142 deaths in the first quarter of last year.
Original News Source Link

Running For Office? Conservative Campaign Consulting – Monthly Rates!