[Breaking news update, published at 7:15 p.m.]
In a 5-1 vote on Wednesday, the Newport News Public Schools school board voted to approve a separation agreement and severance with Superintendent Dr. George Parker III, almost three weeks after a 6-year-old allegedly shot a teacher at one of the district's elementary schools.
[Original story, published at 6:30 p.m.]
Administrators at the Newport News, Virginia, elementary school where a teacher was allegedly shot by a 6-year-old earlier this month were warned the day of the shooting that the child had a gun, according to the teacher's lawyer.
"Over the course of a few hours, three different times – three times – school administration was warned by concerned teachers and employees that the boy had a gun on him at the school and was threatening people," Diane Toscano, an attorney for the teacher, Abby Zwerner, told reporters in a news conference Wednesday. "But the administration could not be bothered."
"Abby and these other teachers at Richneck Elementary School tried to do the right thing on January 6," Toscano said, adding she intended to file a lawsuit on Zwerner's behalf. Toscano alleged the administration "failed to act" despite the fact they had "knowledge of imminent danger."
The school's assistant principal resigned Wednesday, a spokesperson for the school district told CNN. Dr. Ebony Parker's resignation comes ahead of a school board meeting Wednesday night that will include a vote on whether to oust the district's superintendent following the shooting nearly three weeks ago.
CNN has reached out to the school district for comment on Toscano's claims.
A 6-year-old boy was taken into custody January 6 after he brought his mother's legally purchased gun to the school in his backpack and shot his first grade teacher, Abby Zwerner, police said at the time.
Zwerner, 25, was initially in critical condition and later stabilized before being released from the hospital after a bullet went through her hand and into her chest inside her classroom. Police have said the shooting was intentional.
According to Toscano, a bit before 11:30 a.m. that day, Zwerner informed an administrator that the 6-year-old had "threatened to beat up another child." Administration did not remove the student from class or call security, Toscano claimed.
Around 12:30 p.m., another teacher told the administrator she believed the student had put a gun in his pocket and taken it out to recess, Toscano claimed. The administrator allegedly "downplayed" the possibility, Toscano said, responding that the boy had "little pockets."
Then, shortly after 1 p.m., a third teacher told administrators that another child – described by Toscano as "crying and fearful" – had informed the teacher the 6-year-old "showed him the gun at recess and threatened to shoot him if he told anybody."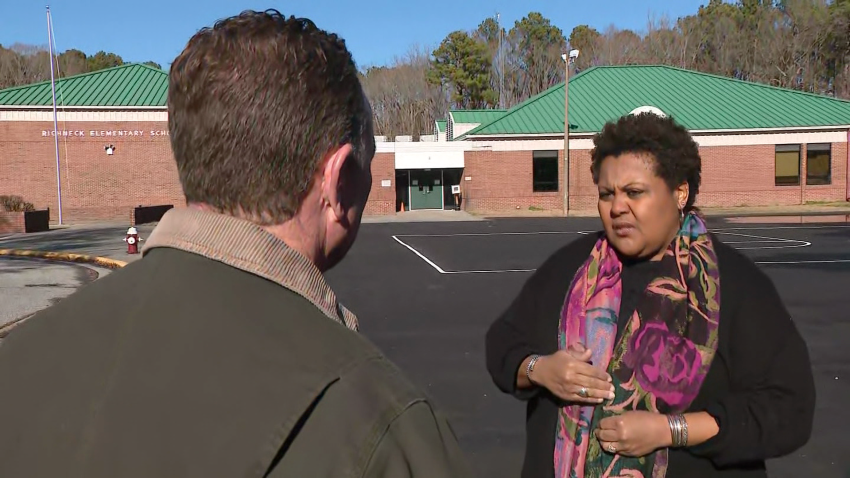 Hear from grandmother who gave CPR to teacher allegedly shot by 6-year-old student