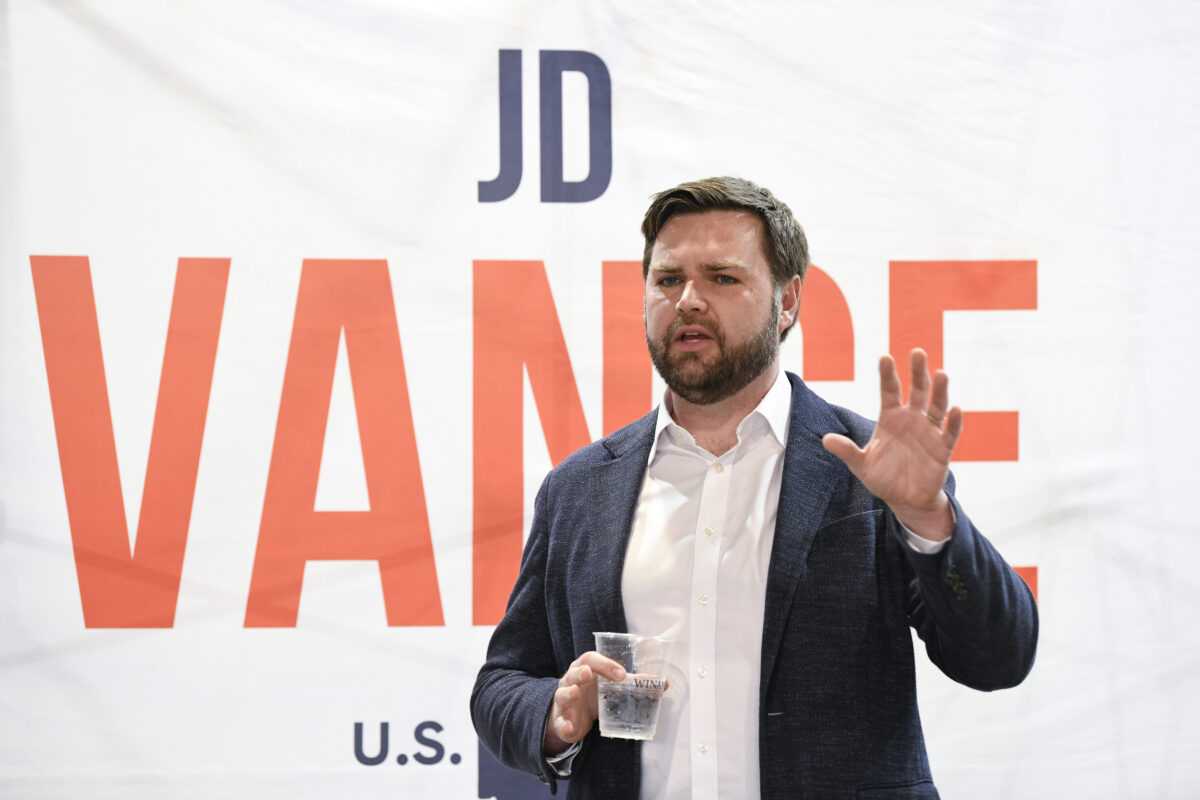 Sen. J.D. Vance (R-Ohio) appealed to his Republican colleagues on March 9 to support the Railway Safety Act following the Feb. 3 derailment of a Norfolk Southern Railways train in East Palestine, Ohio, and the subsequent chemical spill.
At a Thursday hearing of the Senate Committee on Environment and Public Works, Vance acknowledged that there had been some reluctance among members of his own party to support the bipartisan bill.
Noting that he believed most of his fellow Republicans had approached the legislation in "good faith," the senator called out nameless others who he said had balked at the notion of implementing additional regulations on the rail industry.
"This is an industry that just three months ago had the federal government come in and save them from a labor dispute—it was effectively a bailout—and now they're claiming before the Senate and the House that our reasonable regulation, our reasonable legislation is somehow a violation of the free market?" he said. "Well, pot, meet the kettle, because that doesn't make an ounce of sense. You cannot claim special government privileges, you cannot ask the government to bail you out, and then resist basic public safety."
The Railway Safety Act would implement new safety measures for trains carrying hazardous materials, including requiring rail companies to provide advanced notice to emergency response officials when such trains are traveling through their states.
The bill would also require two-person crews on every train, stricter inspection protocols, new regulations on train size and weight, and enhanced monitoring of wheel bearings, given that, according to the National Transportation Safety Board, the East Palestine derailment was caused by an overheated wheel bearing.
Vance introduced the legislation on March 1 with Sens. Sherrod Brown (D-Ohio), Bob Casey (D-Pa.), John Fetterman (D-Pa.), Marco Rubio (R-Fla.), and Josh Hawley (R-Mo.) as co-sponsors. Since then, the measure has also received the backing of Senate Majority Leader Chuck Schumer (D-N.Y.) and President Joe Biden.
In his Thursday remarks, Vance noted the GOP's claims in recent years to be the "party of the working people" and challenged his fellow Republicans to prove it by supporting his bill.
"We are faced with a choice with this legislation and how we respond to this crisis," he said. "Do we do the bidding of a massive industry that is in bed with big government, or do we do the bidding of the people who elected us to the Senate and to the Congress in the first place?
"I believe that we are the party of working people, but it's time to be the party of working people. We have a choice: Are we for big business and big government, or are we for the people of East Palestine? It's a time for choosing. Let's make the right one."
Original News Source Link

Running For Office? Conservative Campaign Consulting – Monthly Rates!