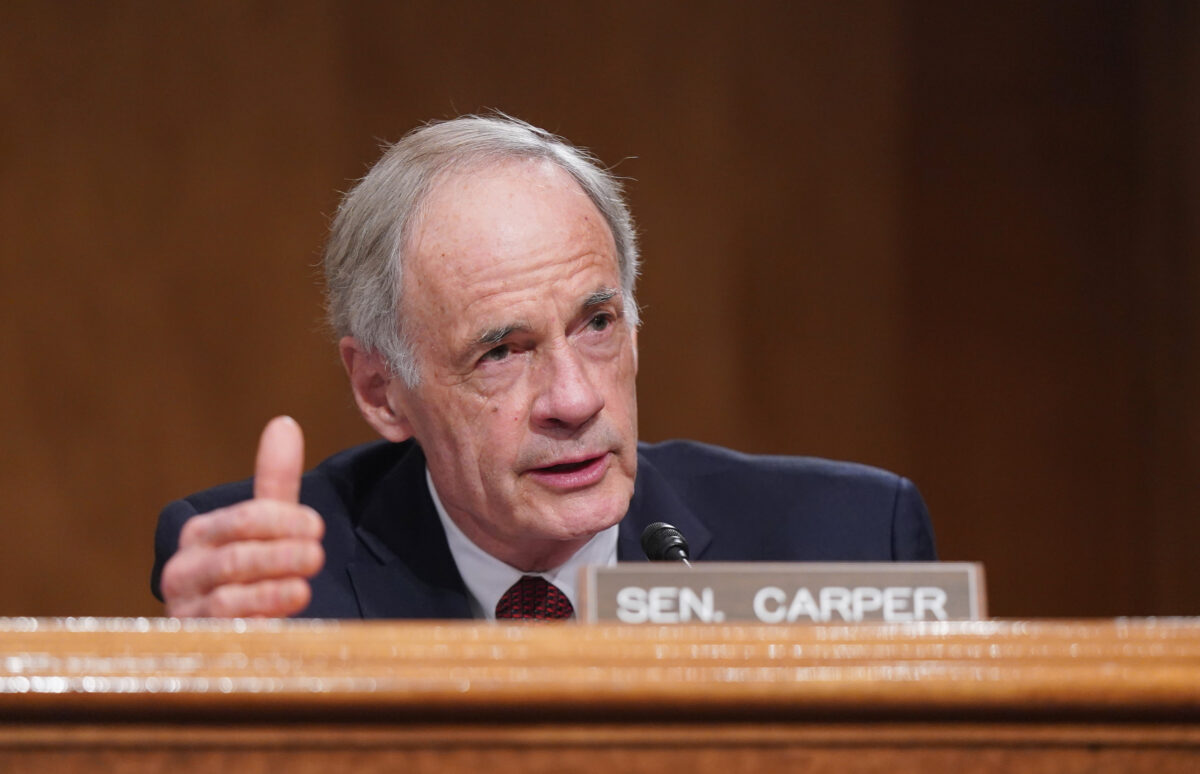 Sen. Tom Carper (D-Del.) announced on May 22 that he will not seek reelection for a fifth term in the Senate.
Carper's declaration opens the door to a wide-open fight for the seat he has held since 2001 in Delaware, a state with a largely Democrat population.
"If I ran for a fifth term in the Senate and won, it would be a record 15 statewide elections," Carper, 76, said in prepared remarks at a Wilmington news conference.
The lawmaker said that he and his wife, Martha, started to consider this decision months ago.
"After a good deal of prayer and introspection, and more than a few heart-to-heart conversations, we've decided we should run through the tape over the next 20 months and finish the important work that my staff and I have begun on a wide range of fronts, many of them begun in partnership with Democrat and Republican colleagues in the Senate and in the House," he said.
Several sitting senators, including Carper, have already said they won't be running again in 2020: Sens. Mike Braun (R-Ind.), Ben Cardin (D-Md.), Dianne Feinstein (D-Calif.), and Debbie Stabenow (D-Mich.).
Carper has stated that the implementation of the Inflation Reduction Act and the infrastructure bill of 2021 would be his primary emphasis over his last months in office. "Implementation of both laws is indispensable if we are ultimately to win the battle against global warming while creating tens of millions of American jobs in the years to come," he said.
Before being elected to the Senate in 2000, Carper spent two terms as governor of Delaware and five stints in the U.S. House.
The longtime lawmaker started his political career as Delaware's state treasurer. He had a reputation in the Senate as a centrist Democrat who was passionate about environmental issues and has also played a key role in attempts to support the U.S. Postal Service, which is now experiencing financial difficulties.
"The great privilege of my life has been the opportunity to serve the people of the First State and of the United States in so many different roles for so many years," he said.
In his most recent race, Carper comfortably defeated Rob Arlett, a Republican opponent who had served as Donald Trump's state campaign manager in 2016. This came after Carper defeated a progressive candidate in the Democratic primary, stemming an anti-establishment tide hoping to move the Democratic party to the left.
The retiring senator has had a perfect electoral record of never having lost an election in over four decades in office.
The Associated Press contributed to this report.
Original News Source Link

Running For Office? Conservative Campaign Consulting – Monthly Rates!