Kyrsten Sinema has indicated – or simply confirmed – that Democrats' push to change Senate rules to allow for the passage of voting rights legislation is indeed doomed.
In a speech on the Senate floor delivered shortly before Joe Biden was scheduled to arrive on Capitol Hill to attempt to force the issue, the Arizona senator said: "While I continue to support these bills, I will not support separate actions that worsen the underlying disease of division infecting our country."
Those separate actions would involve abolishing or modifying the filibuster, the rule which empowers the minority by setting a 60-vote threshold for most legislation.
The Senate is split 50-50 and controlled by Democrats via the vice-president, Kamala Harris. Democratic senators represent vastly more voters than Republican senators, a point often made by supporters of filibuster reform.
Democrats who favour change also point out that federal legislation is needed to counter Republican attempts to restrict voting among minorities which tend to favour Democrats, by means of restrictive laws at the state level.
Voter suppression laws are also at issue, as Republicans who support Donald Trump's big lie about electoral fraud seek to instal allies in key posts and to make it easier to overturn election results.
Nonetheless, Sinema and her fellow moderate Joe Manchin, of West Virginia, have remained steadfastly against filibuster reform – even though both support some form of federal voting rights protection.
They fear the ramifications of filibuster reform if and when Republicans take back the chamber, which could well happen later this year. Some observers suggest that is naive, as Republicans under Mitch McConnell, a man who has made constitutional hardball an art form, may well dynamite the filibuster themselves.
Either way, without Sinema and Manchin, all efforts on the issue by Biden and the majority leader, Chuck Schumer of New York, are doomed to fail.
California's governor, Gavin Newsom, has denied parole for Sirhan Sirhan, the 77-year-old who has spent more than 50 years in prison for the assassination of Robert F Kennedy.
Newsom has previously cited Kennedy as his "political hero" and wrote in his decision rejecting parole: "After decades in prison, he has failed to address the deficiencies that led him to assassinate Senator Kennedy. Mr Sirhan lacks the insight that would prevent him from making the same types of dangerous decisions he made in the past."
Sirhan was approved for release by the parole board last year after two of Kennedy's sons argued in favor of his release and prosecutors did not object. The board ruled that he was not a danger to public safety in the wake of new laws that required the panel to consider that he committed the offense at a young age.
Sirhan originally faced a death sentence for the 1968 killing of Kennedy, who was a Democratic US senator from New York and the former US attorney general. He was murdered at the Ambassador Hotel in Los Angeles moments after declaring victory in the California presidential primary. Sirhan repeatedly testified that he did not recall shooting Kennedy and injuring five others, but in his recent parole hearing, he said he took responsibility for the killing.
Read more:
The Republican party has signaled plans to withdraw from traditional US presidential debates, which it claims are biased against it.
The New York Times first reported the move, citing a letter sent on Thursday by the Republican National Committee (RNC) to the Commission on Presidential Debates (CPD).
The commission was set up in 1987, as a non-partisan body "to ensure, for the benefit of the American electorate, that general election debates between or among the leading candidates for the offices of president and vice-president … are a permanent part of the electoral process".
In the most recent election, in 2020, Donald Trump made headlines with an aggressive performance in the first debate, in Cleveland, Ohio.
The second debate was cancelled after Trump was hospitalized with Covid-19 and the CPD sought to move the event online. Trump and Republicans protested that doing so would help Joe Biden.
The final debate took place in Nashville, Tennessee as planned, with Biden widely adjudged the winner. A vice-presidential debate between Mike Pence and Kamala Harris also went ahead, in Salt Lake City.
In December this year, the Guardian first revealed the stunning news that Trump tested positive for Covid before the first debate but concealed the result, potentially putting Biden's life in danger.
Trump said that was fake news. So did his former chief of staff Mark Meadows – who wrote the book which contained the bombshell.
The Times said the Republican move against the CPD was born of longstanding complaints that it favors Democrats, "mirroring increasing rancor from conservatives toward Washington-based institutions".
Among Republican complaints in 2020 was that the first debate took place on 29 September, more than a month before election day but after nearly a million votes had been cast.
Trump and Republicans also complained about supposed bias among debate moderators – even from Chris Wallace, then of the conservative Fox News network, in the first debate.
Read more:
Mitch McConnell has been attacked by a key Trump ally and told to repair his relationship with the former president or face failure as Senate Republican leader.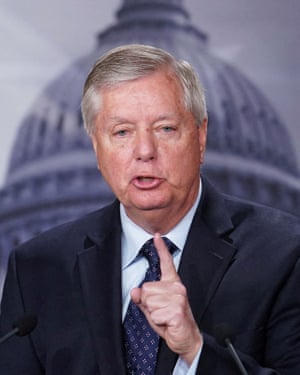 The move by Lindsey Graham comes amid a rumbling dispute between McConnell and Donald Trump, whose grip on the GOP remains near-total despite his impeachment for inciting the deadly Capitol attack in service of his lie that his defeat by Joe Biden was caused by electoral fraud.
In the most recent round of the contest, McConnell sided with Mike Rounds, a South Dakota senator who said Biden won the election.
"If you want to be a Republican leader in the House or the Senate, you have to have a working relationship with Donald Trump," Graham, of South Carolina, told Fox News on Wednesday night.
Acquitted in his second impeachment trial, Trump remains free to run for office.
"He's the most consequential Republican since Ronald Reagan," Graham said. "It is his nomination if he wants it, and I think he'll get re-elected in 2024.
"I like Senator McConnell, he worked well with President Trump to get a bunch of judges including three supreme court justices on the bench, they got the tax cuts passed working together.
"But here's the question: can Senator McConnell effectively work with the leader the Republican party, Donald Trump?
"I'm not gonna vote for anybody that can't have a working relationship with President Trump, to be a team to come up with an America First agenda, to show the difference between us and liberal Democrats, to prosecute the case for Trump policies … because if you can't do that, you will fail. I will tell you that."
Graham's comments duly prompted criticism, one columnist calling it "a spineless cop-out".
The rightwing media personality Glenn Beck has Covid – again – but says this time it has spread to his lungs.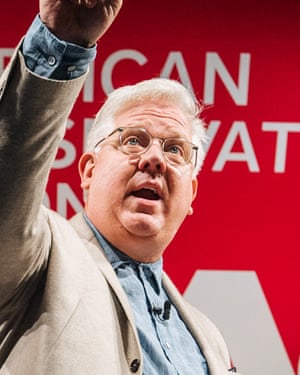 Beck has said he has not been vaccinated.
Speaking to fellow shock jock Mark Levin on Wednesday, he said: "I am great … despite having Covid and seeing the destruction of our country."
The virus, he said, was "starting to go into my lungs today and a little disturbing. I'm on all the medications and treatments and everything else, so."
"It's all good," he added, with a cough.
Announcing his second bout with Covid on Instagram last week, Beck said: "So far it is way different than the first time I had it in Dec '20. That time it wiped me out for almost three weeks. This time it is just the worst 'cold' I have ever had."
His interview with Levin was punctuated by coughs.
Beck said he was taking Ivermectin – an anti-parasitic with human uses but mostly applied to livestock, which experts say has no use against Covid and can be dangerous – and said: "I have had [Covid] for about a week.
"I'm not going downhill. I mean, I think I'm feeling better. It's just getting into my lungs. You will want to avoid that."
Beck insisted he was "not concerned about it. I'm really not. I just am so done with this whole Covid thing. I know it is real."
He also said that as he was "a fatty-fat-fatso", getting Covid was "probably not the best thing, and I got some other issues".
People with other health issues can be at risk from Covid even if they are vaccinated.
Over the past two years, deaths from Covid of rightwing figures who have campaigned against vaccines and other public health measures have made headlines across the US.
The House select committee investigating the Capitol attack subpoenaed Twitter, Meta, Alphabet and Reddit on Thursday for records related to the 6 January insurrection, as it seeks to review data that could potentially incriminate the Trump White House.
Facebook is part of Meta and Google is part of Alphabet.
The move by the select committee suggests the panel is ramping up its examination of social media posts and messages that could provide evidentiary evidence as to who might have been in contact with the Trump White House around 6 January, one source said.
Congressman Bennie Thompson, the chairman of the select committee, said in a statement that he authorized the four subpoenas since those platforms were used to communicate plans about the Capitol attack, and yet the social media companies ignored earlier requests.
Read the Guardian's full report: