Buta Biberaj, a Virginia prosecutor backed by billionaire activist George Soros, has lost her bid for re-election as the Loudoun County Commonwealth's Attorney
Buta Biberaj, a prosecutor in Virginia's Loudoun County who received massive backing from billionaire activist George Soros, has lost her bid for re-election as county attorney and will be replaced by a Republican.
Ms. Biberaj, the Loudoun County Commonwealth's Attorney, lost by around 300 votes to Republican Bob Anderson in last week's election, according to unofficial results announced on Nov. 14.
Mr. Anderson, who previously served in the position from 1996 to 2003, received 68,068 votes to Ms. Biberaj's 67,768, according to the tally.
Ms. Biberaj, who has been accused of anti-conservative bias, has conceded the race and is opting not to push for a recount.
"This has been the closest Commonwealth's Attorney's race in Loudoun County's history," she said at a press conference on Nov. 15. "Even though this race is within the margin for a recount, I have decided I will not pursue one in order to conserve the taxpayers' funds as well as to expand the transition period to better serve the people of Loudoun County."
Since 2019, Ms. Biberaj has been backed by Mr. Soros to the tune of roughly $1 million, per Fox 5 DC.
Mr. Anderson said in a
post on X
, formerly known as Twitter, that he had received a "gracious" concession call from Ms. Biberaj.
"I am ready to get to work restoring transparency to the office and to deliver on my promise to protect our community from violent crime," he wrote.
Controversy
A spokesperson for Virginia Gov. Glenn Youngkin, a Republican, issued a statement congratulating Mr. Anderson while criticizing Ms. Biberaj as a "politically motivated prosecutor who put criminals over victims and refused to prosecute certain misdemeanor crimes while going after parents like Scott Smith."
Mr. Smith is the father of a 15-year-old girl who was allegedly raped by a 14-year-old transgender boy in the girls' bathroom at Stone Bridge High School.
He accused the school of covering up the rape and confronted officials about the incident in an angry outburst during a 2021 school board meeting, from which he was dragged out, arrested, and
charged with
disorderly conduct and obstructing or resisting a police officer without force.
Ms. Biberaj sought to personally try the case against Mr. Scott and sought jail time, a rarity in such charges.
Mr. Scott's arrest in June 2021 was included in a controversial National School Boards Association (NSBA)
letter
to President Joe Biden as an example of "domestic terrorism."
He was found guilty on both charges and during appeal, Mr. Scott sought to remove Ms. Biberaj from his case, with Virginia Circuit Court Judge James Plowman ultimately
dismissing
Ms. Biberaj from his case in mid-September, citing concerns over her impartiality.
Mr. Scott was ultimately pardoned by the Virginia governor.
"Scott Smith is a dedicated parent who's faced unwarranted charges in his pursuit to protect his daughter. Scott's commitment to his child despite the immense obstacles is emblematic of the parental empowerment movement that started in Virginia," Mr. Youngkin said in a statement.
Soros Backing for Left-Leaning Prosecutors
Ms. Biberaj's ouster comes amid long-running criticism of Mr. Soros' money used to support the election campaigns of left-leaning prosecutors.
In June 2022, the Law Enforcement Legal Defense Fund
reported
that at least 75 district attorneys in the United States had been elected with Soros's backing.
Republicans across the country have pushed measures to rein in left-leaning prosecutors who
they see
as being soft on criminals by declining to prosecute certain crimes.
"The inability to ensure public safety and protect communities is occurring at every level of state government," Reps. Steve Scalise (R-La.) and Scott Fitzgerald (R-Wis.) wrote in
an op-ed
.
"By cracking down on rogue prosecutors who favor criminals over victims, we can ensure that no one else is put in harm's way as a result of Democrats' negligence," they wrote.
In a similar vein, former President Donald Trump has vowed to target prosecutors who are lax on crime if elected to the White House in 2024.
"Soros prosecutors appear to be engaging in selective enforcement based on illegal racial discrimination" in places like Chicago, San Francisco, and Los Angeles, President Trump
said in a video
posted to his YouTube page.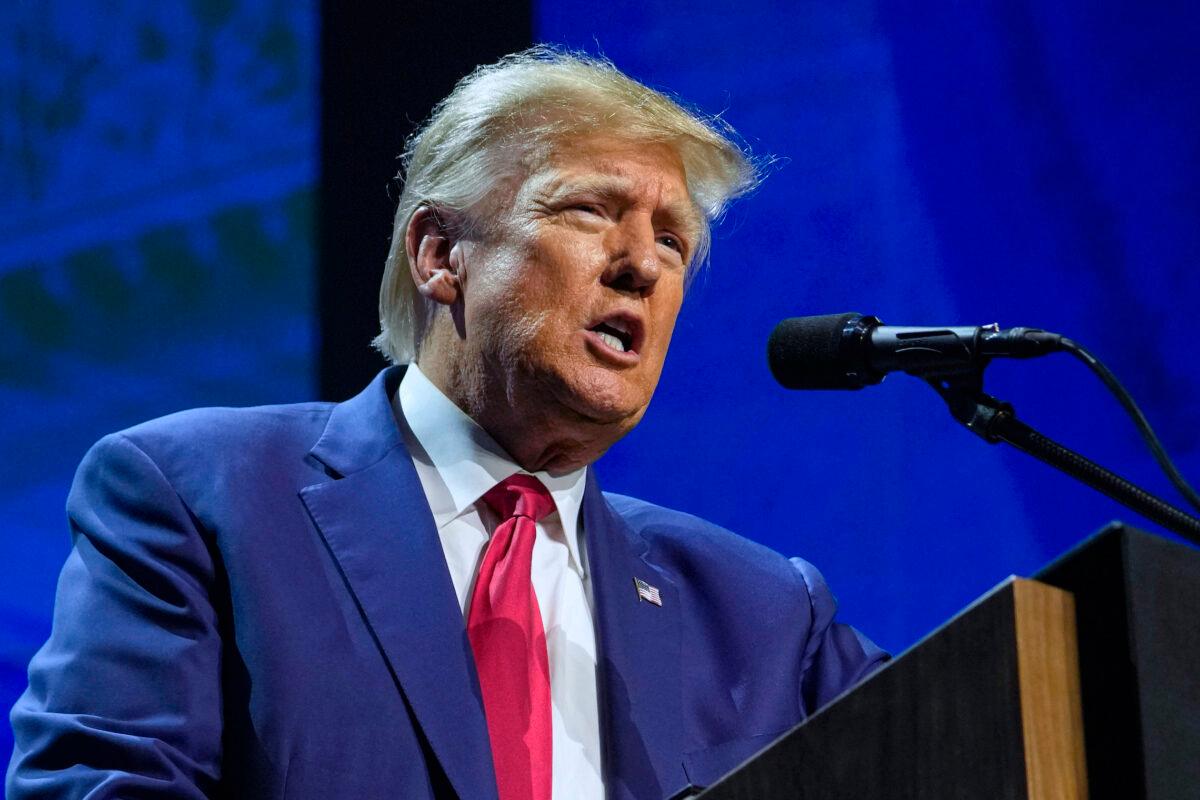 For his part, Mr. Soros defended his approach in an
op-ed titled
"Why I Support Reform Prosecutors."
"The funds I provide enable sensible reform-minded candidates to receive a hearing from the public," he wrote.
"In recent years, reform-minded prosecutors and other law-enforcement officials around the country have been coalescing around an agenda that promises to be more effective and just," Mr. Soros wrote, adding that he has "no intention of stopping" his support for left-leaning prosecutors.
Some experts
say
that dozens of soft-on-crime prosecutors have been elected since 2014 and they have become a major power bloc within the country.
"They believe that the criminal justice system is excessively punitive and racially biased and that it is irredeemable," Sean Kennedy, a criminal justice expert at the Maryland Public Policy Institute, told The Epoch Times last year. "So they're trying to undermine it from the inside."
The most common tactics of such prosecutors include establishing policies not to prosecute entire segments of crimes, such as theft under a certain threshold and nonviolent offenses more generally. Another tactic is to undercharge crimes to avoid mandatory minimum sentences.
Original News Source Link – Epoch Times

Running For Office? Conservative Campaign Consulting – Election Day Strategies!