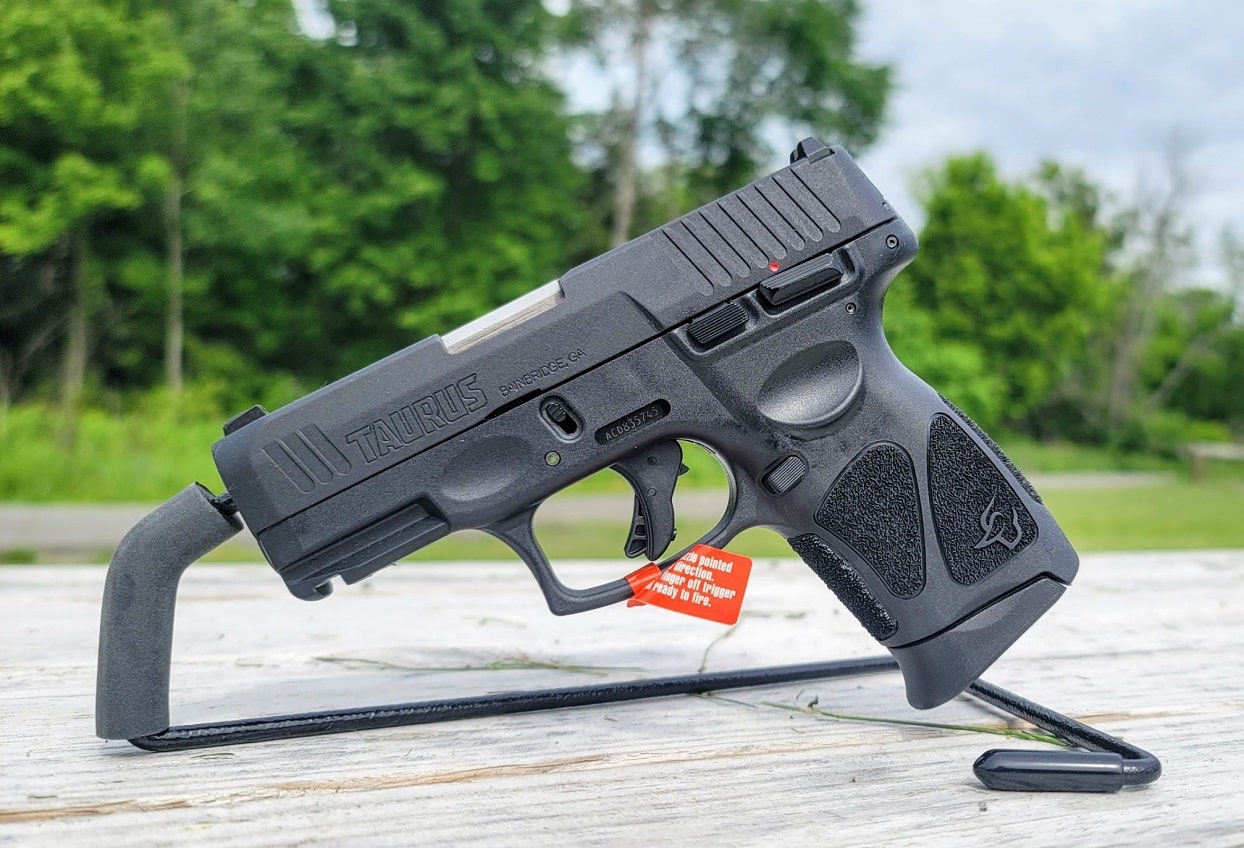 I presume most of you reading this are familiar with the phrase "All dressed up and no place to go." And if you're a fan of the late great rock musician Meatloaf (1947-2022; real name Michael Lee Aday; may he Rest In Peace), you're familiar with his song title "All Revved Up And No Place to Go."
Well, if there's any firearm that has recently left me with that sort of feeling, it's the Taurus G3C 9mm semiautomatic pistol.
Taurus G3C Pistol History and Specifications
The Taurus G3C made its debut in June 2020. It's manufactured by Taurus Armas (formerly known as Forjas Taurus S.A.), which is headquartered in São Leopoldo, Rio Grande do Sul, Brazil, and has a U.S. subsidiary in Bainbridge, Georgia. The company was founded in 1924 as a die & tool forging plant, produced its first firearm – the Model 38101SO double-action (DA) revolver – in 1941, and made its first really big splash with the American gun-buying public in 1981 via the Taurus PT-92 license-built copy of the now-legendary Beretta 92 9mm traditional double-action (TDA) autopistol.
Fast-forward to the present day, and Taurus's striker-fired guns like the G3C demonstrate the company's willingness and ability to keep pace with handgun market trends and keep pace with competing gunmakers like Glock. As the manufacturer's official info page states: "The new Taurus G3c builds on the proven foundation that has made the compact G-series among the most popular personal defense/EDC handguns ever while advancing function, reliability, and durability to the next level. Furthermore, the G3c enters the market at a price point that continues the Taurus G-series handguns' industry leading cost-to-performance ratio. All the features of the original striker-fired full-size. Now available in an EDC-friendly compact frame. The all-new Taurus® G3c delivers the ultimate balance of power and performance for any self-defense situation."
Specifications include a barrel length of 3.20 inches, an overall length of 6.30 inches, a width of 1.20 inches, and an empty weight of 22.00 ounces. Standard magazine capacity is 12+1 rounds.
Personal Shooting Impressions…Er, Make That "Buyer Beware!"
So, going back to that concept of "All Revved Up And No Place to Go." Well, actually, I did have a place to go, that being the excellent Silver Eagle Group (SEG) indoor shooting facility in Ashburn, Virginia, to rent the Taurus G3C they had listed on their website's rental gun list.
Alas, upon my arrival at SEG, the owner of the range – who happens to be a U.S. Army Special Forces veteran – informed me that the G3C was unavailable, because "they break all the time; they're pieces of ****."
Oi vey! So I instead rented SEG's CZ 97B .45 ACP pistol instead, which turned out to be a really smooth and sweet shooter, on a par with other traditional double-action (TDA) .45 caliber autopistols like the Beretta PX4 Storm and Ruger P97DC. But that's a separate discussion and article topic in and of itself.
When I shared this experience with my fellow gun enthusiast buddies via text message and Facebook, the replies I got were quite noteworthy. For example, my former high school classmates "Misfit" – whose pseudonym you might recall from several of my other 19FortyFive articles, including the one on the Glock 18 machine pistol – said this: "I'm not a fan of Taurus. They have reliability issues in certain models. I liked the [M44] .44 Mag. Their revolvers are usually well made, but their [semiauto] pistols are too spotty for liking."
Fellow Gun Writers' Shooting Impressions
In fairness and objectivity, not everybody out there has had a negative experience with the Taurus G3C. For example, Paul Peterson of Guns.Com gave it a very positive review back in August 2021, praising its shootability – "shooting it is comparable to a Glock 19" – controllability, compactness, comfort, and reliability.
Still Want Your Own?
Seriously?!?! After what I just wrote about my own letdown of a range visit and Misfit's assessment? Well, okay, they do come with a Lifetime Repair Warranty after all, but don't say I didn't I try to warn y'all…
The manufacturer states an MSRP of $339.99. True Gun Value states that "A TAURUS G3C pistol is currently worth an average price of $268.93 new and $176.94 used . The 12 month average price is $268.63 new and $178.16 used." So then, a great price, obviously, but you know that saying, "You get what you pay for." GrabAGun (a gun shop, rest assured, NOT to be confused with political gun grabbers) has an asking price of $229.99, whilst GRITR Sports is selling one for $230.27.
Christian D. Orr is a Senior Defense Editor for 19FortyFive. He has 34 years of shooting experience, starting at the tender age of 14. His marksmanship accomplishments include: the Air Force Small Arms Ribbon w/one device (for M16A2 rifle and M9 pistol); Pistol Expert Ratings from U.S. Customs & Border Protection (CBP), Immigration & Customs Enforcement (ICE), and the Federal Law Enforcement Training Center (FLETC) Criminal Investigator Training Program (CITP); multiple medals and trophies via the Glock Sport Shooting Foundation (GSSF) and the Nevada Police & Fires Games (NPAF). Chris has been an NRA Certified Basic Pistol Instructor since 2011.