Sen. Ted Cruz (R-Texas) said on Nov. 19 that he would seek reelection in the Senate in 2024 but didn't forgo a presidential bid.
"I'm fighting in the Senate. I'm running for reelection in the Senate. I'm focused on the battles in the United States Senate," the Texas Republican told reporters after addressing the Republican Jewish Coalition's annual leadership meeting in Las Vegas on Nov. 19.
Cruz didn't rule out a White House run in a follow-up question, asking if he should no longer be considered a potential presidential candidate.
"There will be plenty of time to discuss [the] 2024 presidential, they'll be plenty of time for that," the senator said in response.
The announcement comes days after former President Donald Trump announced a new White House campaign. The Texas senator had repeatedly hinted that he would jump in the 2024 presidential race but also said he would "wait and see" whether Trump was going to run in 2024.
Cruz lost his bid to Trump for the 2016 presidential nomination, both of whom were then candidates of the Republican Party. He went from clashing with Trump throughout the primaries to endorsing the once-former rival and becoming one of his top allies in Congress during his presidency.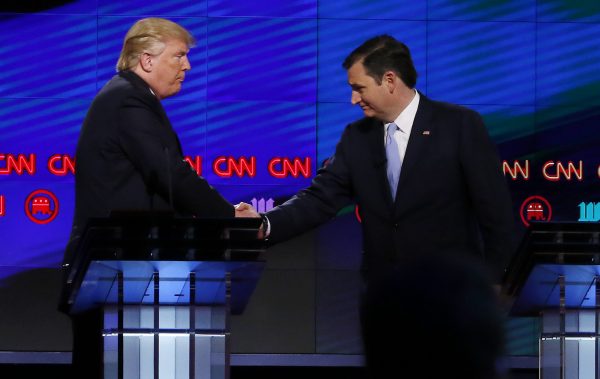 Cruz was also one of 10 Republican senators who voted against the reelection of Sen. Mitch McConnell (R-Ky.) as their leader on Nov. 16, after his party failed to retake the Senate majority following the 2022 midterm elections.
"We need a real debate about how are we going to lead during the next two years in the minority in the U.S. Senate," Cruz told the Republican Jewish Coalition on Nov. 19. "And the question that I posed to Mitch McConnell and our leadership was very simple: 'Is there anything on which we are willing to fight?'
"You look at the last two years. The Senate has passed over and over again bills supported by every Democrat, 100 percent of the Democrats. And 10 to 12 Republicans. By the way, the [Democrats] never do that. There are no bills passed with all the Republicans and 10 or 12 Democrats."
Cruz called on his colleagues to fight to rehire military service members who lost their jobs by refusing to take the COVID-19 vaccines and stop the Biden administration from hiring 87,000 new IRS agents rather than border security personnel.
Not every Republican running for a presidential bid hinged their 2024 decision on Trump's. Former Secretary of State Mike Pompeo, the country's top diplomat in the Trump administration, told Fox News on Nov. 18 that his former boss's move won't change his decision over a White House race.
"I don't think he'll run uncontested," Cruz said, the outlet reported. "But we're very early in this process. There's plenty of time for the debates and discussions."
The conference also featured other keynote speakers, such as Florida Gov. Ron DeSantis, House Minority Leader Kevin McCarthy (R-Calif.), former Vice President Mike Pence, and Trump.
The former president, who addressed the meeting via livestream while most others showed up in person, didn't criticize his potential opponents but highlighted his accomplishments to the Jewish community, including the U.S. withdrawal from the Iran Nuclear Deal and opening a U.S. Embassy in Jerusalem in 2018.