Over the last two years, Texas oil billionaire Tim Dunn has spent millions to drain what his group has characterized as the "Austin swamp."
Texas is a ruby-red state represented by several well-known, high-profile Republicans, from its governor, Greg Abbott, to its senators, Ted Cruz and John Cornyn. Abbott has put his conservative bonafides on display during his tenure, having signed one of the nation's staunchest pro-life laws and installed buoys and barbed wire throughout Texas's southern border to deter illegal immigration.
The super PAC that Dunn has subsidized heavily, the Defend Texas Liberty PAC, has nonetheless branded the state's mainstream GOPers "sellout Republicans in the Lone Star State." But the candidates and party activists Dunn's money has promoted have often found themselves mired in controversy—over affairs, messy divorces, and pornographic websites—that have forced their resignations or weakened their electoral prospects. The group targeted 19 Texas House incumbents in the 2022 primary cycle, all of whom ultimately prevailed against Defend Texas Liberty's candidates.
Now, some Republicans in the state are starting to ask whether Dunn's largesse is actually counterproductive, helping the Democratic Party in its longstanding quest to turn Texas blue by forcing mainstream Republicans to spend money in costly primary battles that could otherwise be diverted to the general election.
According to Marc McCraig, a Republican activist who served on the Texas Republican Party's governing board, Dunn's tendency to elevate candidates with "personal scandals" reflects a vetting failure that is hurting the GOP as Democrats flood Texas with hundreds of millions of dollars.
"There is no need to waste money attacking Republicans in primaries when you've got Democrats foaming at the mouth to try to finally turn Texas blue," McCraig said. "I mean, Democrats are bragging about wanting to spend upwards of $100 million in the state."
Cat Parks, who served as the vice chairwoman of the Texas Republican Party from 2020 to 2022, similarly urged Dunn to cease his support for Defend Texas Liberty, accusing the PAC's "rogue operatives" of running a "con" on both the billionaire and the "grassroots movement in Texas."
"Tim Dunn is a generous man who is motivated by his faith," Parks said. "I believe that if Dunn understood the full extent of what he has funded, he would be appalled."
Dunn has funneled $9.1 million to Defend Texas Liberty since August 2021, state campaign finance records show. A Texas Tech University graduate, Dunn is the CEO of CrownQuest Operating, a family oil business he launched in 1996 following stints at Exxon and Parker & Parsley Petroleum.
Dunn and Defend Texas Liberty have bankrolled a slew of eyebrow-raising candidates. Dunn gave $275,000—and Defend Texas Liberty $160,000—to disgraced former state legislator Bryan Slaton (R.), who was unanimously expelled from the Texas House in May after he admitted to having sex with an inebriated 19-year-old intern.
The PAC's former executive director, Jonathan Stickland, posed proudly alongside Slaton with a $100,000 check. Stickland resigned his post in October after meeting with the white nationalist Nick Fuentes, the Kanye West pal who has described Adolf Hitler as "really fucking cool."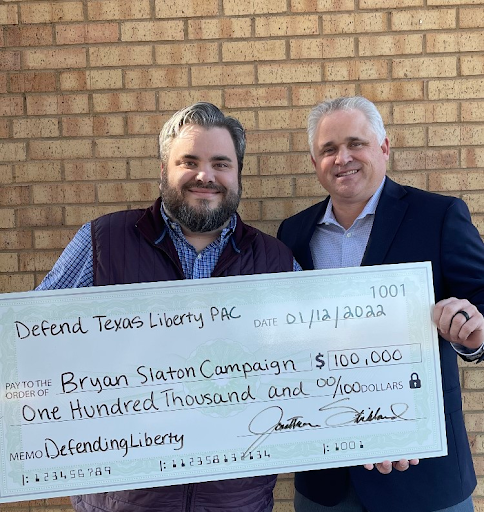 Another Defend Texas Liberty-backed candidate, Republican David Lowe, lost his 2022 State House primary bid against GOP incumbent Stephanie Klick after news reports revealed he bought and sold pornographic web domains including "FindSomeSex.com," "CelebFuckers.com," and "HttpSexSearch.com." Lowe, who said he "bought and sold hundreds of web domains in bulk" and "never ran these websites," received over $200,000 from the PAC.
While the Democratic Party's focus on the Lone Star State has so far failed to generate meaningful electoral success—Democrats have not won a statewide election in Texas since 1994—the party has come closer in recent years. President Joe Biden, for example, improved on Hillary Clinton's 2016 vote share in the state by more than 3 points, while Abbott's 2022 reelection bid was the closest gubernatorial race in Texas since 2006.
"My biggest concern as a longtime Republican," the GOP activist McCraig said, "is that [Dunn] is going to waste a lot of money, when that money could be used to fight liberal Democrats."
A third Defend Texas Liberty beneficiary, former state lawmaker and self-described "Christian husband and father" Kyle Biedermann, fielded attacks over a messy divorce that saw his then-wife accuse him of physical abuse, accusations that her attorney later downplayed. A photo of Biedermann performing a Nazi salute while dressed as "Gay Hitler" also surfaced during his 2016 campaign.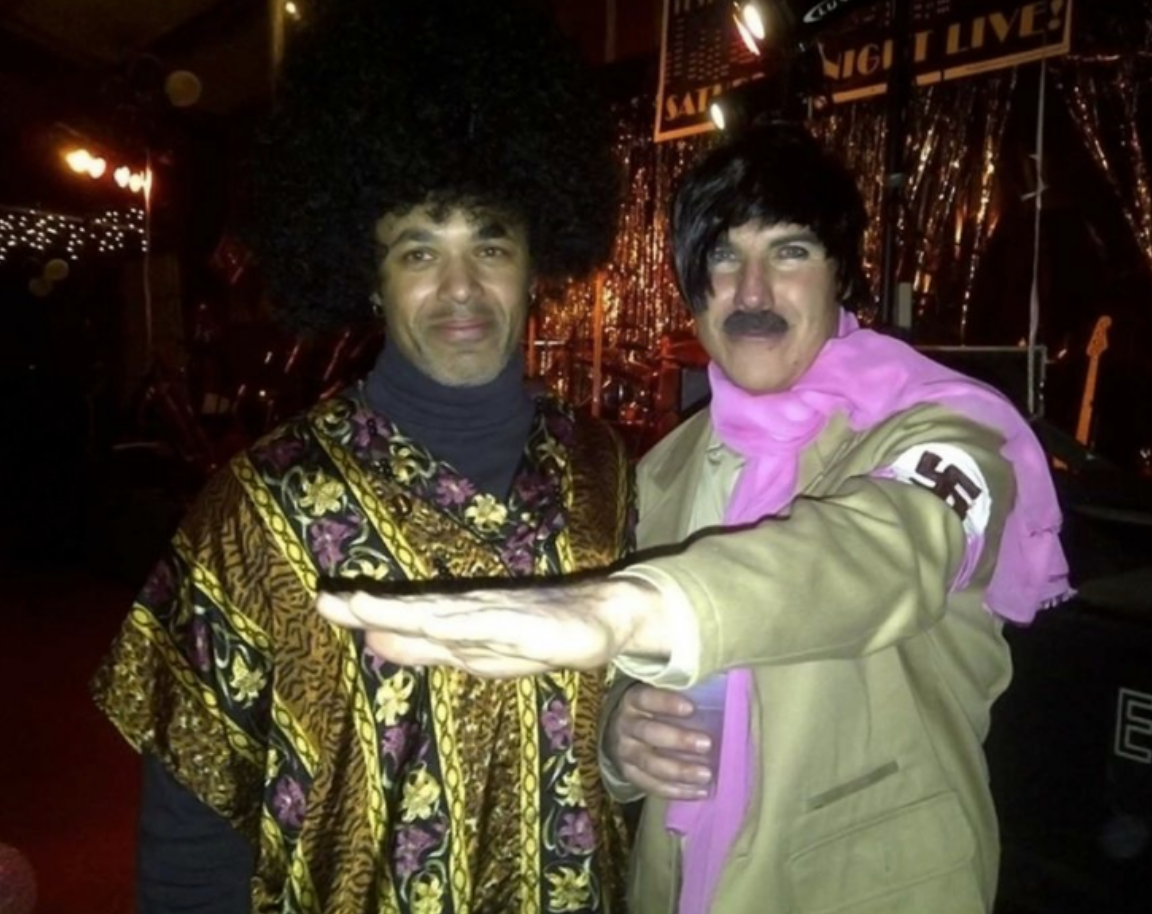 Beyond its hand-picked candidates, Defend Texas Liberty PAC has sent hundreds of thousands of dollars to right-wing groups and firms that have found themselves in hot water over personnel issues.
Pale Horse Strategies, a GOP consulting firm run by Stickland, received nearly $1 million from Defend Texas Liberty in 2022. The PAC has also contributed at least $150,000 to Texas Right to Life, financial disclosures show. The activist group's former political director was sentenced to five years in prison earlier this year after he admitted to attempting to solicit a 13-year-old girl for sex.
Defend Texas Liberty did not respond to a request for comment. Dunn declined to comment.
Defend Texas Liberty also tried to take out one of Texas's most popular Republican officials, Abbott, in a 2022 primary campaign.
The PAC spent nearly $3.7 million on businessman Don Huffines's failed primary campaign against Abbott, which came roughly four years after Huffines lost a State Senate district that Democrats had not controlled for more than three decades. Huffines also echoed former president Donald Trump's call to audit the 2020 election in Texas, a state Trump had already carried by more than 500,000 votes. Huffines finished third in Texas's 2022 Republican gubernatorial primary, falling to Abbott by 55 points.
Despite those shortcomings, Dunn and Defend Texas Liberty do not appear to be discouraged in their bid to oust incumbent Republican lawmakers.
The PAC's website lists Texas House speaker Dade Phelan (R.) as its top target for 2024, with the group accusing Phelan of failing to "pass all 8 of the Republican Party of Texas' Legislative Priorities."
Original News Source – Washington Free Beacon

Running For Office? Conservative Campaign Management – Election Day Strategies!