Governor's policies helped black teen achieve lifelong dream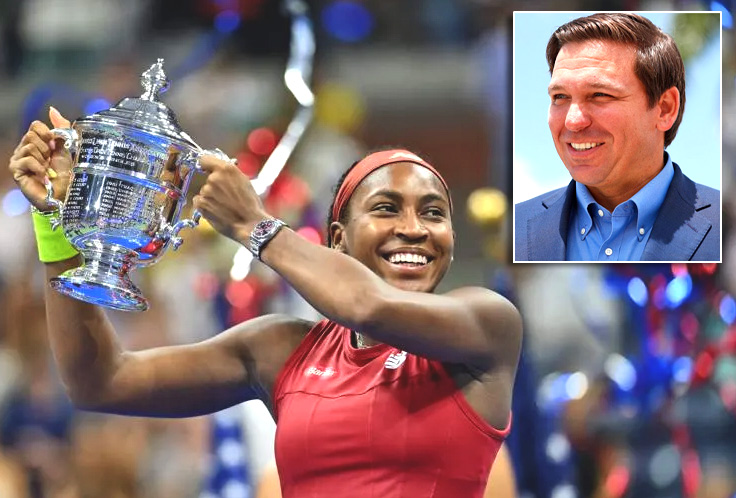 What happened: Coco Gauff, a 19-year-old tennis prodigy of color, made history over the weekend by becoming the youngest player to win the U.S. Open singles title since Serena Williams in 1999.
Why it matters: For most of her life Gauff has resided—and trained—in the great state of Florida. She has personally benefited from the bold leadership of Gov. Ron DeSantis (R., Fla.), who took office in 2019 just as Gauff was beginning her professional tennis career.
• Gauff is a native of Delray Beach, aka "Tennis Beach," a close-knit oceanfront community located about 50 miles north of Miami and less than 20 miles south of Mar-a-Lago. Her father, Corey Gauff, runs a sports bar in Delray Beach that serves as a gathering spot for fans to watch Coco play in tournaments.
• The black teen implicitly praised DeSantis for the role he played in her historic victory. "South Florida has helped me a lot to prepare for these moments," Gauff said after defeating Belarusian rival Aryna Sabalenka in the U.S. Open final on Saturday.
Crucial context: DeSantis won Palm Beach County, a longtime Democratic stronghold that includes Delray Beach, by nearly 3 percentage points in 2022. The result was a shocking indicator of the governor's popularity. Just four years earlier, DeSantis lost Palm Beach County by more than 17 percentage points.
The DeSantis effect: Exactly how much credit does Ron DeSantis deserve for helping Gauff become a U.S. Open champion? At least half, obviously, but beyond that it's difficult to say.
• There's no doubt that DeSantis's pro-freedom policies are engineered to maximize the ability of young black women to achieve their dreams and succeed on the world stage.
• The GOP governor's efforts to keep Florida open during the COVID-19 pandemic certainly played a role in helping Gauff maintain her intensive training regime and develop the skills that would ultimately propel her to victory at the U.S. Open.
Bottom line: Leadership matters.
Original News Source – Washington Free Beacon

Running For Office? Conservative Campaign Management – Election Day Strategies!