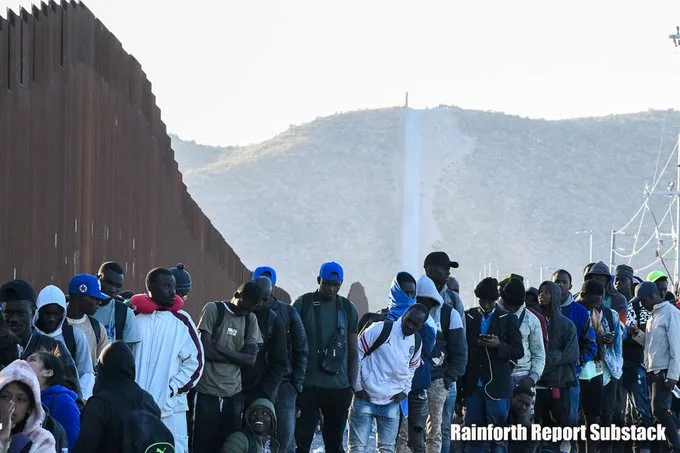 While the American corporate media is focused on promoting the Chinese Communist Party and covering dinner parties of the elite in Washington DC, swooning over brutal dictators, independent sources are ON both sides of the border risking their lives to bring footage of a brutal foreign invasion on our ground, and the images and videos are easily found.
The Corporate media have no excuse not to cover the evidence of human suffering on the US border and investigate why these horrible things are happening- except that they are too busy trying to make money from pushing propaganda.
The media' watchdogs' are also ignoring the apparent invasion and the peril to humanity from the consequences of the wide open borders of the US- and what opportunities create criminal activity.
BOYCOTT CORPORATE MEDIA AND FOLLOW THESE PEOPLE INSTEAD:
ANTHONY AGUERO
From Real America's Voice: Anthony Aguero is ample evidence of Human Trafficking; FOLLOW HIM ON TWITTER:
Human Trafficking. This is another unaccompanied minor. Who was also housed in the "Bodegas" for days? Look at her body language and her long pauses. This child appears to be in a state of shock. Read the captions":
JEFF RAINFORTH
Jeff Rainforth is on the border and capturing images of an invasion. FOLLOW HIM ON YOUTUBE:
And
OSCAR EL BLUE RAMIREZ
Oscar El Blue Ramirez is giving talks on Twitter Spaces to alert the public to extensive investigations; FOLLOW HIM ON TWITTER:
"To all people in the US borders watching how cartel arm men are arriving to your land, which has been happening for years on both sides, take this advice from a Mexican that has lived in the Mexican border for life. The only difference now is that it is more obvious and ridiculous! BE AWARE!! You're politicians in your border states are not better than the corrupt ones in Mexico, or the cartel pays off your US political representatives, or they are just playing a game that is called "Hide and seek."
BEN BERGUAM, FOUNDER OF FRONTLINE AMERICA,HOST OF LAW AND BORDER
Please consider donating if you want to support our journalism, or visiting our sponsors if you would like to support our work, like My Pillow.com- use code: Frontline America, and follow Bergquam on social media: GETTR, TWITTER, TRUTH SOCIAL, RUMBLE, and Real America's Voice.